WIN High Speed Fat Loss Kit Review – Does It Work?
By:
Rob Miller
Fact Checked On: 7-10-2014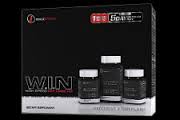 WIN High Speed Fat Loss Kit Overview
A lot of weight loss supplements attempt to provide you with fat burning, energy, and appetite suppression, or some combination of the three. In some cases, it works.

In other cases, the dosages of each component are too small to accomplish their goals, and you end up without the benefits of any. WIN High Speed Fat Loss Kitfrom Image Sports attempts to solve that with their 3 piece program.

By separating the components into 3 different pills, the idea is that each will successfully serve its purpose.
WIN High Speed Fat Loss Kit Components and How They Work
The WIN High Speed Fat Loss Kit program comes with 3 different supplements.

They are:
Dexyfen Pro-Thermogenic which is the all around part of the package.

As a thermogenic, it burns fat, but it also suppresses appetite and provides energy.

It's the base of the program and its driving force.

You take one capsule each morning on an empty stomach.

It contains Thiamin, Niacin, Caffein, Oryza Sativa, Mentah Haplocalyx, Zanthooxylum Piperitum, and Pausinystalia Yohimbe.
Supprex which is the stimulant-free appetite suppressant.

You take one capsule before a meal to keep your eating to a minimum.

It contains Vitamin D, Vitamin B6, and some herbal ingredients including Crocus Sativus, Aspalathus Linearis, and Turnera Diffusa.
Detrox which gets you started on the program and finishes it off with a powerful detox to help rid your body of unwanted toxins that help hold on to the fat that you wan to lose.

You take two capsules per day on days 1-5 of the program and again on days 24 through 28. It contains Senna Alexandrina, Malus Domestica, Paullinia Cupana, Ulmus Rubra, Vaccinium Angustifolium, and Erica Multiflora.
At the end of the 28 day program, you should see significant weight loss results, as long as you combine the supplements with a sensible eating and exercise program.
WIN High Speed Fat Loss Kit Pros and Cons
Advantages of WIN High Speed Fat Loss Kit
It's a 28 day program, which makes it good for people who like to have a structured plan for weight loss, and especially good for people who need to lose about 10 pounds or so.
Disadvantages of WIN High Speed Fat Loss Kit
We found no real WIN High Speed Fat Loss Kit reviews from customers who've used it.
The ingredients lists look fairly weak.
It contains Yohimbe which has been recommended against by the FDA because it's been known to cause serious side effects.
Where to Buy
We didn't find WIN High Speed Fat Loss Kit on the Image Sports website.

It looks like it's available at Lucky Vitamin, but the price is not shown.
Conclusion
I don't see any real compelling reason to use WIN High Speed Fat Loss Kit.

The three part kit may be good for people who like to latch onto a gimmick in order to lose weight, but other that that, I don't see a whole lot of benefit.
Have You Used WIN High Speed Fat Loss Kit?

Leave Your Review Below!
Top 3 Weight LossAffiliate Disclosure
Instant Knockout is actually a new fat burning supplement I just came across, and got great results.
LeanBean Female Fat Burner is the BEST fat burner for women we\'ve ever tested.

Read our review here.
Biohacks your body into instant ketosis to burn fat instead of carbs.

Weight loss, energy, focus, anti-inflammatory, anti-aging.
Ask A Question
User Questions and Answers
No Questions Have Been Answered For This Article.