Zantrex 3 Red Bottle Vs. Blue Bottle – Which One Is Better?
By:
Rob Miller
---
---
Home
»
Fat Burners
» Zantrex 3 Red Bottle Vs. Blue Bottle – Which One Is Better?
Zantrex 3 Red Bottle Vs. Blue Bottle – What Works?
We have been reviewing several different types of fat burning pills in anticipation of the post new years resolution period, and have recently tried out a product called Zantrex 3. Zantrex 3, which is similar to a product called capsiplex, currently makes 2 different types of products, a red bottle and a blue bottle, and we wanted to learn what the difference was between the two. More importantly, we wanted to know which one worked better, in an effort to help steer our visitors in the right direction if they were thinking about taking either one. So what are the major differences between Zantrex 3 Red Bottle and Blue Bottle anyway?

So What Are The Main Differences Between the Red Bottle and Blue Bottle?
The manufacturers paint a very different picture for both the Zantrex 3 Red Bottle and Blue Bottle. According to them, the red bottle is designed for bodybuilders, fitness professionals, high intensity athletes, while the Blue Bottle is more for people that are out of shape and looking to lose weight.
Here's a few of the most notable differences:
Ingredients – Bolded items indicate identical ingredients in each.
In the Red Bottle, you'll find the following ingredients:
Citrus Fruit extract
Guarana (which is sort of like caffeine)
Coffee Bean Extract
Kola Seed
Green Tea Leaf extract
Kelp powder
Fennel Powder
Alpha Lipoic Acid
In the Blue Bottle, you'll find these ingredients:
Yerba Mate
Guarana extract
Trimethylxanthine (fancy word for caffeine, but no idea how much they put in)
Damiana extract
Green Tea extract
Kola extract
Schizonepeta extract
Black pepper fruit extract
Rhodiola Crenulata
Asian Ginseng
Maca Root extract
Cacao Seed extract
Black Tea leaf
As you can see, the formulas are relatively unique.
But which one is better?
Well, that depends on who you ask.
Based purely on the reviews I'm seeing here on Amazon, the Red bottle seems to have the upper hand here, but only slightly.
For example, the average rating for the Blue bottle is 3.2 out of 5 stars.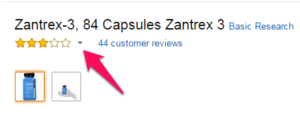 While the average rating for the Red Bottle is 3.3 out of 5 stars.

Does that mean they are equally as effective?
Maybe.
There's a total of 263 reviews for the Red bottle, and only 44 reviews of the Blue Bottle.
What Did Customers Have To Say?
We started by analyzing what customers were saying about each product on various diet rating websites, and the results were surprising. Most that used the Zantrex 3 Red Bottle said that they had experienced really bad side effects, and didn't get the results they were hoping for. Some of the side effects in the red bottle included:
Dizziness
Increased Heart Rate
Trouble Sleeping
Nausea
Vomiting
Over Eating
Not Eating Enough
Alternatively, many users of the Zantrex 3 Blue Bottle reported many of the same side effects, but reported that they were less intense, and they saw a big difference between the 2. Many users of the Blue bottle reported the following results:
They don't keep me up at night.
I have energy all day
It curbed my appetite
I lost about a pound a day.
Almost every user, however, did report many of the same side effects as mentioned earlier, but the majority of them said that they kept it down by eating within an hour of ingesting the pill, and drinking plenty of water.
Recommendation
While we have not personally used the Zantrex 3 Red Bottle, we have used the Blue bottle and we feel that it is more effective overall as opposed to the red one. While there are some key differences, the side effects reported by users of the Red bottle were enough to convince us that it really is not worth getting it.
If avoiding potential adverse side effects is important to you, then the Blue bottle is likely the choice for you.

However, if bulking up is more your goal, then the Red bottle is more likely your speed.
On top of that, we think that the red bottle is actually kind of hard to obtain, and this is probably due to the harsh reaction that the company has received from customers that have used it.
Check out our review of the Zantrex 3 blue bottle for more information. If you have used either one, feel free to leave your review below.
Top 3 Fat BurnersAffiliate Disclosure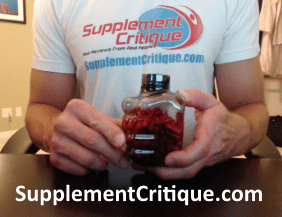 Instant Knockout is actually a new fat burning supplement I just came across, and got great results.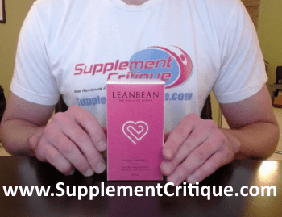 LeanBean Female Fat Burner is the BEST fat burner for women we\'ve ever tested.

Read our review here.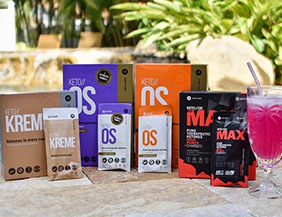 Biohacks your body into instant ketosis to burn fat instead of carbs.

Weight loss, energy, focus, anti-inflammatory, anti-aging.
2 Star User Reviews

3.4 out of 5 Stars (18 Reviews)
Have you used this supplement?
There Are no 2 Star User Reviews
Ask A Question
User Questions and Answers
---

Will the blue bottle help me with the stomach fat that's all I want to loose. -shuntae

You can't really target fat loss to a specific area, and unfortunately belly fat is often the last to go.  Keep eating right and doing cardio, and yes, the Blue Bottle should help.- Rob
Was this question helpful to you?
1 out of 1 people found this question helpful.
ASK A NEW QUESTION