Alpha Performance Enhancer Review – Is It Worth It?
By:
Rob Miller
Fact Checked On: 9-12-2013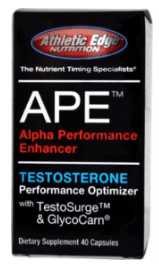 Athletic Edge Nutrition APE Overview
If you're someone who is hoping to build muscle more quickly, one product that you may want to consider adding to your supplement regime is Athletic Edge Nutrition APE Alpha Performance Enhancer.

This product is designed to help increase the natural testosterone release your body experiences, which then means increased muscle building progress due to faster protein synthesis.
In addition to that, this product is also made to help increase the level of nitric oxide in the body, which is a powerful compound that will help to increase vascularity, improve blood flow to the muscle tissues, speeding nutrient delivery as well as oxygen release.
This in turn can lower the level of fatigue that you feel during your session, allowing you to work harder for longer. In addition to that, the increased testosterone levels you experience will also help to boost your libido level, can increase total fat burning due to the higher metabolic rate you sustain as you build lean muscle mass, and can also help to decrease estrogen release in the body as well.
Ingredients And How They Work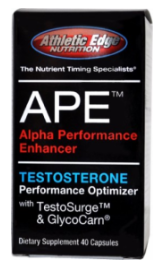 Alpha Performance Enhancer contains a mixture of different ingredients that all work together to help bring you optimal results.

These include vitamin D, vitamin B6, folate, vitamin B12, as well as zinc. You are to take two capsules in the morning for five days a week, except on workout days when you should take a second dose should come about 60-90 minutes prior to the workout session.
Pros
Increases testosterone by up to 22% in the first 12 hours after use
Will increase the total amount of usable testosterone in the body after 8 weeks of continual use
Will increase total fat burning taking place in the body
Can enhance the metabolic rate
Improves exercise performance
Causes powerful muscle pumps that will motivate you throughout the workout session
Can help to decrease the amount of estrogen released by the body
Cons
Doesn't provide stimulatory effects like some other pre-workout products may
You are not able to use it for longer than 12 weeks at a time without a break
The formula in this product isn't as strong as what you will find in others.
Where To Buy
You can purchase this product at most main supplement retailers both online as well as in person at your local store.
Conclusion
Overall, for those who want to increase their testosterone and get a good boost to their motivation level, this product appears to help out considerably.

Many pre-workout products do make use of nitric oxide benefits, so this could help you get in a more effective workout.
That said, Alpha Performance Enhancer doesn't have quite as strong of a line-up of ingredients as some others on the market, so assess your needs and everything that you need in a product.

Additionally, due to the layoff period that you must take while using it, this product won't be for everyone.

If you can afford that layoff and aren't impacted by it, this may not be an issue for you however.
Have You Used Alpha Performance Enhancer? Leave Your Review Below!
Top 3 Testosterone BoostersAffiliate Disclosure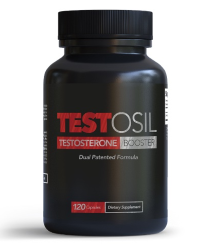 Testosil is the most effective testosterone boosting supplement on the market that I've tested.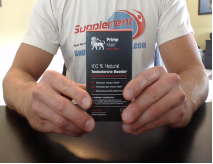 Prime Male is another very effective testosterone booster that uses clinically proven ingredients.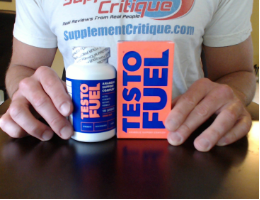 Testofuel is a VERY popular testosterone booster that contains ingredients to help older men.
Check Out My Top Choice For T Boosters - Testofuel

Click Here To Read My Review
Ask A Question
User Questions and Answers
---

Does this product have a side effect of headaches? I have been on them for 5 weeks and have been getting headaches during my workouts. -Joey

I haven't heard of headaches as a side effect.  Try not taking it one or two days and see if the headaches are still there.  If so, there must be something you're reacting to.- Rob
Was this question helpful to you?
4 out of 6 people found this question helpful.
ASK A NEW QUESTION
---

How good does it work and do I have to keep buying it to keep up my shape? -Nathaniel

It's pretty decent from what I've heard, but I haven't tried it myself. It's recommended that you take a break after 12 weeks of use. But you can go back on it after that. You can keep your results if you continue to work out and follow your diet.- Rob
Was this question helpful to you?

ASK A NEW QUESTION