Applied Nutrition T-Strong Review – Does It Work?
By:
Rob Miller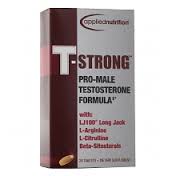 Applied Nutrition T-Strong Overview
Most of the supplements we talk about here are available primarily, if not exclusively, online. Applied Nutrition T-Strong is a little different in that it's widely available in brick and mortar stores as well.

Many people find this more convenient, so it's important that we include these kinds of products in our discussion.
Applied Nutrition T-Strong is a natural testosterone booster. It contains no actual testosterone.

What it does instead is provide your body's own natural production system with the support it needs to work better and more efficiently, releasing more of the male hormone into your blood stream.

With increased testosterone comes more energy, increased lean muscle mass, better fat burning, and an increase in sexual desire and performance ability.

Now, there are tons of these products on the market, so lets take a look at what goes into Applied Nutrition T-Strong to either make stand apart.
Applied Nutrition T-Strong Ingredients and How They Work
The primary ingredient in focus is LJ100 Long Jack, otherwise known as Tongkat Ali.

Tongkat Ali works to increase free testosterone levels.

When we're talking about testosterone, we need to understand that there's total testosterone and there's free testosterone.

You want both as high as possible, but free testosterone is the kind your body can use.

There's a molecule called SHBG, or Sex Hormone Binding Globulin, that attaches itself to testosterone molecules, rendering them useless.

Tongkat Ali lowers the amount of SHBG which results in more free testosterone.
Other ingredients include:
L-Arginine which improves blood flow by increasing nitric oxide levels.

This is beneficial in both the gym and the bedroom.
L-Citrulline which also increases nitric oxide levels.
Beta-Sisterols which are involved in your body's natural testosterone production process.
Zinc which is necessary to the natural testosterone production process.
Ginseng which increases energy.
The recommend dose is 2 Applied Nutrition T-Strong tablets with a meal each day.
Applied Nutrition T-Strong Pros and Cons
Advantages of Applied Nutrition T-Strong
The ingredients are all natural.
It's available online and in stores.
It's inexpensive to get a hold of.
Disadvantages of Applied Nutrition T-Strong
There are only 12 doses in a package.
The formula is somewhat weak.
There's no advertised money back guarantee.
There has been no clinical testing.
The Applied Nutrition T-Strong reviews are mixed, with some customers getting food results and some getting no results at all.
Where to Buy
You can purchase Applied Nutrition T-Strongin stores like Walgreens and CVS as well as online. We've seen prices ranging from $15-$25. This is for a 24-count box which translates to 12 servings.In order to get a month's worth, you'd have to buy 3 boxes which brings the price up well into average range for natural testosterone boosters.
Conclusion
Aside from the convenience of being able to pick it up at the store, there is no real advantage to Applied Nutrition T-Strong.

It's cheap to purchase, but you'll run out after 12 days and need more.

The formula is pretty weak and doesn't include any of the top ingredients we look for.

There are far better natural testosterone boosters, and I recommend you look into one of those.
Have You Used Applied Nutrition T-Strong?

Leave Your Review Below!
Top 3 Testosterone BoostersAffiliate Disclosure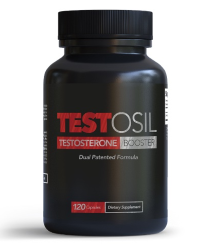 Testosil is the most effective testosterone boosting supplement on the market that I've tested.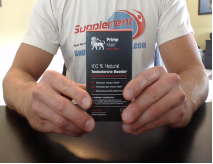 Prime Male is another very effective testosterone booster that uses clinically proven ingredients.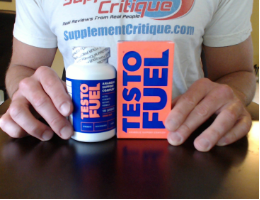 Testofuel is a VERY popular testosterone booster that contains ingredients to help older men.
User Reviews

5.0 out of 5 Stars (1 Reviews)
Have you used this supplement?
T-Strong
By
Daniel Hobbs

,
Jun 7, 2016
I am 52 and love this stuff. It gives me great energy in the gym. I like the price and availability. I have never had any problems in the bedroom, if anything it makes erections harder and gives more stamina. Highly recommended for men over 50 that are getting or staying ripped.

Was this review helpful to you?
1 out of 1 people found this review helpful.
---
Check Out My Top Choice For T Boosters - Testofuel

Click Here To Read My Review
Ask A Question
User Questions and Answers
---

How many capsules do you take a day? -

The recommended dose is 2 tablets per day taken with a meal.- Rob
Was this question helpful to you?

ASK A NEW QUESTION
---

When am I advised to take T-Strong?, do I have to take them when my partner is around or when I take it my testosterone is raised and stays high or it goes down if I don't take it? -Henry

Take 2 pills per day, with a meal. The time of day doesn't matter. Just try to take it around the same time each day. You want the ingredients to remain relatively level most of the time.- Rob
Was this question helpful to you?

ASK A NEW QUESTION