Avesil is a weight loss supplement available on the internet, and it is marketed as a breakthrough product that will help you lose 3 times as much weight as other leading weight loss aids. It has a refreshingly small ingredients list, and lucky for us, it's been around long enough for us to be able to get a pretty good idea of how well it has worked for the many customers who've used it.
First, we'll talk about how it's supposed to work. Then we'll discuss the feedback we've been seeing from actual users.
Avesil Ingredients and How They Work
The Avesil formula is proprietary, which in this case means that they tell you what goes into it, but they don't tell you how much of each ingredient. Including in the formula are:
Chromium which is purported to regulate blood sugar, thereby controlling appetite. It is also said to melt away fat and build lean muscle mass.
Caffeine which is an appetite suppressant, a metabolism booster, and a fat burner.
Green Tea Extract which is popular in weight loss supplements for a couple of reasons. It contains caffeine which suppresses appetite, increases energy, and encourages fat burning.
And it also contains polyphenols which also increase metabolism and encourage thermogenesis.
Ashwagandha Root Extract which calms nerves and helps create a sense of calm for dieters.
A bottle comes with 60 capsules and you are instructed to take 1 capsule twice per day. It seems as though that dosage has changed. Some of the Avesil information we came across stated that you need to take 6 capsules a day, but a look at today's label clearly shows the recommended dose to be 1 capsule twice a day.
What Are People Saying About Avesil?
Well, that depends alot on where you're looking. For instance, if you look on Amazon, the majority of the reviews are less then stellar. Over 32 people have reviewed it as one star, and you'll see comments ranging from "This was a worthless product" to "buy a cup of coffee, it's cheaper and more effective".
On the flip side, some people have reported modest success with Avesil, claiming that it helped to curb their appetite, as well as give big increases in energy for the gym. I tried searching around Youtube to find a short and sweet video review of it, and the only one that had any credibility was this one:
The Main Problem We Have With Avesil…
Here's the real problem with Avesil. They primarily use the free trial scam to sell this product. The only way to order Avesil on the website is by signing up for the trial. You pay only shipping for a 14 day trial that begins on the day of order. Figuring 5 days for delivery, that's only 9 days to try the product, call, and return it if you don't like it.
At the end of that trial period, if you don't call to cancel, the credit card you used to sign up for the free trial will be billed the full price of $89.95. Check out a screenshot of their terms and conditions below: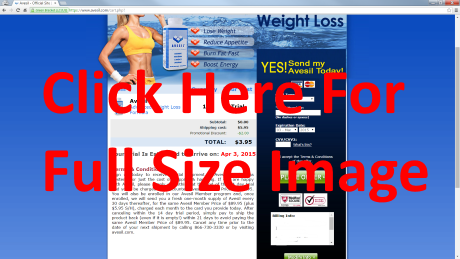 In addition, if you don't cancel they end up charging your credit card every 30 days for a fresh supply of Avesil, for the same amount of $89.95, plus the cost of shipping! However, if you DO call and cancel you STILL have to send the product back, at your OWN expense.
While pretty restrictive, that might be alright except that when you try to cancel, you can't get through to anybody. At least this was the experience of very many Avesil customers. We read horror stories about Customer Service not answering the phone, hanging up on customers, telling customers that they never canceled when in fact they had. Many people found that the only way to stop the charges was by canceling the credit card.
Avesil Vs. Phen375
There's a few notable differences between Avesil and Phen 375, mainly their ingredients, price, and overall customer reviews.
The Ingredients (Bold indicates they contain the same ingredient)
Avesil – Chromium picolinate, caffeine (75 mg), Green Tea Extract, and Ashwagandha Root.
Phen 375 – L-Carnitine, Citrus Aurantium, Caffeine, and Capsaicin.
Price (Based on a one month supply)
Avesil – $89.95 (after enrollment in their auto-shipment program)
Phen 375 – $69.95
Overall Customer Reviews
Avesil – Not very good. The vast majority of people that have used it have reported very little as far as results go, and many are pissed off for being suckered into their free trial.
Phen375 – Very positive. The vast majority of consumer reviews (including our very own personal testing results) indicate that most people have received a positive effect from taking Phen375.
Avesil Pros and Cons
One of the surest ways to make sure you're making a wise decision is to make a list of pros and cons and compare the two.
Advantages of Avesil
The formula is simple.
There is a FAQ section on the website.
Disadvantages of Avesil
There is nothing innovative about the ingredients.
The website mentions clinical trials but does not present them or state in detail what they found.

Avesil

is expensive.
There is no money back guarantee.
The free trial sets you up for a monthly auto-shipping program.
Avesil reviews are very negative about both the product itself and the customer service provided by the company.
Conclusion
We come across these phony free trial offers all the time. We normally caution against them even under the best of circumstances, when there is a decent amount of time to try the product and there is a responsive customer service. That is just not the case with Avesil. On top of that, there's nothing about this product that could warrant the price of $90 a month. Our recommendation on this one is clear. Don't buy it.
Have You Used Avesil? Leave Your Review Below!
Top 3 Weight LossAffiliate Disclosure
Instant Knockout is actually a new fat burning supplement I just came across, and got great results.
LeanBean Female Fat Burner is the BEST fat burner for women we\'ve ever tested.Read our review here.
Biohacks your body into instant ketosis to burn fat instead of carbs.

Weight loss, energy, focus, anti-inflammatory, anti-aging.
User Reviews

1.0 out of 5 Stars (1 Reviews)
Have you used this supplement?
This is a scam, u try the "FREE" sample then they send u out and bill u $100.00 every month without u signing up for the product. The product does not work. SCAM

Was this review helpful to you?

---
Ask A Question
User Questions and Answers
No Questions Have Been Answered For This Article.