Beyond Raw Ravage Review – Does It Work?
By:
Rob Miller
Fact Checked On: 8-6-2015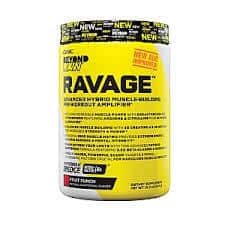 Beyond Raw Ravage Overview
When you're looking to increase muscle mass, you need to use a powerful pre workout, but you need more than that as well.

A good pre workout will give you energy and stamina to get the job done, but nothing helps you pack on pure muscle like creatine, and if you're head's not in the game, then none of your efforts will come together to amount to much of anything.

That's why GNC offers Beyond Raw Ravage.

They call it an "Advanced Hybrid Muscle-Building Pre-Workout Amplifier," meaning that it has everything you need to take your workouts and results to higher levels than you knew were possible.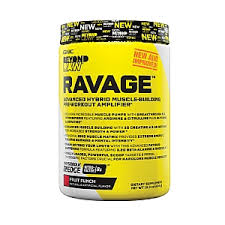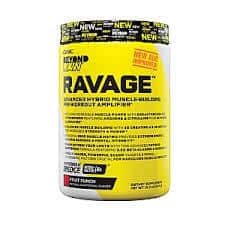 With Beyond Raw Ravage, the stated benefits include:
Insane muscle pumps.
Mental focus and intensity.
Anabolic enhancement.
Increased muscle energy.
Fat incineration.
Boosted metabolism.
Water regulation for less bloat.
Beyond Raw Ravage Ingredients and How They Work
That's a lot of claims for one product.

One potential problem with "do-it-all" supplements is that by taking on more than they can handle, they can end up not delivering on much of anything.

A look at the formula can usually help clear that perception up a bit.

For Beyond Raw Ravage the ingredient list is divided into several blends:
The Mind Muscle Matrix contains:
Caffeine, which at about the amount of a cup of coffee will get you going without causing jitters.
Choline which helps increase focus and concentration.
Capsimax for an increase in heat and metabolism.
The Advanced Power Maximizer contains:
Betaine Anhydrous for muscle cell energy.
L-Leucine for protein synthesis.
Rhodiola Rosea Extract to fight fatigue.
The Hardcore Pump Intensifier contains:
L-Arginine as a pre cursor to nitric oxide for increased vasodilation and major pumps.
Agmatine Sulfate which has also been shown to increase nitric oxide.
L-Citrulline which may even be more efficient at increasing NO than l-arginine.
Yohimbe Bark which is a stimulant that also increases blood flow for better pumps.

Yohimbe works, but you have to be careful with it.

Some people get mild side effects like nausea, but some get more serious effects, like a dangerous drop in blood pressure.

The FDA hasn't banned it, but they've recommended against using it, especially long term.
The Muscle Cell Module contains:
Creatine Monohydrate which is the most popular and most studied form of creatine.

It provides energy to your muscles so you push more weight, getting better results, faster.
Beta Alanine which inhibits the buildup of lactic acid, which causes muscle fatigue.
Instructions are to mix one scoop of Beyond Raw Ravagewith 12-16 ounces of water and drink about 30-60 minutes before working out.
Beyond Raw Ravage Pros and Cons
Advantages of Beyond Raw Ravage
It's an all-around formula which means if it works for you, you don't have to take a bunch of different supplements to get all the benefits.
Beyond Raw Ravage reviews from customers are pretty positive in terms of energy, focus, intensity, and pumps.
It's reasonably priced, considering all you get.
You can pick it up at GNC.
Disadvantages of Beyond Raw Ravage
The scoop/serving size is more than double what most other pre workouts use.
Word has it thatit tastes horrible and mixes even worse.
Where to Buy
You can get Beyond Raw Ravageonline or at GNC.

A 20 serving tub costs $50 at GNC, but if you're a member, you'll only pay $35.
Conclusion
If you can stomach the taste and the undissolved powder, Beyond Raw Ravage looks like a great all-around pre My one hesitation is about the Yohimbe.

The dose is small, so it's unlikely to be dangerous, but some users may suffer the milder side effects associated with it.
Have You Used Beyond Raw Ravage?

Leave Your Review Below!
Top 3 Pre WorkoutAffiliate Disclosure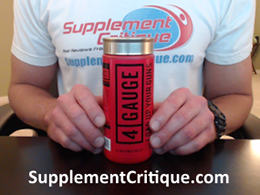 4 Gauge is a brand new pre workout that kicks in FAST and will rev up your workouts.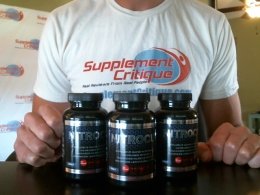 Nitrocut is a VERY effective pre workout supplement for a variety of reasons, see why here.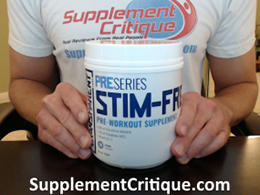 If you're looking for a stim-free pre workout, add Transparent stim-free to your list!
Want To Really Get Ripped?

Click Here To Download My FREE "Get Ripped" Ebook!
Ask A Question
User Questions and Answers
No Questions Have Been Answered For This Article.