Cellucor Super HD Review – Should You Use It?
By:
Rob Miller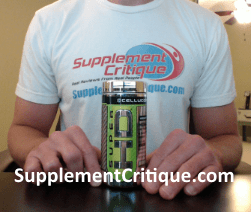 Cellucor Super HD Overview
Did you ever think you could feel good while dieting?

That's what Cellucor Super HDsays it can do for you.

They call it "The Feel Good Weight-Loss Product" because it combines fat burning with appetite suppression, and adds a nootropic effect to improve your focus and mood.

If it works like they say it does, Cellucor may be on to something with this fat burner.

And with Cellucor being such a well-liked supplement company along with the many positive reviews we've seen, the may just be.
Bodybuilding.com even voted Cellucor Super HD the "Fat Loss Supplement of the Year" in 2012, the year it was released.

They chose it because of it's combined focus on:
Thermogenics
Nootropics
High Powered Energy
Increased Metabolism
Better Appetite Control.
Cellucor Super HD Ingredients and How The Work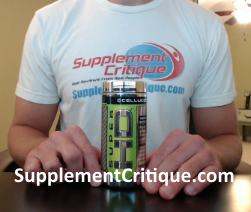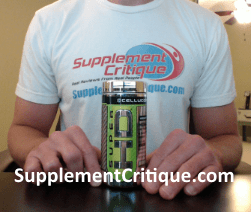 Okay, so we know the promises, but can the Cellucor Super HD formula deliver?

Let's look at the highlights to see.

There's:
The Nootropic and CNS Support Blend which includes Caffeine for energy and Huperzine A which is a powerful nootropic that maximizes the Acetylcholine in the brain so your neurons are firing on all cylinders, improving focus, concentration, and mood.
The ThermoSculpting Blend which includes:
IFAS503 which helps regulate insulin and glucose, reduces the body's ability to store fat, and supports appetite control.
Capsimax which burns fat.
Rhodiola which promotes mental energy and focus.
Yohimbe Extract with supports vasodilation and increases the adrenal response.
The B Vitamin Blend which includes:
Niacinamide which supports joint health and nervous system function.
Pyridoxal-5-Phosphate which is the active form of Vitamin B6 and supports several bodily functions including metabolism and muscle repair.
Vitamin B12 which supports cellular metabolism and blood formation.
It is recommended that you start of slow with Cellucor Super HD by taking one pill in the morning and 1 a little later in the afternoon.

After a few days assessing your tolerance, you should be ready to up the morning dose to 2 pills.

They also recommend that you cycle it for 8 weeks before taking at least a 4 week break.
Cellucor Super HD Pros and Cons
Advantages of Cellucor Super HD
There are tons of favorable Cellucor Super HD reviews from customers who use it successfully to lose weight.
You can find it for a reasonable price.
It's award winning.
Disadvantages of Cellucor Super HD
There are some very negative Cellucor Super HD reviews from customers who don't like how speedy it makes them feel.
My Personal Results With Cellucor Super HD
I finally got a chance to try out Super HD, and I have to say I was indeed impressed. First off, it doesn't present a HUGE surge in energy, which was something I sort of expected going into testing. It only contains 160 mg of caffeine, which is like a really strong cup of coffee, and although it does contain yohimbe, I didn't get that "sick to my stomach" feeling I typically get with supplements containing yohimbe.
Taste: Doesn't apply here because they come in capsule form, at least the version I got. The capsules are quite large though, and some guys have talked about breaking open the capsules and mixing into a drink (which I never recommend doing).
Effects: As mentioned earlier, Super HD didn't really come on too strong, but I definitely started noticing the effects within 45 min. or so. I could feel my energy levels start to increase, to the point where doing chores like laundry and cleaning was actually kind of fun.
I attribute that to the to it's energy and focus component, almost feeling like I took a nootropic supplement.
Result: After taking it for about 2 weeks, I lost about 6 lbs. Not a huge amount by any stretch, but I really DIDN'T need to lose that much to begin with.
Where to Buy
You can purchase Cellucor Super HD at GNC and through several online retailers.

The price is generally between $25 and $40 for 60 capsules, which would last you 3 to 4 weeks.
I just took a look at the Vitamin Shoppe website, and it appears that they are selling a 60-ct. bottle for $29.99, and a 120 ct. bottle for $49.99.
Of course, those prices are subject to change, so don't quote me on that!
Conclusion
If you like the speedy kind of weight loss supplements, then Cellucor Super HD is for you.It combines the thermogenic type properties that you'll find in alot of other, more expensive fat burners, but without the steep price tag.
With that said, it does contain a hefty amount of stimulants, so use it with caution.
All in all, if you're on the fence about trying Cellucor Super HD I say go for it!
Have You Used Cellucor Super HD?

Leave Your Review Below!
Top 3 Weight LossAffiliate Disclosure
Instant Knockout is actually a new fat burning supplement I just came across, and got great results.
LeanBean Female Fat Burner is the BEST fat burner for women we\'ve ever tested.

Read our review here.
Biohacks your body into instant ketosis to burn fat instead of carbs.

Weight loss, energy, focus, anti-inflammatory, anti-aging.
User Reviews

4.0 out of 5 Stars (1 Reviews)
Have you used this supplement?
Carey's Review
OK day one with taking one capsule in the morning and one in the afternoon . In the am after about an hour I started to feel a kind of tingly comfort. Energy was there but not over powering so unless your real sensitive to stimulants you should be fine. No upset stomach whatsoever and I feel like it did help curb the appetite a little. I did get a little irritable towards the end of the day but I think that was because I was on a roof painting with a customer trying to tell me how to do it. Took second dose before a small meal and feel great still. I'd say overall good day 1.

Was this review helpful to you?
14 out of 20 people found this review helpful.
---
Ask A Question
User Questions and Answers
---

I am on day one for this pill and so far I think I might like it. I do have some concerns though, my stomach started to hurt after taking the second pill mid afternoon, I think this is something not to be worried about but just making sure. I really enjoy the energy burst that it gives me though especially at work it gives me that extra help for the day. I know this is getting a little too much of a TMI question but is it normal for other people to experience some diarrhea? This is my main concern because i'm having this experience. -Taylor

I wouldn't be too concerned, but you might want to cut back to just a single serving each day for the next couple days. It contains yohimbe and caffeine, both stimulants. Perhaps it's a little much for you right out of the gate.- Rob
Was this question helpful to you?
1 out of 1 people found this question helpful.
ASK A NEW QUESTION
---

Can you use Cellucor HD with Nugenix? -Ray

Yes you can. I haven't tried it, but it's probably a very effective stack.- Rob
Was this question helpful to you?

ASK A NEW QUESTION
---

Hi, why u don't raccomend to open the capsule and mix it in a drink? I actually don't like the capsule and the taste that I have in my mouth after i swallow it. Thanks -Federico

I don't recommend it because most people are fine with the capsules, but that would be fine.- Rob
Was this question helpful to you?
0 out of 1 people found this question helpful.
ASK A NEW QUESTION