LifeForce (LF) T-Boost Review – Does It Really Work?
By:
Rob Miller
Fact Checked On: 3-28-2020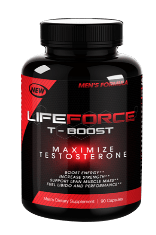 In an effort to gain lean muscle mass, men in their 20's and 30's have been turning to over the counter testosterone supplements to "get their mojo back". There's certainly no shortage of these testosterone boosters, and we have even personally tested dozens of them. One recent one that I came across is called LifeForce T-Boost, that of which you may have come across on either yahoo or your Facebook news feed. The product is supposedly a testosterone booster, and is said to help provide numerous benefits.
So what is this supplement all about and, more importantly, does it really work? Read our review to find out more.
What is LifeForce T-Boost?
According to the products own official website, LifeForce T-Boost will support your bodies own natural ability to enhance free testosterone levels. It stops short of saying how much, but I would surmise that it supposedly raises them enough to make an impact on lean muscle growth and libido levels.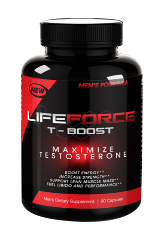 The primary benefits of the supplement include a dramatic boost in energy levels, increased strength and endurance, and faster recovery times.

Luckily, LifeForce T-Boost provides us with a list of ingredients in their product, which include: Tribulus Terrestris, Maca Powder, L-Arginine, Oat Straw, Ginseng, Cnidium Monnier, Epimedium, Chinese Dodder, Catuaba Bark extract, Cayenne Pepper, Ginger, Saw Palmetto, Ashwagandha Root, Licorice, and Velvet Bean.
There is "some"evidence that some of the above ingredients "may" help to mimic the effects of increased testosterone levels. For instance, the presence of Maca, Tribulus Terrestris, and Saw Palmetto all indicate that they can help for men suffering from erectile dysfunction. While they don't ACTUALLY increase testosterone levels, they can at least give you the feeling that your free testosterone has increased.
What's interesting to note, however, is that one of the reviews on the LifeForce T-Boost page actually says that he experienced a surge in testosterone levels. They even provide the results in a picture, which does in fact show a huge spike in free and serum testosterone levels.
The majority of the other ingredients appear to be fillers to me, not really having any impact on your overall T #'s.
Where To Buy, How To Take, And Other Fun Stuff
From what I can tell, the only place you can buy LifeForce T-Boost is on their official website. As a matter of fact, there really is no way to just "buy" it, as the only way you can obtain it is through a free trial (more on that later). There's no information on the label that says exactly how you should take it, but my guess would be that you need to take it everyday (even your off days) for it to be effective.
A serving size consists of 3 capsules, and there are 30 servings per bottle. Finding credible reviews of this supplement was tough. There's no talk on any of the major bodybuilding forums or discussion groups, and the youtube videos I'm seeing are rather useless. There are a few reviews on the products official site, but there is no mention of them being paid testimonials or endorsements.
I came across an ad on Yahoo that led to a page that initially looked like the Mens Health website. It talks about how celebrity's have been using a combo of Xtreme Muscle Pro and LifeForce T-Boost, and have been getting insane results. The whole article is basically an advertisement, and you can learn more about this deceptive type of marketing in my article here.
Our Problem With LifeForce T-Boost
Remember that free trial I was talking about earlier? Well, this is one of the biggest gripes we have about this supplement. You see, what you think you are getting is a free sample of the product. You pay maybe $4 or $5 for the bottle, and you figure if it works great, if not I'm only out $5. Well…..guess again!
What you are actually signing up for is what's known as an auto-rebill auto-shipment program. "What's that?" you ask? Well, when you go through the process of filling out the order form, it leads you to the page where you input your credit card information. If you probably didn't notice (which 99% of guys usually don't), just below all of the fancy "Guarantees" and "secure ordering" garble, you'll see this little blurb.
That's right….what you are signing up for is actually a "trial", NOT a "sample". After 14 days, they end up charging your credit card close to $90 for the bottle. To make things even more interesting, they enroll you into an auto-shipment program. This means that every 30 days they will send you a new bottle, and every 30 days they will charge your credit card $90!!
I've had guys who've signed up for many of these other free trials come to me and say they've been charged as much as $500 without even realizing it.
Updated 3/28/2020:It appears that Lifeforce T Boost is no longer for sale, at least not from a simple google search.
If anyone has seen it for sale somewhere else, please leave a comment below and let us know!
Recommendation
I'll get some guys that come to this review and are probably thinking "ok, so the free trial is a little misleading, but does LifeForce T-Boost actually work??" Well let's put it this way. Out of the dozens (if not hundreds) of reviews I've written about these supplements that offer free trials, I would guess that about 1% or less of guys that actually left a review had nothing but positive things to say about it.
In fact, many of these supplements that offer free trials as the ONLY way to get their product typically go out of business in 6 months or less. And they are not going out of business because they are not making enough money…they are our of business because they BILKED several thousand guys out of MILLIONS of dollars, and the "jig" is up. They know there are dozens of guys complaining online on sites like the Better Business Bureau and Mens Health, so what do they do?
They slap a new label on a completely new product, build a new website, get a new merchant account, and start the process ALL OVER AGAIN. Don't be a statistic guys…If I were you, I would completely avoid LifeForce T-Boost at all costs. It could end up costing you more than it's worth.
Have You Used LifeForce T-Boost? Leave Your Review Below!
Top 3 Testosterone BoostersAffiliate Disclosure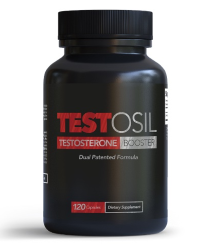 Testosil is the most effective testosterone boosting supplement on the market that I've tested.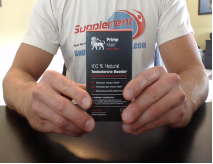 Prime Male is another very effective testosterone booster that uses clinically proven ingredients.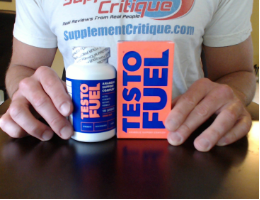 Testofuel is a VERY popular testosterone booster that contains ingredients to help older men.
Check Out My Top Choice For T Boosters - Testofuel

Click Here To Read My Review
Ask A Question
User Questions and Answers
---

I am still waiting for the return of my stolen funds from my account that your business withdrew without my permission. I am sure my bank has already pressed fraud charges against your company. I expect a response and my money returned to me immediately, plus I will go to the BBB if I do not hear from you and receive my funds by Friday, December 13, 2017!!! Renee M. Souilliard MC card ending in 9190 $89.95 -Renee

SupplementCritique.com is a review website. We don't sell products. In fact we recommend against this product, so you've got the wrong guys. You'll need to contact the company you ordered from in order to handle this matter.- Rob
Was this question helpful to you?

ASK A NEW QUESTION