1 Weird Tip To Build Muscle? I Think Not!
Fact Checked On: 12-10-2020 By: Rob Miller
---
The various ads littering the Internet that I see almost everyday, as well as the hundreds of men who've been scammed, inspired me to write this post. Did you just see an ad for some "Miracle Supplement Stack That Celebritys Use?" The sayings vary but all have the same general appeal…"1 Weird Tip To Build Muscle", "Lean Muscle In A Bottle?", "2 Steps To Burning Stomach Fat". The sayings are all "eye candy" and appeal to most guys who are looking to get in shape. I mean, what guy wouldn't want to pop a couple of pills everyday and get a body like Brad Pitt or Gerard Butler.
But, there is a darker side to these advertorials, a side that most guys miss. And it can seriously cause some damage to your bank account, and your ego…Read on to see what I'm talking about.
The Allure Of A Better Body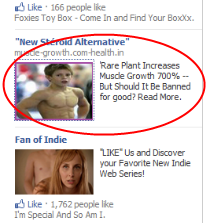 Every guy wants ripped, six packed abs, a solid chest and back, and bulging shoulders. We know from years of experience that a good diet and exercise is key to achieving this, but let's face the facts…we're lazy. We don't want to workout (most of us anyway), we want to eat cheeseburgers and pizza, sit around on the couch or roam the internet all day, and basically do nothing.
You come across an ad on a social media site like Facebook or Twitter about some "shocking secret celebrities are using to build insane muscle", and it sparks your curiosity…so you click the ad. Generally, it goes to a page that looks like this, which is strikingly similar in layout to Men's Health and/or Men's Fitness. It oozes trust and authority, and a staff reporter who goes by the name of "Bryan Stevens" has a pretty cool article on a couple of supplements he recently tested and got massive results from.
The article is packed with before and after photo's of celebritys like Chris Hemsworth, Mel Gibson, The Rock, Hugh Jackman, and Gerard Butler (amongst others) and the results appear to be nothing short of amazing. We see one pic of a fat assed Gerard Butler in a before photo, followed sharply by a chiseled and ripped after photo. The fact that he is paid to lose weight and probably has a personal trainer and chef, that's not really mentioned here. The editor of this article (Bryan Stevens) says that Mr. Butler used these two supplements to get the results you're seeing right here.
The Supplements
So you start reading about these supplements and they intrigue you, but which supplements are we talking about here. Well, that really depends on the day your seeing it. One day it is a combo of Elite Test 360 and Ripped Muscle X, the next day it's Hyper Fuel and Elevate GF, and so on and so forth. So, which supplement combo did he use?
Well, the truth is, these celebrities did NOT use some miracle supplement stack to get these perfect bodies. Despite that fact that this article looks extremely legit to the untrained eye, the simple fact is that it is an advertisement, not an article. Let me explain…
The Hook, Line, And Sinker
The hook in this case is the allure of a better body by using a couple of supplements, and for demonstration purposes, we will use the supplements Elite Test 360 and Ripped Muscle X. By combining Elite Test 360 and Ripped Muscle X (according to the article), you get a better body without lifting weights or exercising. It "hooks" you in because most guys want an easy solution to packing on lean muscle and getting the body of their dreams. Who Doesn't!
The line in this case is really the "bait", because, would you know it?, the companies that make these supplements are actually giving them away FREE! How nice of them!
But wait, there's a catch….in order for you to get these "free" samples of these supplements, you need to put in your credit card information to pay for the shipping. It's only $4.95 for each, what do you have to lose?! So you go ahead and gladly get your credit card out of your wallet and put in your shipping info.
After a few days you get your bottles in the mail and start taking them diligently, just like the article said. Then, in a couple of weeks you log onto your online billing statement or get your paper credit card statement and notice a couple of charges that you don't remember making. They are in the amounts of $89 and $87.63, respectively. You decide to call your credit card company and find out what's going on here…herein lies the sinker.
The Scam Revealed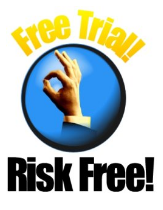 You get in touch with a bank representative and ask what the charges were all about, and that's when you find out the truth behind this supplement scam. This first charge (the $89 one) was from Elite Test 360, and the second (the $87.63 one) was from Ripped Muscle X. Furious, you argue with your banks representative saying that you didn't authorize these charges, and he/she replies that when you ordered these products you agreed to their terms and conditions.
"What terms and conditions?" you may ask. Well, specifically the Elite Test 360 terms, which you can see here, and the Ripped Muscle X terms, which you can see here. You see, what you probably weren't aware of is, when you entered your credit card info on their order page, you were agreeing to "try" these products for a duration of 14 days, and at the end of this "trial" period, the companies would charge you some exorbitant amount unless you cancelled before the trial was up.
What's even worse is there are some guys out there that don't actually check their credit card statements every month. So what's the big deal about that? Well, not only are these companies putting you into a auto-rebill program, but they also put you into what's called an auto-shipment program. If you guessed right, this means that if you haven't cancelled, they will continue to charge your credit card every month, and continually send you the product, even if you don't want it!
Who the hell takes the time to REALLY read the fine print when you are ordering something? Well, the makers of supplements like this bank on this fact, and use it to their advantage to "lure" the unsuspecting consumer into a costly "trial" of their product, knowing that you probably won't read or see the terms and conditions.
They tell you to get in touch with the companies directly, and may even give you the customer support phone numbers for Elite Test 360 and Ripped Muscle X. You call these companies up and tell them that you didn't agree to these charges and want a refund. Fat Chance of that happening!! Trust me on this one, you will get nowhere with them. They will go on and on about how you agreed to the charges when ordering, and that they were well within their legal rights of charging you.
If you are persistent enough, they will agree to lower the charge to half of what you originally paid, which is still a slap in the face but might be your only recourse.
What YOU Can Do To Fight Back!
First off, I want to ask you to "like" us on Facebook, +'1 me on Google Plus, and email it to your friends. The more people that know about this the better, and by you helping share this article you will be doing your friend/family member a favor by saving them the time, money, and hassle that you might be going through.
Second, there are a couple of tricks I have learned over the years that will help you "fight back" against these scams once and for all. The first thing you can do if you were scammed is when you call the companies up, threaten to call the Better Business Bureau (BBB) attorney general in your state. 9 times out of 10 the rep will put you on hold and then come back and say they will issue a full refund, which they ALWAYS follow through with. I have personally done this myself and it has worked countless times.
Another trick you can use if you haven't already bough the product is to visit your local walmart or other retailer and buy a pre paid credit card in the amount of say $10. Then, if you go to the products website you can use that pre paid card, and when they try to charge it they will get nothing! This doesn't work for all of these supplements though, because some of them use a trigger on their credit card transaction systems that prevent orders coming from pre paids. It's worth a shot though!
The last thing you can do is contact your credit card company and dispute the charge. Most of the major credit card companies (Visa, Discover, etc.) are so freakin huge that they will reverse the charge without even thinking twice. However, with some of the smaller banks / credit card companies it might not be so easy, so do this at your own discretion.
The Bottom Line
These so called "free trials" will probably not be going away anytime soon, so the best thing you can do to protect yourself is simply don't order the products. I have personally tried dozens of them, and I can tell you from experience that almost all of them don't even work anyway. They are often packed with bogus ingredients that are really just fillers and have no impact on lean muscle growth or acting as fat burners.
If you want some quality supplement recommendations that REALLY do work, shoot me an email and let me know what your specific goals are and I will help you out to the best of my ability.
Ask A Question
User Questions and Answers
---

Hi there I recently was subject of one of these scams. I was charged with the $5 dollar shipping fee yesterday and after some research, realize what a fool I am. Is there any way I can stop them from making any further charges? -nick

As soon as you receive your product, call the company and tell them you want to cancel your subscription. Make sure you contact them within 14 days of the day you placed your order.- Rob
Was this question helpful to you?
16 out of 16 people found this question helpful.
ASK A NEW QUESTION
---

I am 54, 275 pounds/6'3". I started out at 295 pounds. I have been lifting since last December, 3 days a week (4 sets each exercise: goblet squats with 90pound dumbbell; seated overhead press with 60 dumbbells; flat bench with 90's; bent over row with 90's; cable fly 30 each side (1 high/1 mid/1 low); roman chair body weight only; two sets dips/pullups w/85 pound assist; 3 sets machine crunch). I try to keep time between sets to 45 seconds; less than 2 minutes between exercises. I want to get down to 220-230 again. What supplements would be good a stack for me to accomplish my goals. -Peter

Go with a stack of Instant Knockout (fatburner) and Testofuel (natural testosterone booster).  Your workout looks good, but sign up for my free "getting ripped" ebook for alternatives and a meal plan to help you achieve your goal. I'd also add some cardio to your daily routine.- Rob
Was this question helpful to you?
18 out of 22 people found this question helpful.
ASK A NEW QUESTION
---

What a product that really works like the ad. -Jordan

Haha, good question. Probably none.  But if you're looking for something to help you get ripped, check out the Crazy Mass Cutting Stack - Rob
Was this question helpful to you?
12 out of 15 people found this question helpful.
ASK A NEW QUESTION
---

Last night I purchased a free trial of the HGH XL supplement after reading the article on it in Men's Health magazine.I did read the small print and realised I will get billed for £84.99 if I don't cancel within 14 days of placing the order. How can I make sure I definitely cancel the order and have proof.Do you have an email address or phone number for the company I need to ring. Many thanks for your article and help. -steve

Their website says to cancel though this email address:  support@hghxl.co.uk.  It also lists their phone number as:  0800 206 1695.  Their hours are M-F 9:00am-5:00pm GMT.- Rob
Was this question helpful to you?
11 out of 16 people found this question helpful.
ASK A NEW QUESTION
---

how can I get a number for a product xength x1 to be exact -nathan

They list their customer service numbers on their website. From the US, their number is 1-888-857-6915. There's also an "easy cancel" button on their website.- Rob
Was this question helpful to you?
6 out of 7 people found this question helpful.
ASK A NEW QUESTION