Cybergenics ISO-TEST Review – Is It Truly Efficient?
By:
Rob Miller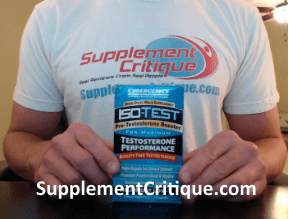 Cybergenics ISO-TEST is a natural formula designed to provide the male body with the means to kick-start testosterone production.

While Cybergenics, the manufacturer, seems to enjoy a lot of popularity among bodybuilders, it is unclear how Cybergenics ISO-TEST is supposed to work in order to treat erectile dysfunction and the wide array of problems caused by the decline in testosterone production.
Cybergenics ISO-TEST is not available for sale on the manufacturer's website, so any information on the product can be obtained only from third parties – which is a little concerning.

Also, the official website of Cybergenics is quite scarce and does not provide enough information about the nutritional supplements offered by the company.
In fact, it seems as though the company as a whole is not doing very well and the email address listed on the website is connected to another company – Truly Huge.

The site also includes this odd disclaimer: "Sadly the original Cybergenics kits are not currently being manufactured."
It generally is not a good sign when a supplement becomes a vintage collector's item.
How Cybergenics ISO-TEST Works
Cybergenics ISO-TEST contains quite a short list of ingredients, and this may not be necessarily a bad thing.

Often, supplements feature a huge list of – mostly unnecessary – ingredients.Like most of the products made by Cybergenics, though, ISO-TEST is (was) aimed specifically at bodybuilders so many of the advertised benefits extend beyond a healthy sex life.

However, most of the ingredients are geared toward achieving these promises by increasing testosterone production.
(Click Here to see a photo of the label)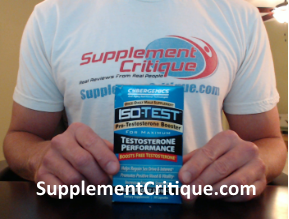 The key ingredient is represented by Eurycoma Longifolia, an herbal extract also called Tongkat Ali or LongJack, used traditionally by Asian medicine in addressing male sexual issues.

The product is advertised as being able to boost the production of testosterone, increase sex drive and stamina.

Surprisingly, the science backs up most of these claimed benefits.Specifically, LongJack has shown promise at increasing sperm production and sex drive but there's no evidence that it increased testosterone production.
Stinging nettle, a fairly common herb, is also used.

This plant has been used for centuries by a variety of cultures for an array of symptoms, ranging from allergies and joint pain to male health. The root of the plant has shown some promise in studies for improving prostate health, but there's no evidence that nettle affects testosterone production or sex drive.

Thanks to the weak labeling and slim information on ISO-TEST, it's unclear which part of the plant is used here, though.
Cybergenics ISO-TEST also contains dimethyl chrysin, a flavonoid from the Passionflower whose role in this product is to prevent the transformation of testosterone into estrogen and increase testosterone production.

Interestingly, this benefit of chrysin is proven – when it is injected directly into the testicles. When taken orally, chrysin is not typically absorbed at all.
The final ingredient of ISO-TEST is BioPerine, a designer form of a black pepper extract called piperine.

While this extract does nothing on it's own, it has been shown to inhibit a protective process called glucuronidation which occurs in the liver.During glucuronidation, a molecule called glucuronide is attached to drugs and supplements to signal to the rest of the body that they need to be sent out with the urine.

Usually, this a protection against overdosing but can sometimes stop all of a certain molecule from being absorbed.
It's possible that BioPerine is included to make chrysin work since there is some older research indicating that they have a positive interaction.

In a 1999 study, this combination was shown to decrease estrogen levels while simultaneously increasing testosterone production in just 30 days. However, I could not find any information regarding the dosages used in this study.

It should also be noted that Piperine does not increase absorption of every supplement, despite what the manufacturers say.
BioPerine also claims to have the ability to speed up your metabolism and decrease body fat but this is questionable. There is no research to support that piperine – in it's common form – has this benefit and the BioPerine website provides no explanation as to why it would increase fat burn or proof that it does so.
It's also difficult to thoroughly review the ingredients of ISO-TEST because I was not able to find information regarding exactly how much of each ingredient was present in the product.

Very often, manufacturers will include an ingredient that looks good at the label but drastically cut the dosage to save money.

It's extremely common for supplements to contain dosages that are well below those that were used in successful studies.
User Reviews
ISO-TEST has frustratingly mixed reviews through various websites.

Ultimately, it seems like the manufacturer has done themselves a disservice by promoting this product as a "bodybuilding supplement," since the ingredients are clearly geared toward increasing sex drive.While testosterone has many benefits to bodybuilders, a healthy male body produces all the testosterone it needs and will simply not use anything above that.

Of course, there's the fact that none of these ingredients have actually been proven to increase testosterone production.

For this reason, this supplement is probably really only useful for men who have a definite lack of testosterone and are looking to recover their resulting sex drive.
But ISO-TEST is often used by men who do not actually have to increase their testosterone levels, which results in poor user reviews.

For the most part, older men seem to have had good experiences with this supplement.

Younger men and bodybuilders, though, don't usually experience any affects on ISO-TEST.
For the most part, the most notable side-effect that has been reported with ISO-TEST is some mild stomach discomfort.

Some people have reported severe mood swings, though, which could be a sign that their testosterone levels are actually – and surprisingly – being increased.
Cybergenics ISO-TEST Benefits
Designed by a reputable manufacturer
An all natural formula
It is based on powerful key ingredients
Cybergenics ISO-TEST Drawbacks
The company has since folded and information is scanty
You may have to take these pills for a while until noticing the full effects
Getting a refund may be tricky
ISO-TEST has mixed reviews
Poorly marketed
Where to buy Cybergenics ISO-TEST
Cybergenics ISO-TEST is not available for purchase on the manufacturer's website.

However, reputable online retailers, such as Amazon, do have Cybergenics ISO-TEST available for sale.

You will not be able to purchase Cybergenics ISO-TEST from brick and mortar stores.It also seems like a company called Truly Huge has taken over ISO-TEST and the supplement can be purchased through them.
Unsatisfied customers have also reported difficulty in getting their money back, even though refunds are offered.

It could be an even more troublesome process now that ISO-TEST is being handled by a different company.

It's also unclear as to whether or not the product is even still being manufactured.
Recommendation
Cybergenics ISO-TEST is clearly designed as a testosterone booster – even if it does not live up to that reputation.As many well know, the decline in testosterone production that happens with aging is one of the main culprits for the appearance of erectile dysfunction in men over 50. This decrease is also responsible for many of the body composition issues that older men struggle with.

However, this product seems to have been aimed more toward bodybuilders than for aging men.
Still, Cybergenics ISO-TEST seems to present some advantages, as it contains a high concentration of an ingredient that has been used traditionally as an aphrodisiac for centuries.

The information available on Cybergenics ISO-TEST explains how all the ingredients work in detail, and seeing that the manufacturer was quite popular among bodybuilders, it may be fairly efficient..
The fact that the company has since faded away and has become a sort of joke among modern bodybuilders could be a cause for concern, though.

In professional bodybuilding communities, Cybergenics is often spoke of as a 1990's fad – and ISO-TEST tends to share that reputation.
Overall, it seems like ISO-TEST could be useful for men who suffer from decreased testosterone production but most likely won't do much for the average bodybuilder.

Since the production does not contain anything that is actually proven to increase testosterone, the only real potential of ISO-TEST is to increase sex drive.

Unfortunately, ISO-TEST does this by other means, rather than increased testosterone production.
If you are considering this product, then, you need to ask yourself what you hope to get out of it. Frankly, ignore the claims on the marketing material.I would not bother taking this product if you're looking for the non-sexual benefits of increased testosterone production – increased energy, increased strength and improved body composition.
As an aphrodisiac, though, ISO-TEST could be useful.However, there are much cheaper options available that are more geared toward increased sex drive and performance that may be a better choice.
Have You Used Cybergenics ISO-Test? Leave Your Review Below!
Top 3 Testosterone BoostersAffiliate Disclosure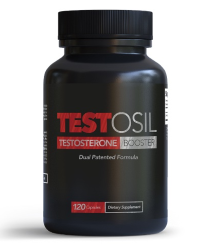 Testosil is the most effective testosterone boosting supplement on the market that I've tested.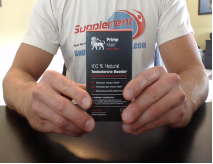 Prime Male is another very effective testosterone booster that uses clinically proven ingredients.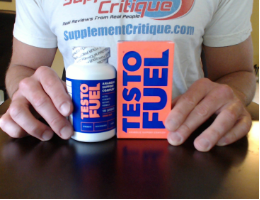 Testofuel is a VERY popular testosterone booster that contains ingredients to help older men.
2 Star User Reviews

3.8 out of 5 Stars (5 Reviews)
Have you used this supplement?
There Are no 2 Star User Reviews
Check Out My Top Choice For T Boosters - Testofuel

Click Here To Read My Review
Ask A Question
User Questions and Answers
No Questions Have Been Answered For This Article.