Dieters Cheating Caps Review – Our Conclusions
By:
Rob Miller
Fact Checked On: 4-26-2013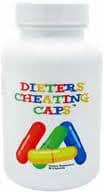 Dieters Cheating Caps Overview
Can you eat whatever you want and still lose weight? The makers of Dieters Cheating Caps say you can cheat on your diet and lose weight anyway. Their non-stimulant fat blocker/carb blocker/appetite suppressant allows you to eat freely without feeling guilty, and helps you lose the weight with no side effects. Sounds good to us. Let's take a closer look.
Ingredients and How They Work
There are only 3 ingredients in Dieters Cheating Caps, 750 mg of each:
Glucomannan is a non-stimulant appetite suppressant. It's a fiber supplement that absorbs up to 200 times its weight in water. This helps you feel full so you eat less. You have to take it with lots of water to achieve the greatest effect.
Chitosan is a fat blocker. Simply put, it's a fiber that attaches itself to fat, so the fat doesn't get metabolized and stored on your body. Instead, the fat, attached to the chitosan, is eliminated as waste. Chitosan has also been shown in tests to raise good cholesterol while lowering bad.
Phaseoulus Vulgaris is a carb blocker. It's extracted from the white kidney bean and has been shown to prevent the body from using starch and starch calories. Instead starches are also eliminated as waste.
Dieters Cheating Caps Pros and Cons
Making a list of a products high and low points is a great way to help make a wise, well-informed purchasing decision.
Advantages
Unlike the vast majority of weight loss supplements,

Dieters Cheating Caps

contain no stimulants.
The manufacturer claims that there are no side effects, and we found none cited in Dieters Cheating Caps reviews.
The website offers a money-back guarantee for one used and all unopened bottles.
Disadvantages
Clinical studies have been done on the individual ingredients. Even at much higher levels than what's in this diet aid, they were found to be minimally effective at best.
Reviews are mostly lukewarm. Most consumers say it did not meet their expectations.
Exaggerated claims like "eat whatever you want and lose weight" are misleading, and don't speak well for the ethics of the manufacturer.
Where to Buy
Dieters Cheating Caps are only available online either at their official website or at Amazon. Both charge $23.97 for a 90-count bottle (30-day supply). The website also currently offers "buy 3 get 1" and "buy 4 get 2" specials. The website offers a satisfaction guarantee.
Recommendation
No pill can allow you to eat whatever you want and still lose weight. You have to wonder about a product that would make such a claim.We would think that if a product really had something unique and valuable to offer, they wouldn't need to make ridiculous promises. The website has a link to clinical study references. Trouble is, when you click on it, the page doesn't exist. Are they hiding something? Maybe they think nobody will bother to look.
The ingredients are common in weight loss supplements, but none of them show any real effectiveness, especially at the levels found in this product. No side effects is great, but in the end, if you don't want to be disappointed or feel duped, we think you should skip Dieters Cheating Caps.
Have You Used Dieters Cheating Caps? Leave Your Review Below!
Top 3 Fat BurnersAffiliate Disclosure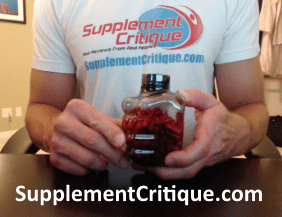 Instant Knockout is actually a new fat burning supplement I just came across, and got great results.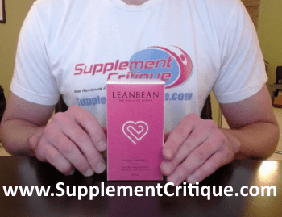 LeanBean Female Fat Burner is the BEST fat burner for women we\'ve ever tested.Read our review here.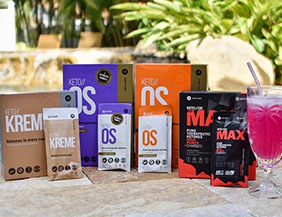 Biohacks your body into instant ketosis to burn fat instead of carbs.

Weight loss, energy, focus, anti-inflammatory, anti-aging.
Ask A Question
User Questions and Answers
No Questions Have Been Answered For This Article.