ErecAid Overview
There's an erectile dysfunction remedy that boasts a 90% success rate and has proven it with clinical testing.  The trouble is that to some guys the cure may be worse than the disease.  But could it be that those guys are missing out for no good reason?  Let me explain.  I'm talking about vacuum therapy – penis pumps.  The simple fact is that most of the time, they work.  But because they may view them as bulky and not very sexy, lots of guys just won't use them.
The one we're talking about today is called ErecAid, and it's been around for quite a while.  I have to agree, it's not sexy.  But neither is not having sex at all.  So sure, it's not for the guy who wants to see how big a boner he can get, but it may be for the guy who deals with real erectile dysfunction on a regular basis due to age, injury, or disease.
What is ErecAid?
ErecAid is a hand held vacuum therapy device that helps you produce the solid erections you can't otherwise achieve.  Doctors recommend vacuum therapy frequently for anyone who is unable to take pills because of other conditions like high blood pressure and diabetes, or simply prefers not to.
How ErecAid Works
It may seem intimidating, but most men (and their partners) find that after a couple of uses, it's simple and easy.  It's a simple tube that you place over your penis and a set of rings that you place at the base.  The tube creates a suction when you manually pump it.  The suction draws blood into your penis to create an erection.  The ring (you choose the correct size) keeps the blood from flowing back out before you're ready.
The ErecAid device comes with written instructions as well as a video demonstration so all the guesswork and intimidation should be alleviated.
ErecAid Pros and Cons
Advantages of ErecAid
It's 90% effective.
It can be used by guys who cannot take oral erectile dysfunction medications for any reason.
It's easy to learn and comes with video instructions.
There's a money back guarantee.
The cost of ErecAid may be covered by Medicare.
Disadvantages of ErecAid
Some guys just won't feel comfortable using a device such as this.
It may be expensive.
Where to Buy
You can purchase ErecAid online.  There are different packages and versions for a range of prices from about $200 to $500.  Medicare may cover some of the cost, so you'll want to talk to your doctor about that.
Conclusion
The truth is that these vacuum devices do work.  And as long as you find a reputable manufacturer, it can work for you.  ErecAid is a solid product from a solid company, so you should feel comfortable going in this direction if you're thinking about giving vacuum therapy a go.
Have You Used ErecAid?  Leave Your Review Below!
Our #1 Choice For Male Enhancement – Vigrx Plus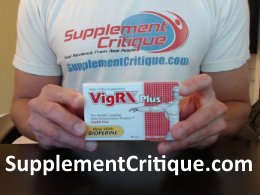 We have personally tested over 100 different male enhancement supplements, and Vigrx Plus stands out as the most effective in terms of results and customer reviews.  Not only is Vigrx Plus designed to help boost overall stamina and libido, but it's also the only product in its category to be clinically studied and PROVEN to work.
Click Here to read more about my specific results with Vigrx Plus
Want To REALLY Get Bigger?

Click Here To See Products That WORK!
Ask A Question
User Questions and Answers
No Questions Have Been Answered For This Article.