Evogen EVP Review
By:
Rob Miller
Fact Checked On: 4-27-2013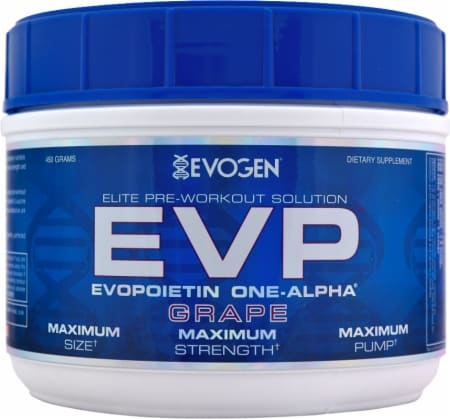 Reading about pre-workout beverages can become a bit confusing and overwhelming due to the language used by most of the manufacturers.

Either they get a bit overly technical or they use unusual terms to describe the most appropriate audience.

For instance, we've seen products described as being suitable for the "charged", "maniac", "ultra", and "Alpha" athletes.

So, we were very interested in the word "elite" appearing in a product description we recently found.
Naturally, any product that claims to be "elite" automatically catches our eye, and that is why the Evogen EVP product is the subject of this review.

The manufacturer states that this is a product for elite athletes and those committed to hard training.

Naturally, this means we wanted to take a look at the ingredients to see if they backed the claims made by the manufacturer, and we will also explored what other consumers are saying about it.

We also had to consider pricing, because anything tagged with a label like "elite" tends to be outside of most consumer's pockets.
What is Evogen EVP and Ingredients
When we began our research we were immediately surprised by the list of elite athletes identified as likely consumers of this product.

For instance, the maker claims that all "disciplines" will appreciate the benefits of Evogen EVP.

They identified bodybuilders, but also said that figure and fitness competitors, endurance athletes, and mixed martial artists could easily rely on the muscle building and performance enhancing properties of the Evogen EVP product.
So, what was the big secret that made this product so much more effective for a diversity of athletes?

I quickly discovered that it is the patented FUSIL component that helps this product to meet the needs of elite athletes.

This is a product that uses L-Leucine in a patented formulation, and this means that the product is really an anabolic trigger that encourages the body to perform protein synthesis and a range of anabolic processes that nurture muscle growth and repair.

This product contains a great basic vitamin supplement, but also features an anabolic catalyst, a "recovery complex", a "cognitive enhancing complex", and a "volumizing complex" too.
User Reviews and Feedback
So, this meant we needed to see what the actual users of the Evogen EVP product had to say.

Of the roughly 80 consumer reviews found, we saw very few negative remarks.

We learned that it was the preferred pre-workout beverage for women and men alike, that it was used by a diversity of athletes and "everyday" trainers, and that it was a consistent and reliable product.
Lots of comments mentioned the absence of "shakes" and "jitters" and almost all appreciated the steady supply of energy that they enjoyed when using this supplement.

The word "best" seemed to appear very often, and this left a distinct impression.

One of the few "cons" associated with this product is the flavor or taste, and some people mentioned that it had a medicine-like flavor.
Where To Buy
The price of Evogen EVP is also something to consider, especially because it is found in a very limited number of places.

The most direct way to get your hands on the product is through BodyBuilding.com.

They require $60 for the 450 gram tub (though the standard retail price is around $85).The tub contains around 40 servings of the grape flavored powder, and it should be mentioned that there are zero calories per serving!
Recommendation
We believe that Evogen EVP really does live up to its description as a product suitable for elite and hard training athletes of many kinds.

The formula is definitely designed to deliver optimal results, and its scientific backing ensures that it is safe and effective for a wide range of consumers.
Top 3 Pre WorkoutAffiliate Disclosure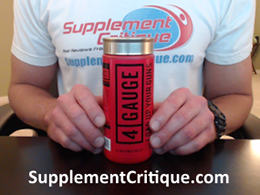 4 Gauge is a brand new pre workout that kicks in FAST and will rev up your workouts.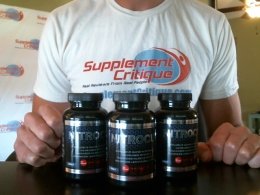 Nitrocut is a VERY effective pre workout supplement for a variety of reasons, see why here.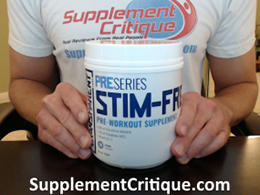 If you're looking for a stim-free pre workout, add Transparent stim-free to your list!
Want To Really Get Ripped?

Click Here To Download My FREE "Get Ripped" Ebook!
Ask A Question
User Questions and Answers
No Questions Have Been Answered For This Article.