Myths Uncovered – Truths Revealed
There are many common myths associated with Hgh therapy, and we will attempt to help uncover these myths so that you walk away with a better understanding.

With so many releaser's coming onto the market, it is important to keep yourself informed, especially when debating on which product to choose.

Let's examine some of the more common misconceptions about these products.
Myth #1: Hgh releaser's Are The Same As Steroids
This has been a real popular one, with many people interpreting growth hormone as a legal steroid.

In its injectable form, it is similar to a steroid, as it acts as a growth hormone just like a steroid would.  But these injectable therapys are only used as a last resort, and typically are used on children that suffer from reduced growth during puberty.
Hgh releaser's work to encourage the pituitary gland to produce more hgh naturally, and ARE NOT steroids.
Myth #2: Hgh Will Make Your Muscles Huge
Unless you are training like a bodybuilder, there is no conclusive proof that hgh will allow your muscles to grow substantially.

Natural releaser's are meant to increase lean muscle mass, which simply means it helps to burn fat and make you look more ripped.
It does however, cause the secretion of more igf-1 from the liver and other tissues, allowing for an increase in amino acid uptake and your bodies ability to synthesize protein into muscle.
Myth #3: HGH is Banned By The FDA
Hgh, in its pure form, is only available by prescription from a licensed physician.

Synthetic hgh, as it is commonly referred as, is often given through injection over a period of 1 year. releaser's are completely legal, under the Dietary Supplement Health and Education Act of 1994, which allows all natural products to be approved for sale without a prescription.
Myth #4: Hgh releaser's Are Not Safe
While there has not been many detailed clinical analysis of releaser technology, you can be assured that products we recommend come with the highest level of safety and are manufactured in cGMP compliant facilities.
There are no known side effects associated with taking releaser's, simply because they are all natural products and not synthetic growth hormone.

If you have concerns about whether or not these products are safe for you, you should always consult with your physician prior to any use.
Myth #5: Hgh Causes Rapid Weight Loss
There are no published studies indicating the use of growth hormone to achieve rapid weight loss.

While it is true that some studies conducted noticed an increase in lean muscle and a reduction in fat, it is not known to help people with obesity or excess weight gain achieve weight loss results.
It does however, help to increase your metabolism, prevent your body from storing fat, and breaks down fat cells and converts them to energy.
My Top Choice For HGH Supplementation –

HyperGH 14X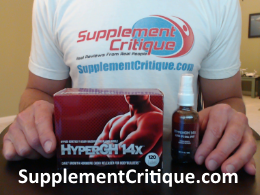 Looking for an effective all natural HGH supplement that really works?

I recently had a chance to test out HyperGH 14X, and my results were pretty amazing.

This product uses high quality ingredients, and is specifically designed to help stack lean muscle, get bigger results from your workouts, and help you recover faster.
Learn how it works in my official review of HyperGH 14X.
How People Found This Review:
and hgh xl
Ask A Question
User Questions and Answers
No Questions Have Been Answered For This Article.