Live Cell Research LA-3 Review – 1 BIG Reason to Give It A Try
By:
Rob Miller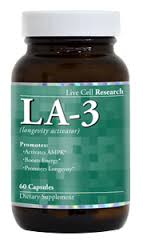 ---
---
Home
»
Weight Loss
» Live Cell Research LA-3 Review – 1 BIG Reason to Give It A Try
Live Cell Research is a California lifestyle nutrition company that makes several nutritional supplements to improve your health. LA-3 is what they call a "Longevity Activator".
Essentially, what this means is Live Cell Research LA-3 is a supplement made to make you look and feel younger, more fit, spry, and lively.
Once we reach a certain age, we all feel like we could use something like this, but since there are so many supplement scams floating around (especially on the internet) let's take a closer look at this one to see if it's worth your time and money.
What Is Live Cell Research LA-3?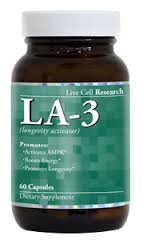 While they call it a longevity activator, it's also regarded as a fat burning weight loss supplement.
LA-3 works by activating the AMPK enzyme, which is what they call the "master switch" inside cells that tells them to stop storing fat and instead use it for energy.
When this happens, you feel less hungry, more motivated, with greater energy, and fewer cravings.
The effect of all this is that you feel better and younger overall, with clearer thoughts on top of everything else.
In order to experience the fullest effects, they recommend you use at least a 3 month supply.
Lets dig a little deeper, take a look at exactly how Live Cell Research LA-3 flips that master switch, and determine if it actually works or not.
Live Cell Research LA-3 Ingredients
The Live Cell Research LA-3 formula contains a total of 3 active ingredients in a vegetarian, lactose-free, and gluten-free capsule:
Gynostemma Pentaphyllum Leaf Extract (450 mg) (in the form of ActivAMP) which is most commonly used to combat liver disease. It is also sometimes used to fight obesity and regulate blood pressure. (1)
Quercetine Dihydrate (100 mg) which is sometimes used to treat pain and inflammation and when taken regularly, can improve quality of life as such. It may also be used to improve prostate symptoms. (2)
Berberine HCL (100 mg) which is used to potentially reduce cholesterol and blood sugar levels. In certain preliminary studies, it's been shown to help participants lose weight (5 pounds in 12 weeks). (3)
That's the entirety of the active formula, and I have to say, at first glance, it's tough to see how this formula can achieve the kinds of results they claim Live Cell Research LA-3 provides.
But rather than jump to conclusions about its effectiveness or lack thereof, we'll dig a little deeper.
The way Live Cell Research LA-3 is supposed to work is by boosting AMPK levels.
It's the Gynostemma ingredient found in ActivAMP that's the primary activator here.
It up-regulates sestrins, which are activated normally during exercise, and tell cells to burn fat and produce energy.
Activating their release even while you're not exercising can lead to boosted energy as well as weight loss and an overall improved sense of wellness.
Related Article: How to Lose Weight For Good
Clinical Evidence
The Live Cell Research LA-3 references a 12-week clinical study conducted on the effects of ActivAMP on overweight humans.
The results showed a decrease in weight, body fat percentage, and even a shrinkage in the abdominal area.
I often have readers ask me how to reduce belly fat. This study indicates that if Live Cell Research LA-3 works, this may be the way.
Berberine has also been shown in studies to activate AMPK.
How To Use Live Cell Research LA-3
The recommended daily dose is 2 capsules taken with a glass of water. They specify that you can take it either on an empty stomach or with food. It's best to take it in the morning so AMPk can be activated all day long.
The Live Cell Research LA-3 lays out what you should expect in terms of results in a handy chart: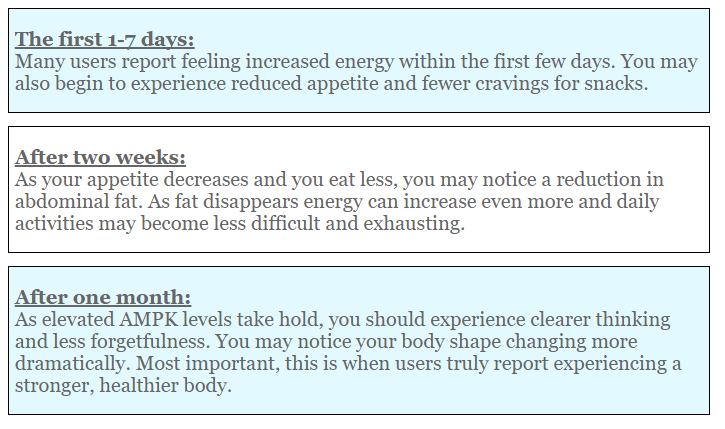 Within the first week you should start to notice an increase in energy and a reduction in appetite and cravings.
After 2 weeks, you'll be eating less and you may see a reduction in belly fat, while daily activities become less difficult and laboring.
After a month, your AMPK levels will be stabilized at the higher level, and your body may look completely different, and feel stronger and younger.
They recommend that you use it for at least 3 months so you are sure to get and maintain the full benefits.
Live Cell Research LA-3 Side Effects
The three active ingredients in Live Cell Research LA-3 are all natural and generally considered to be free of side effects.
Of course, this doesn't eliminate the possibility of an adverse reaction, especially if you suffer from a medical condition or take prescription medications.
As always, consult with your doctor before starting this or any new supplement.
Live Cell Research LA-3 Reviews
There are quite a few Live Cell Research LA-3 reviews online posted by customers who've used it. As it turns out, most of the feedback (though not all) is pretty positive.
Here's one from James, with really only one concern:
"I have been taking two capsules daily for almost a month and my spare tire and bulge above my belly button are getting smaller. So far the only problem I have is with the pungent smell and aftertaste. If these could be corrected, I would rate this product as five stars."
The smell and aftertaste mentioned in this review are not mentioned in any other reviews I've seen, so it may just be a one-off comment.
Another favorable review comes from LaBree who says:
"I am a post menopausal woman who has been carrying a stubborn 15 pounds of belly fat around for 6 years. I am active, eat well, but just cannot rid myself of this weight." I have taken this product for 2 and a half months now and have changed nothing in my daily routine. About 2 weeks ago, I stepped on the scale, (I usually avoid this because it depresses me), and I saw that I had lost 7 pounds. Coincidence?"
But there are a few negative reviews from customers who simply saw no results:
Joe says:
"I bought a three month supply of LA-3 and took it from April through June. I took it as directed. I didn't notice any kind of side effects while taking it. I didn't notice any change to my appetite, energy levels, and I certainly did not notice any difference in my waist line. I cannot recommend this product at whatever cost it is offered. I simply did not do anything for me."
So while the favorable reviews are more common, there are also people for whom Live Cell Research LA-3 just doesn't work.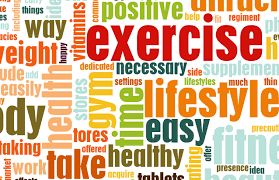 Where to Buy
Live Cell Research LA-3 is sold through the Live Cell Research website.
For a one month supply, you'll pay $46.99.
If you buy more than one bottle at a time, you'll save a little off the per bottle price.
For instance, a 6 month supply costs $216, which translates to about $36 per bottle.
Live Cell Research offers a 90 day money back guarantee on all their products. You do have to return the product however.
I haven't been able to track down anywhere else you can purchase this product, other than the official website.
Who Is Live Cell Research
Live Cell Research is a supplement company in the Los Angeles, CA area. They make and sell vitamins and herbal compounds meant to improve lifestyles naturally.
Niagen is one of their most popular supplements, and it's designed as an anti-aging product.
They also make probiotics as well as joint repair supplements. They claim to focus most of their research and development on the cellular level, taking a whole-body approach to healthcare.
Related Article: Bio X4 By Nucific – Worth $1,000 A Year?
They test each batch of supplements for purity themselves at their facility, and also send them out for third party testing.
It's important to understand this testing is not about effectiveness as much as it is about safety.
They offer a 90-day money back guarantee on all their products, and they claim to pride themselves on their exceptional customer service. This may indeed be the case.
In my searching, I've only found one customer service complaint (although it's a doozy):
Joe, from the review above, continued on to say:
"On top of the product not working, I called their customer service to try to get my money back and they said I was past my 90 days from the date of purchase and they refused to give my money back. I was a few days past my 90 days, but I thought they would consider shipping time. So that might be something else to keep in mind when trying their products. Contact them within your 90 days of purchase if you plan to get a refund. My conclusion with this company is their products are overpriced and not worth the high cost".
Despite Joe's dissatisfaction, Live Cell Research does not have a Better Business Profile, which can generally be seen as a good thing.
Usually, if there are enough customers who've been made sufficiently angry, they will make themselves heard by contacting the Better Business Bureau.
Live Cell Research LA-3 Pros and Cons
Advantages of Live Cell Research LA-3
The ingredients are all natural.
There is clinical research to back up some of the claims made by Live Cell Research LA-3.
There's a 90 day money back guarantee.
Live Cell Research generally enjoys a pretty good reputation for customer service and product quality.
Each batch of supplements is tested for quality before it goes out.
Most customer reviews are favorable.
Disadvantages of Live Cell Research LA-3
There are a few negative reviews.
The clinical research doesn't use the same amount of ingredient as you'll find in Live Cell Research LA-3.
The Bottom Line
Live Cell Research LA-3 appears to be a fairly effective weight loss supplement, but I don't see any real evidence that it rejuvenates cells or make you look or feel younger. I suspect these claims are more to bolster the product's image rather than actual quantifiable benefits that can be pointed to.
That said, lots of people seem to be getting help from Live Cell Research LA-3 to lose weight, which in turn or course, provides them with greater energy and sense of well-being.
With the 90 day money back guarantee, Live Cell Research LA-3 is a pretty safe bet. Give it a try along with the reduced calorie diet and effective workout plan, and you will no doubt see some positive results.
Have You Used Live Cell Research LA-3? Leave Your Review Below!
Top 3 Weight LossAffiliate Disclosure
Instant Knockout is actually a new fat burning supplement I just came across, and got great results.
LeanBean Female Fat Burner is the BEST fat burner for women we\'ve ever tested. Read our review here.
Biohacks your body into instant ketosis to burn fat instead of carbs. Weight loss, energy, focus, anti-inflammatory, anti-aging.
4 Star User Reviews

2.0 out of 5 Stars (3 Reviews)
Have you used this supplement?
works great!
i have been taking it for over a month. i feel i think clearer and have more energy. lost a few pounds - but thats it for the weight. but the thinking clearer and energy is wonderful and i will continue to take this!

Was this review helpful to you?
26 out of 28 people found this review helpful.
---
Ask A Question
User Questions and Answers
---

How much does it cost? -Amanda

It depends on what your order size is.  1 Bottle of Live Cell Research LA-3 costs $46.99, while a 3 bottle order costs $117.  The more you buy, the lower the price per bottle.- Rob
Was this question helpful to you?
22 out of 25 people found this question helpful.
ASK A NEW QUESTION
---

How do I get them to stop charging me for bottles of it I did not ask for? I was told $49 and that was all I wanted...they charged me $98 on Feb. 6th Do you know how I can contact them...phone or website email? -Bradford

Their customer service phone number is 844-650-5933. Their email address is support@LiveCellResearch.com- Rob
Was this question helpful to you?
9 out of 10 people found this question helpful.
ASK A NEW QUESTION
---

I ordered 2 feb, from the UK, the tracking order given does not go to anywhere so thinking scam?? I have emailed them earlier today - so hoping to receive something back within the next 12 hrs...I have also gone on there Twitter acct that's not been used since 2015!!! So a little worried as I have paid out over £100! -Yvette

I haven't heard any buzz about them being a scam company, so I think you should get your order. Let me know if it turns out otherwise.- Rob
Was this question helpful to you?
8 out of 9 people found this question helpful.
ASK A NEW QUESTION
---

I have stents and taking aspirin and blood pressure medication so is it ok for me to take la3 -Arasu

Because of your medical conditions and medications, you'll need to discuss this with your doctor, which is pretty much the case with any supplement.- Rob
Was this question helpful to you?
1 out of 1 people found this question helpful.
ASK A NEW QUESTION
---

How do I process my money back guarantee, -Phil

Give Live Cell Research a call at 844-650-5933.- Rob
Was this question helpful to you?
1 out of 1 people found this question helpful.
ASK A NEW QUESTION