Libido Max Red Review – The 1 BIG Reason to Think Twice
By:
Rob Miller
Fact Checked On: 3-31-2020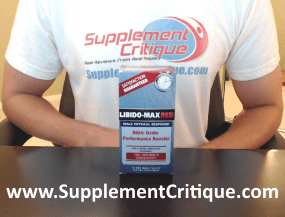 Contents
What Is Libido Max Red
How Does Libido Max Red Work
Libido Max Red Ingredients
My Personal Results
How To Use It
Libido Max Red Reviews
Where to Buy
Pros and Cons
The Bottom Line
Watch Our Video Review Or Scroll Down To Read More
Libido Max is one of the most well-known male enhancement supplement on the market today.

The biggest factor in this is probably that it's sold at real stores, like Walmart and GNC.

As much as we live in an online world, there's still something to be said for having a brick and mortar presence, and it's done a lot for this product.
Check out my full review of Libido Max, including my personal results here.
Building on this success, Applied Nutrition – the company behind the product – has come out with a new version. Libido Max Red picks up where the original formula leaves off by giving your body all the necessary tools for getting the biggest, hardest, longest lasting erection you've ever had.
Clearly, with promises like this and a ubiquitous presence both online and in stores, Libido Max Red has the opportunity to take the market by storm.

But real success can only come if the product actually works, and that's what we're here to find out.
What Is Libido Max Red?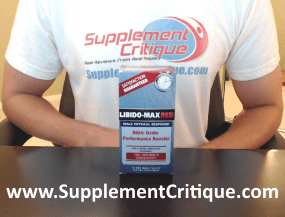 Most male performance enhancement supplements focus on a broad array of benefits.

Libido, energy, stamina, intensity, and confidence are included in the goals of some of the most popular choices.

Libido Max Red lets the original Libido Max formula take care of all that, while concentrating solely on better erections and greater genital sensitivity.
In fact, for your best, most comprehensive results, they recommend stacking both Libido Max products together.

This way, all your bases are covered.
You might question the wisdom of separating out the benefits.

Why not use an all-in-one type product that improves all the different aspects of your sex life with just one pill? It's a good question.

In some cases, an all-in-one product would be your best bet.

But the biggest problem with this approach is that oftentimes, when you've got one pill trying to do everything, it becomes too much and ends up falling flat on all or some of its promises.
A pill is only so big and can only contain only so much ingredient.

When you're trying to pack in so many different substances doing so many different things, the pill runs out of room and they end up skimping on ingredient amounts.
That's where stacking comes in.

If each pill is focused on providing fewer benefits, there's a better chance they'll have enough ingredient power to achieve their goals.
How Does Libido Max Red Work
Libido Max Red is all about the blood flow.

Each of its ingredients is chosen for the way it improves the flow of blood to feed your best erections.
Erections happen when the penile cavities become engorged with blood.

When things get sexually exciting, blood rushes to your genitals, filling the corpus cavernosa with blood and creating an erection. The more blood, the better the erection.

This applies not just to the onset of your erection, but also to its longevity.

If the blood flows out just as quickly as it entered, you haven't achieved your goal of a lasting event that maximizes everybody's pleasure.
So keeping in mind the dual facts that Libido Max Red aims to improve erections and that its narrow focus may be a huge benefit when you consider it a specialist in erections rather than an overall sexual generalist supplement, let's shift our focus to the formula.
Think you might have ED?Take our quick quiz to find out.
Libido Max Red Ingredients
I was disappointed to see that the Libido Max Red formula is made up of a single proprietary mix called Libido Mac RED Customer Blend totaling 1620 mg per 4 tablet serving.

What this means is that we don't know how much of each ingredient is actually used.

We only know that the total reaches 1620 mg. How that amount is divided up among the individual ingredients will remain a mystery.
What's In The Proprietary Blend?
The four ingredients in the blend are:
L-Arginine
L-Citrulline
Beet Root Powder
Black Tea Extract
Let's talk about them one by one.
L-Arginine
This amino acid as extremely popular in male enhancement formulas precisely because of its direct and positive impact on erections. It's a precursor to nitric oxide.

What this means is that within the body, L-Arginine converts to nitric oxide. Nitric Oxide is a vasodilator.

This means it relaxes blood vessel walls, allowing more blood to flow to your genitals during arousal.

More blood means better erections, plain and simple.
According to the Mayo Clinic, a good daily dose of L-Arginine to treat erectile dysfunction is 5 grams.
Clearly Libido Max Red can't even come close to this dose.
L-Citrulline
This amino acid is a precursor for – and converts into – L-Arginine.

So the chain of events goes like this – L-Citrulline converts to L-Arginine, then L-Arginine converts to nitric oxide.
And as we know, nitric oxide increases blood flow for better erections.

With both L-Arginine and L-Citrulline, you get an effect similar to a time release capsule.

The L-Arginine starts to increase nitric oxide shortly after you take it.

The effect of the L-Citrulline comes along a little later to pick up where the L-Arginine leaves off.
According to a 2001 clinical study, 1.5 grams of L-Citrulline taken daily does improve erections.
Beet Root Powder
Beets contain nitrates which boost nitric oxide levels as well.

It's becoming more and more common as an ingredient in pre workout supplements for precisely this reason. The trouble however, is in the dosage.

Beet Root Powder only contains about a 1.5% concentration of nitrates, and to be useful, the average man would need about 450 mg of ntirates from the Beet Root Powder.

That comes out to about 30 grams of Beet Root Powder needed to provide effective amounts of nitrates.
So while Beet Root Powder is a good idea in theory, there's no way the Libido Max Red formula has enough of it.
Black Tea Extract (with 50% EGCGs)
Both black and green teas are known to increase the production of nitric oxide.

It is believed that doses as low as 100 mg per day can increase NO production, so in this case, the dosage may be enough, though we cannot know this for certain.
On the whole, the Libido Max Red formula does contain some good ingredients that have real potential to improve erection quality and hardness, but there is a clear question as to whether or not they've included enough of each substance to have the desired effect.
How To Use It
It's recommended that you take 4 Libido Max Red tablets a day, but if you prefer, you can take it just as needed, about 1 hour before sexual activity. I don't recommend it this way.

Nitric oxide supplements, whether they be for pre workout or sexual purposes, work better when they build up in your system over time.
My Personal Results
I took Libido Max red for about a week or so, and I gotta say I didn't notice too much in the way of results.
The official website states that it works best when stacked with their original Libido Max formula, which is what I did.
I guess I noticed a slight difference when combining the two, but when I took it by itself it didn't really seem to do much for me.
With that said, everyone's own body chemistry is different, and will of course react differently.
For me, if I don't notice any results within the first week or so of testing, it usually indicates that I likely won't see any results.
Libido Max Red Reviews
Because of the uncertainty surrounding the ingredient amounts and whether or not they're enough to be effective, it's always a good thing when there's some real customer feedback we can count on to help us get to the bottom of whether or not a product works.
That said, I was surprised to see that despite the fact that Libido Max Red is sold by so many different retail outlets, there are very few customer reviews.

Very very few, as in only 2, and the truth is neither one is very helpful.

They both come from Amazon customers, and neither one provides any information about how well it works.
One is about pills vs capsules:
And the other one talks about a Sleep Number Bed, indicating that it's probably not even a review for this product:
Where to Buy
If after reading this information, you still want to try Libido Max Red, you won't have any trouble finding a place to buy it.

It's a Walmart, Walgreens, GNC, and Amazon, and that's probably not an exhaustive list.
For the most part, you'll find the 75-count package selling for about $25 – $30, and they also sell a 30-count package for about $15. At the 4 pill per dose rate, the 30-count will be gone in a week and the 75 count will last about 2 ½ weeks.
You may have noticed that Libido Max Red is much more widely available than similar male enhancement supplements, and whether or not that is a good thing, I am not sure, but in the past it has pointed to products of this kind being somewhat inferior.
Pros and Cons
Advantages of Libido Max Red
The ingredients are all natural.
In theory, concentrating just on nitric oxide for better erections is a good concept.
It's not too expensive to try.
Disadvantages of Libido Max Red
There are no useful customer reviews.
The ingredient amounts are simply too low to be effective.
Even the large package only lasts about half a month.
The Bottom Line
The idea of a male enhancement supplement that focuses exclusively on increasing nitric oxide for better erections is a good one.One of the problems with so many supplements is that they try to do too much, and end up failing at all or most of it.
The trouble here is that Libido Max Red – even though it removes all the other distractions like libido and energy – still falls far short of the ingredient levels needed to be effective.
If it had even two or three of the staple natural male sexual enhancers that are out there then I would say it would be more worth a try than it is.
So not only are they asking you to stack it with another product in order to achieve all the necessary benefits, but Libido Max Red itself is unlikely to live up to its one simple promise.
Because of the convenience of being able to pick up Libido Max Red almost anywhere, you may want to give it a try anyway.

If you do, be sure to come back here and let us know how it worked out for you.
Have You Used Libido Max Red?

Leave Your Review Below!
Top 3 Male EnhancementAffiliate Disclosure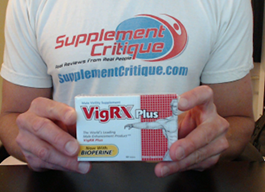 Out of the 100+ male enhancement products Ive tried, Vigrx Plus was the best.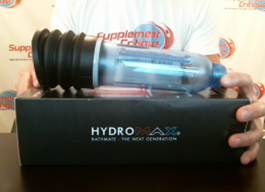 The Bathmate is a proven water-based vacuum pump that can help dramatically increase your size.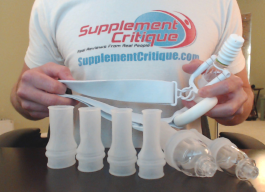 Phallosan Forte is a GREAT option for those looking to grow both length AND girth, permanently.
Honorable Mention/Inexpensive Alternative:Magnum Rings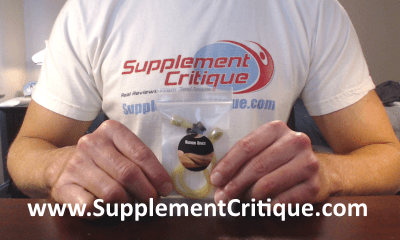 Magnum Rings are a VERY affordable option to getting both girth and length gains, at a fraction of the price of the Bathmate or Phallosan Forte.
Click Here to see our full Magnum Rings review.
Want To REALLY Get Bigger?

Click Here To See Products That WORK!
Ask A Question
User Questions and Answers
No Questions Have Been Answered For This Article.