Lipo 6 Black Hers Review
By:
Rob Miller
Fact Checked On: 7-19-2018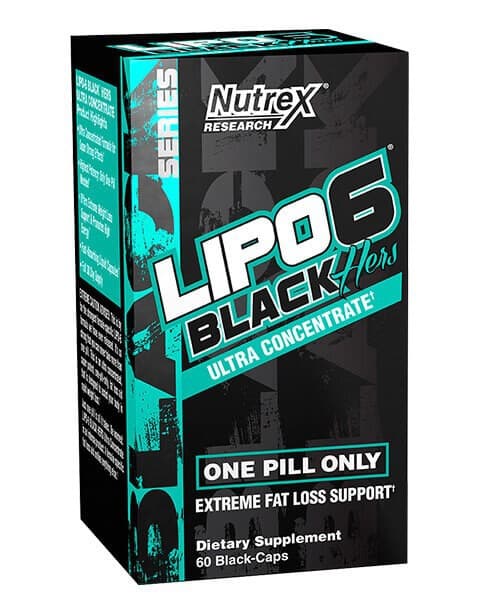 Lipo 6 Black Hers Ultra Concentrate Overview
Lipo 6 Black Hers Ultra Concentrate is an extreme fat loss supplement that is targeted towards the female market.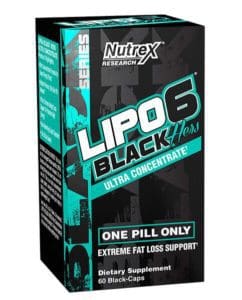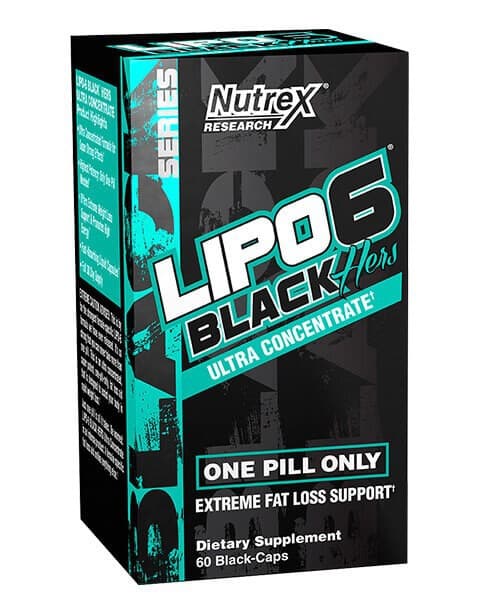 We've actually already reviewed their flagship product, a male fat burner called Lipo 6 Black.
The manufacturers, Nutrex, claim that it is the most potent product that they have ever created – so powerful that users must never take more than one pill a day.
It is important to note, that this supplement is a newer, and apparently more intense product than its popular predecessor, the original "Lipo 6 Black Hers".
The new version is supposedly so concentrated, that we are advised to use "extreme caution" when using.
A statement like that is guaranteed to pique our interest.
So, with all the hype surrounding this supplement, we just had to find out whether it really is as powerful as we are told it is.
What Is Lipo 6 Black Hers Ultra Concentrate?
Lipo 6 Black Hers Ultra Concentrate is the latest and strongest version of the original Lipo 6 Black Hers.
This new formula utilizes a blend of extreme metabolism boosting ingredients in a liquid formula, helping women shed fat fast.
Lipo 6 Black Hers Ultra Concentrate says it uses specific ingredients that encourage intensive thermogenic action to achieve incredible results.
They claim that the full benefits of Lipo 6 Black Hers Ultra Concentrate are:
Rapid fat loss
Increased, long-lasting energy
Sharper mental alertness
As we know well, the backbone of all supplements lies with their ingredient list.
So let's dive in and find out whether the ingredients can really backup these extreme claims.
Lipo 6 Black Hers Ultra Concentrate Ingredients:
Lipo 6 Black Hers Ultra Concentrate includes the following active ingredients:
Vitamin B12
Folic Acid
Caffeine Anhydrous
Theobromine Anhydrous
Citrus Aurantium
Yohimbine
Rauwolscine
Here's what the label looks like: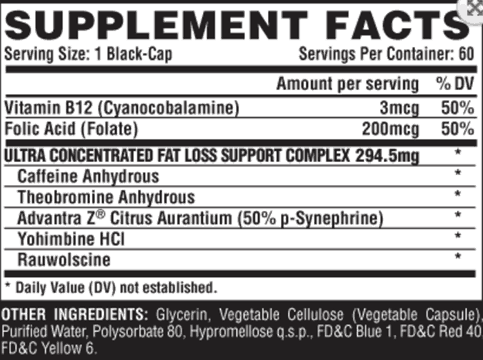 The first point that immediately leaps out at us is the use of a proprietary blend for the "Ultra Concentrated Fat Loss Support Complex".
Proprietary blends are always a disappointment, as they make an informed judgement regarding a product's effectiveness very difficult.
However, we are given the quantities of folic acid and vitamin b12 that are used.
This is an unusual choice, as those ingredients are very unlikely to be the reason that someone would purchase this product.
While we cannot know the exact concentrations used in the "Ultra Concentrated Fat Loss Support Complex", we can still investigate the general benefits attributed to each ingredient.
Vitamin B12
Vitamin B12 is found naturally in many of the foods we eat.
It is necessary for the adequate absorption of nutrition from the diet.

A deficiency in vitamin B12 can negatively affect energy levels due to a lack of nutrition.
This vitamin is also beneficial in maintaining a correct hormonal balance, which is essential to keeping a normal metabolic rate.
Folic acid (Folate)
Required for healthy nervous system, and especially important for women of childbearing age to prevent birth defects.
While it is true that women need more folic acid than men – this ingredient has no effect upon weight loss or fat burning whatsoever.
In our opinion, it is simply included to help justify being female specific.
Caffeine anhydrous
Caffeine is a well-known stimulant that many people will consume in some form on a daily basis.
It works to increase energy levels and stamina by inhibiting the part of the brain that is responsible for the feeling of sleepiness and fatigue.
This action also contributes to a boost in metabolism, encouraging the body to burn through more calories and fat to supply the required amount of energy.
Some people can react negatively to caffeine if they are very sensitive to its effects.
In fact, the warning label states that Lipo 6 Black Hers Ultra Concentrate contains 200 mg of caffeine per serving.
In our opinion this is far too high a dose for a female supplement. To put it in perspective, a typical cup of coffee contains about 150 mg.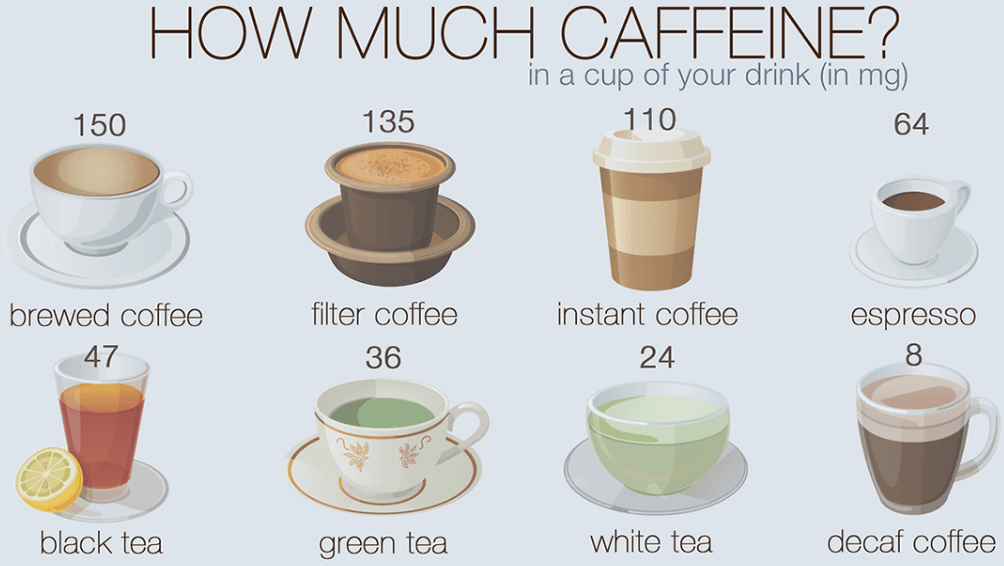 Theobromine anhydrous
Theobromine is a stimulant found in chocolate that has similar effects to caffeine.
However, scientific research has found that the benefits of theobromine last longer and with less unpleasant side effects than caffeine.
With this in mind, we are unsure as to why Nutrex chose to use both ingredients in their blend.
Citrus aurantium
Citrus aurantium is sometimes referred to as 'bitter orange'.
The active compound in citrus aurantium is called "synephrine".
It is derived from the peel of this fruit, and has very similar chemical structure to that of the banned stimulant ephedrine.
Citrus aurantium is a strong stimulant and an effective metabolism booster and fat burner.

It efficiently elevates the amount of calories the body burns without any additional effort.
However, because of its potency and similarity to a banned substance, it can also be very dangerous in large doses.
Most commonly, citrus aurantium causes jitters and irregular heartbeat in users.
Therefore, due to the high probability of dangerous side effects, citrus aurantium is not a great choice of ingredient.
Yohimbine HCI
Yohimbine is generally used in the manufacture of prescription drugs for sexual dysfunction, mostly erection problems.
Related Article: Yohimbe Bark Extract Benefits And Uses In ED
It is sometimes also used to decrease fatigue and help improve energy levels when dieting, but there is little evidence to support this.
Yohimbine can also cause many concerning side effects, such as high blood pressure and anxiety.
As far as we are concerned, yohimbine isn't particularly effective for weight loss and is an unnecessary inclusion in this formula.
Rauwolscine
Rauwolscine is another stimulant that acts in a very similar way to yohimbine, so much so that it is known as "alpha yohimbine".
The benefit of rauwolscine is that it has fewer side effects to yohimbine, while also being more potent.
In our opinion, we think that if the only benefit of rauwolscine is that it isn't yohimbine – then it is a redundant ingredient that will not have any benefits when combined with the rest of the formula.
What Do The Reviews Say About Lipo 6 Black Hers Ultra Concentrate?
As with most weight loss products out there, the reviews can vary widely.
The best places to look for genuine reviews are third party sites and online stores such as GNC and Amazon.
It simply goes without saying that unbiased opinions are more likely to be found away from sites that have a reputation to maintain.
On our journey to find out what real customers had to say, we started at GNC.
Reviews on GNC website
On the GNC listing for Lipo 6 Black Hers Ultra Concentrate, the reviews were predominantly positive.
Out of 50 reviews in total, 28 came up as a five star.
Many of the positive reviews commented upon the energy increase they experienced upon using Lipo 6 Black Hers Ultra Concentrate.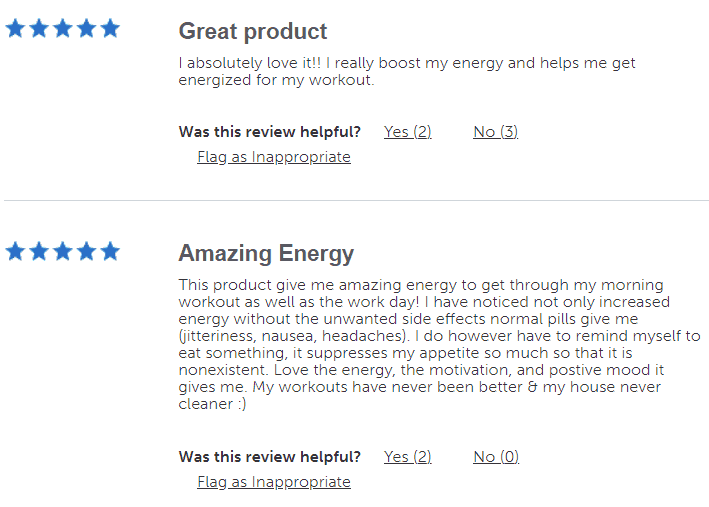 Others said that they had lost an incredible amount of weight in a short time period.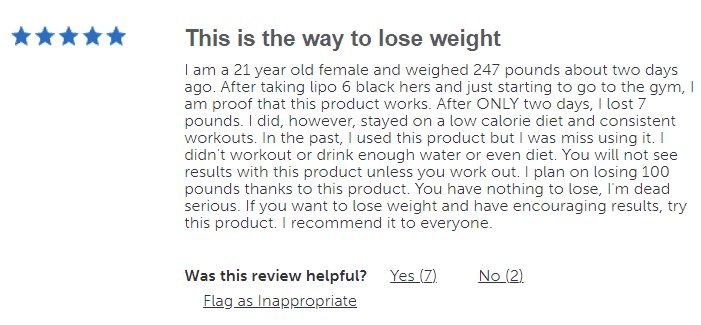 At the other side of the scale though, we found reviews which demonstrated our concerns regarding dangerous side effects.
The GNC reviews certainly helped us to see a bigger picture of how people were reacting to Lipo 6 Black Hers Ultra Concentrate.
But in order to get an even wider perspective, we headed over to Amazon to see what was being said there too.
Reviews on Amazon
The first impressions were quite similar to the overall GNC ratings.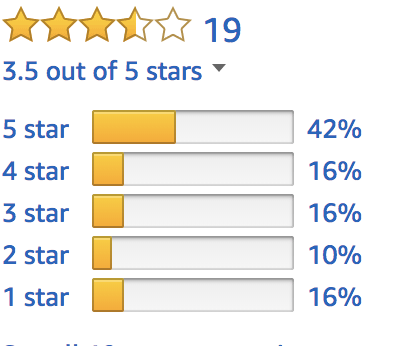 Out of 19 reviews in total, the most popular rating was a 5 star review.
Some of these reviews are suspiciously vague, which made us wonder if they were genuine or not.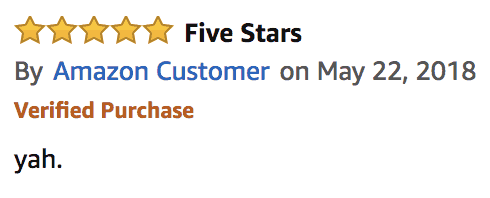 But others went into detail and described how impressed they were with the results, even if they experienced some side effects.

However, the negative reviews shed light on more concerning effects.

Some customers complained of stomach pains, dizziness and unpredictable heart rhythms.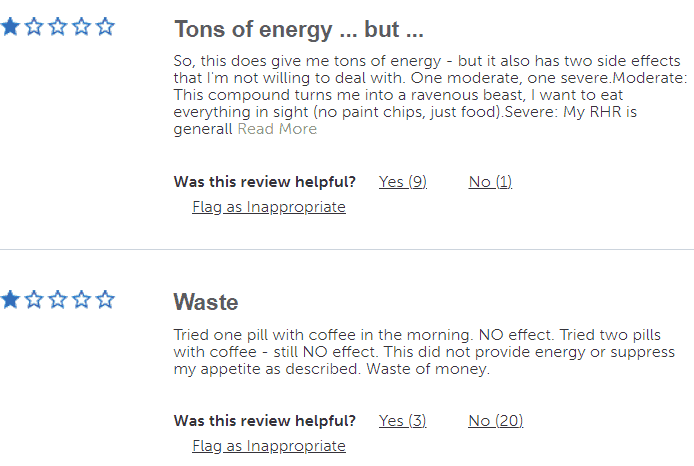 It seems that across these polarized reviews, it really depends on your own biological sensitivities as to whether you will feel good on this supplement or not.
Lipo 6 Black Hers Ultra Concentrate FAQs
How Do I Take Lipo 6 Black Hers Ultra Concentrate?
The instructions state that one capsule is to be taken in the morning, and another capsule to be taken in the afternoon.
For the best results, take the capsules 30 minutes before a meal.
Due to the stimulant levels, never take more than two capsules in a 24 hour period.
This product can interfere with your sleep if you take within 6 hours of your bedtime.
You must not take for longer than 60 days at a time.

Have a 15 day break before continuing use.
Avoid all other stimulants when using Lipo 6 Black Hers Ultra Concentrate.
What Are the Differences Between Lipo 6 Black Hers Ultra Concentrate and Lipo 6 Black Hers?
The main differences between Lipo 6 Black Hers Ultra Concentrate and Lipo 6 Black Hers lie with the ingredient choices and serving sizes.
Below is a picture of the label for Lipo 6 Black Hers: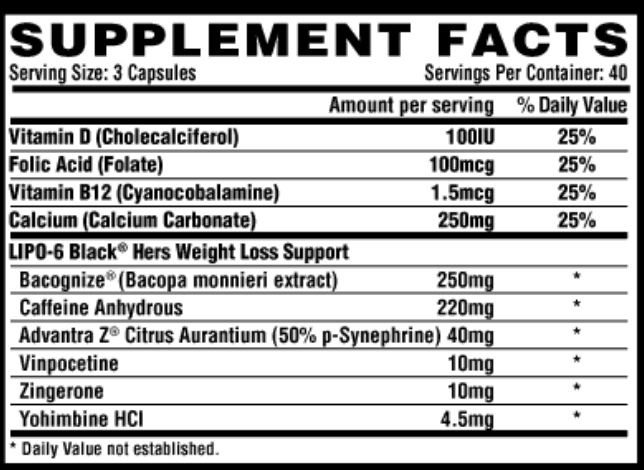 As you can see, not only does the old formula inform us of the ingredient concentrations, it also includes slightly different ingredients, and more vitamins and minerals.
Bacopa monnieri is an ingredient that is useful for anxiety and PMS symptoms.
Vinpocetine is good for blood circulation and zingerone is beneficial for energy and immunity.
Lipo 6 Black Hers includes the same amount of caffeine as the Ultra Concentrate version.
This tells us that Lipo 6 Black Hers Ultra Concentrate has probably got a higher dosage of citrus aurantium per serving.
Are There Side Effects and Is It Safe?
There are many potential side effects from the use of Lipo 6 Black Hers Ultra Concentrate.
Due to the high quantity of stimulants used in the formula, those with sensitivities should avoid this product.
Citrus aurantium can cause dangerous side effects, especially in high doses.

Users have reported experiencing jitters, diarrhea and irregular heart rates while using this supplement.
Caffeine can interfere with sleep and cause insomnia if taken within 6 hours of bedtime.
Those who are sensitive to stimulants should contact a physician before use.
Can Women Use Lipo 6 Black Hers Ultra Concentrate?
Yes, Lipo 6 Black Hers Ultra Concentrate is designed and marketed as a women's fat loss supplement.
Can I Take Lipo 6 Black Hers Ultra Concentrate With Alcohol?
No.

You must not drink alcohol when using this supplement.
Where Can You Buy Lipo 6 Black Hers Ultra Concentrate?
Lipo 6 Black Hers Ultra Concentrate can be purchased via their official website, GNC, Amazon and other online and store retailers.
Conclusion
Now we have reached the end of our review; we need to decide whether Lipo 6 Black Hers Ultra Concentrate is really the best choice of fat loss supplement for women.
From what we have seen, this product is pretty intensive for a female fat burner.
The ingredients list reads much more like a male supplement, packed with stimulants that have the potential for dangerous and unpleasant side effects.
In our opinion, this product isn't well designed for women. The inclusion of folic acid seems to be a token addition in a very male formula.
If you are hardy when it comes to stimulants then give this a try.
But if you want to lose weight without potentially feeling terrible; there are better female oriented supplements out there (such as Lean Bean).
Have You Used Lipo 6 Black Hers?

Leave Your Review Below!
Top 3 Female Fat BurnersAffiliate Disclosure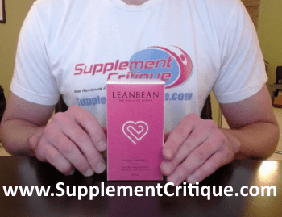 LeanBean Female Fat Burner is the BEST fat burner for women we've ever tested.

Read our review here.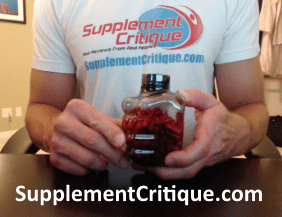 Instant Knockout is actually a new fat burning supplement I just came across, and got great results.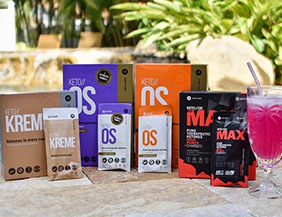 Biohacks your body into instant ketosis to burn fat instead of carbs.

Weight loss, energy, focus, anti-inflammatory, anti-aging.
Ask A Question
User Questions and Answers
No Questions Have Been Answered For This Article.