Muscle Repair Replenishment Matrix Review
By:
Rob Miller
Fact Checked On: 4-5-2018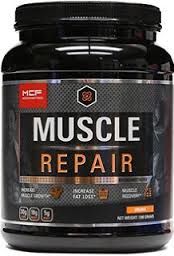 ---
Muscle Repair Replenishment Matrix Overview
Post workout recovery is crucial for getting in the best shape possible, especially when you're in a bulking cycle.

When you work out hard, you break down your muscle fibers.

Immediately after that is when the rebuilding process begins, and if you want your best growth, you need to arm yourself with the best nutritional aids you can find.

And that means protein, and more specifically BCAAs.

Muscle Repair Replenishment Matrix is a choice from Mike Chang's SixPack Shortcuts line of supplements, and it's the one we're looking at today.
Mike Chang sprang to popularity with his SixPack Shortcuts and Abs After 40 workouts, and he soon branched out into the supplement game. Muscle Repair Replenishment Matrix, taken immediately after your workout provides calories, protein, BCAAs and other nutrients essential to repair.

So instead of wasting your efforts, you 'll be maximizing them.
Muscle Repair Replenishment Matrix Ingredients and How They Work
Muscle Repair Replenishment Matrix is mainly designed for someone in a bulking phase, as there are over 200 calories per serving.

Of course, if you burn a ton of calories, you can use Muscle Repair Replenishment Matrix and still lose weight.

Within that 200 calories, you 'll get:
18 grams of whey protein
30 grams of carbohyrates.
BCAA's including L-Leucine, L-Isoleucine, L-Valine, L-Glutamine, and L-Taurine
Vitamin C
Vitamin B6
Potassium
Alpha Lipoic Acid
The recommended dose is 1 scoop mixed with water and taken immediately following your workout.

That way, the precise nutrients you need are there precisely when you need them.

The results should be less soreness and better growth.
Muscle Repair Replenishment Matrix Pros and Cons
Advantages of Muscle Repair Replenishment Matrix
It contains a full 18 grams of protein as well as BCAAs for complete recovery.
It replenishes carbs post workout.
Muscle Repair Replenishment Matrix reviews all say the flavor is pretty good.
There's a money back guarantee.
Disadvantages of Muscle Repair Replenishment Matrix
It's expensive.
It contains 200 calories, so it may not be the best choice if you're cutting.
Where to Buy
You can purchase Muscle Repair Replenishment Matrixthrough one of Mike Chang's websites.

For some reason, there are several different ones.

Unlike some of his other products, it doesn't look like buying this one will set you up for automatic payments, but it does cost $67 plus shipping.There is a money back guarantee for this product.

And you can also buy it through Amazon.com for the same price if you prefer.
Conclusion
Muscle Repair Replenishment Matrix looks like a decent post workout drink, but we have one significant reservation about recommending it. It's very expensive.

It costs $67 plus shipping, and it only comes with 20 servings in a tub.You can find something very comparable for a lot less money.

And that's what I'd recommend you do.
Have You Used Muscle Repair Replenishment Matrix? Leave Your Review Below!
Ask A Question
User Questions and Answers
No Questions Have Been Answered For This Article.