SixPack Sleep Review – Does It Work?
By:
Rob Miller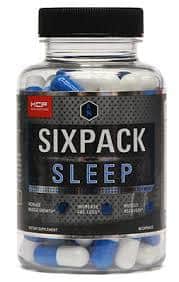 SixPack Sleep Overview
One of most important things you can do to get in shape, whether you want to lose weight or pack on the muscle mass, is sleep.

Getting enough sleep allows your body to recover and recharge.

You body detoxifies while you sleep, and your muscle build and repair when you sleep.

That's the concept that drove Mike Chang's group (makers of Six Pack Shortcuts and Abs After 40) when they created SixPack Sleep, the first sleep formula designed for athletes and fitness minded people to naturally enhance the building and retention of lean muscle.
It's a great concept, but is it backed up by results?

We took a look at the formula and the feedback, and the answer is a definite, "maybe not".

Read on for the details.
SixPack Sleep Ingredients and How They Work
SixPack Sleep helps you fall into a deep and restful sleep, and while you're in that state, it encourages an increase in the natural production of both HGH (human growth hormone) and testosterone, both extremely important if you want to be strong and fit.
The formula contains 4 main ingredients:
GABA (aka Gamma-Aminobutyri Acid) is an important neurotransmitter in your brain that helps you get into a restful state.
Zinc and Magnesium which are essential for the body's hormone production processes.
Valerian Root Extract which is commonly used in herbal sleep aids.

It reduces anxiety and increases relaxation.

It is thought to reduce the amount of time it takes you to fall asleep.
Melatonin is another ingredient commonly used in sleep aids.

It helps you fall into a deep and restful sleep, and it may play a role in the regulation of human growth hormone.
These are all thought to be safe and to some degree effective, but how much of each is in a serving is not information they provide, which makes it hard to tell by looking at the formula whether or not it will be effective.
SixPack Sleep Reviews
That's why we look at customer reviews whenever we can find them.

Since SixPack Sleep is available on Amazon, we found several there, and they're not very favorable.

More than just a few customers found it to be completely ineffective:
Gohawks said, "Gave me insomnia.

And since sleep is important to weight loss, I actually gained weight."
Samo said, "Piece of crap.

Does Not Work."
Though there are some customers having better luck:
One customer states: "I hasn't given me sixpack abs yet, but it's helping sleep."
SixPack Sleep Pros and Cons
Advantages of SixPack Sleep
The ingredients are all natural and not likely to cause side effects.
Disadvantages of SixPack Sleep
There are several pretty negative SixPack Sleep reviews from customers.
You might accidentally sign up for monthly charges if you're not careful.
Where to Buy
You can pick SixPack Sleep at Amazon, but it's primary point of purchase is one of Mike Chang's websites.

A bottle contains a one month supply and costs $67 plus $14.95 shipping and handling.If you choose to buy this way, you'll need to sign up for automatic shipments every 30 days at that same price.

It' a lot like those free trial scams we come across so much, but there's no free trial.

If you like SixPack Sleep, it's not a bad thing, but it is expensive, especially if you take other supplements on top of this one.

Otherwise, you can buy it at Amazon as a one time purchase with no obligation.

The price is also $67.
Conclusion
From the formula, SixPack Sleep looks like a decent herbal sleep aid, but there are a few downsides to c First of all, it's very expensive.

You can find something that does just as well getting you to sleep for a whole lot cheaper.

Secondly, the reviews just don't indicate that SixPack Sleep is all that effective.

I'd go with something else if I were you.
Have You Used SixPack Sleep?

Leave Your Review Below!
Top 3 Sleep AidsAffiliate Disclosure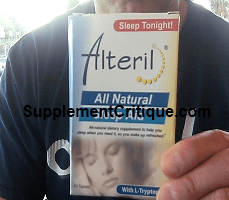 Alteril is a VERY effective, non-addictive sleep aid that will leave you waking up refreshed.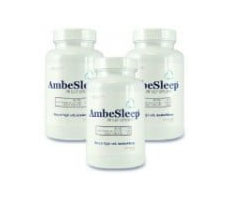 Ambesleep is a fast acting formula that uses all natural ingredients and helps you sleep more deeply.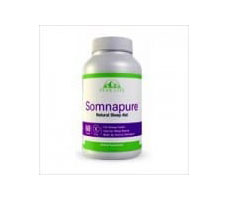 If it wasn't for the free trial billing nightmare, we probably would have ranked it higher.
User Reviews

5.0 out of 5 Stars (1 Reviews)
Have you used this supplement?
The Sleep Part is True
I don't know about the claims that it helps you get six-pack abs while you sleep. This stuff definitely helps me get to sleep quickly. I also have a high quality restful sleep. I highly recommend this product.

Was this review helpful to you?

---
Ask A Question
User Questions and Answers
---

"I'd go with something else if I were you". This what ur opinion is, then why recomment/ waste our time -arif

At the top of the page, you'll find my top three recommendations for sleep aids that do work.  Check out Alteril.- Rob
Was this question helpful to you?

ASK A NEW QUESTION
---

Are there free samples? -Jason

SupplementCritique.com is a review website. We have no affiliation with Six Pack Sleep. You'll have to check with the company directly for any free samples.- Rob
Was this question helpful to you?

ASK A NEW QUESTION