Muscle Warfare Nuke Reviews, Side Effects, and Price
By:
Rob Miller
Fact Checked On: 4-27-2013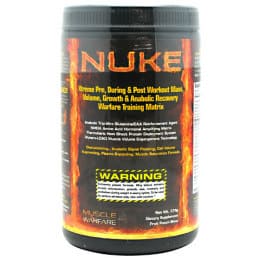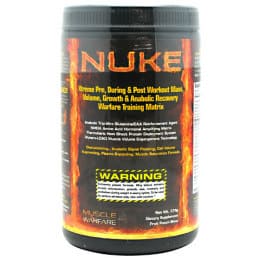 When it comes to workout supplements, finding an option that will actually work is hard. Muscle Warfare Nuke promises to be a creatine free workout sports nutrition supplement that is ideally suited for pre, during, and post workout. Since virtually every product on the market finds only one of these areas to claim benefit, we have to admit being more than a bit curious. The product is loaded with free form amino acids, which are designed to help enhance both performance and recovery, and I was curious from the start how this would help a mass building workout.
How It Works and Ingredients
Nuke is designed to work incredibly quickly, shuttling the ingredients contained in the supplement throughout the bloodstream to help replenish the glucose stores within the muscles. It is also designed to help ensure that the muscle cells remain fully hydrated throughout the workout. This helps to boost overall workout performance. Muscle Warfare Nuke is also designed to provide your tissues with support during and after your workout as well as to help increase necessary mass building hormone production. This not only increases the performance of your workouts, but the recovery and growth of your muscles as well.
Looking at the product label, it is easy to see that there are indeed a number of essential amino acids in this product. Glycero-LOAD technology helps ensure that the ingredients are shuttled to the right muscles through the bloodstream quickly and effectively. There are also numerous ingredients designed to help amplify the hormonal output as well as to help vastly increase muscle mass growth. Protective ingredients are also found in surprising abundance in Muscle Warfare Nuke, which left me feeling even more confident, and the refueling and recovery portion of the label is packed with ingredients that are proven to be effective. Perhaps equally impressive, however, was a distinct lack of unnecessary filler ingredients.
User Reviews
Reviews of Muscle Warfare Nuke have certainly been positive, and many say that the product is the "only supplement I need" or that it "is the perfect addition to every workout. Available right from the company's website, it certainly seems that Nuke offers something unique.
"Muscle Warfare Nuke is one of the best pre workout supplements I have ever come across. Tastes great, and had no side effects with it. The only complaint I have is that it costs too much, but well worth it."
Dave, California
Recommendation
Overall, Muscle Warfare Nuke is worth recommending and offers something wanted and needed within the muscle building community.

This supplement promises great benefit before, during, and after your workout and users certainly feel that it delivers. The science and research that have gone into this product have certainly been astounding. Overall, we recommend this product for anyone looking for a nutritional supplement to help make every workout more effective at every step.
Top 3 Pre WorkoutAffiliate Disclosure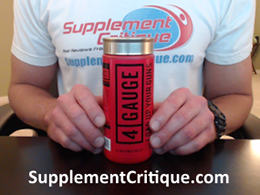 4 Gauge is a brand new pre workout that kicks in FAST and will rev up your workouts.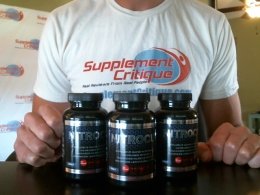 Nitrocut is a VERY effective pre workout supplement for a variety of reasons, see why here.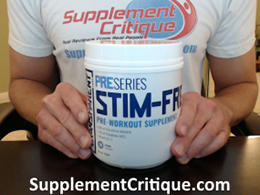 If you're looking for a stim-free pre workout, add Transparent stim-free to your list!
Want To Really Get Ripped?

Click Here To Download My FREE "Get Ripped" Ebook!
Ask A Question
User Questions and Answers
No Questions Have Been Answered For This Article.