MuscleTech #Shatter SX-7 Review – Does It Work?
Rob Miller | September 7, 2015
---
Product Reviewed:
MuscleTech #Shatter SX-7
|
OUT OF 5 | Review by:
Rob Miller
Last Fact Checked On:
---
REVIEWS
QUESTIONS
COMMENTS
---
Home » Pre Workout » MuscleTech #Shatter SX-7 Review – Does It Work?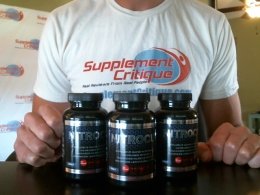 Nitrocut is a VERY effective pre workout supplement for a variety of reasons, see why here.
MuscleTech #Shatter SX-7 Overview
When people first start thinking about taking supplements to help get the most out of their workouts, they usually start out with the basics. They want to get in shape.

They probably want to lose that layer of fat they've seen creeping up for the past couple months or years. They want to look lean and strong.

The first thing they usually go for is a stimulant-based pre workout to get them motivated to keep going through the rough spots.

But what happens when you've gotten through that rough beginning, when you're solidly past the first steps of getting in shape?

For a lot of guys, that's when it's time to start bulking up.
MuscleTech #Shatter SX-7 is a pre workout supplement designed specifically to help you put on muscle mass.

It serves its pre workout purpose of providing energy and stamina, but it also includes provides added benefits that help you build muscle mass.

In fact, it claims to increase your muscle strength by 147% and help you gain almost 9 pounds of lean muscle in just 12 weeks.

Sounds perfect, but claims are just that.

Let's take a look at the formula to see if they're likely to pan out.
MuscleTech #Shatter SX-7 Ingredients and How They Work
The MuscleTech website provides not only a complete ingredient list, but they also explain how most of the key ingredients work to help you work your hardest and gain real muscle mass.

The keys to the formula are:
Ecklonia Cava which contains important polyphenols called Phlorotannins.
Holy Basil an adaptogenic herb that helps increase muscle mass.
Grains of Paradise which can help burn fat and increase energy.
Caffeine for the energy boost and increased focus.
Peak ATP which provides great muscle pumps as well as the kind of muscle energy that makes you work harder than you thought possible.

In a clinical trial, subjects taking the Peak ATP gained 90% more muscle than those who didn't, and they increased their strength by 147%.
Beta Alanine which increases endurance by fighting off muscle fatigue by delaying the accumulation of lactic acid in your muscles.
The recommended dose is 2 scoops mixed with water and taken 30-45 minutes before your workout.

It's advised that you start with 1 scoop to assess tolerance before increasing it to 2 scoops, which is the limit in a 24 hour period.
MuscleTech #Shatter SX-7 Pros and Cons
Advantages of MuscleTech #Shatter SX-7
It's specifically focused on the goals of increasing lean muscle mass and strength.
It comes in several flavors: Fruit Punch Blast, Blue Raspberry Explosion, Watermelon Fusion, and Icy Pink Lemonade.
Most of the MuscleTech #Shatter SX-7 reviews I've seen are very favorable.
Even though it concentrates on muscle building, it doesn't contain creatine, which is good for those who prefer to avoid it.
Disadvantages of MuscleTech #Shatter SX-7
Where to Buy
You can purchase MuscleTech #Shatter SX-7online through the MuscleTech website or Amazon.com.

It's also available at GNC if you want to pick it up there.

The 50 scoop tub, which lasts less than a month at the full 2 scoop dose sells for $69.99 at GNC ($59.99 for members) or $47.99 at the MuscleTech website.
Conclusion
If bulking up is your goal and you're not a fan of creatine, MuscleTech #Shatter SX-7 is a good pre workout to try.Some of the ingredients are backed up by clinical trials, and the word of mouth is good.

It's a little on the expensive side, but if it works, it'll be worth it.
Have You Used MuscleTech #Shatter SX-7?

Leave Your Review Below!
Check Out One Of My Top Pre / Post Workout Supplements – Crazy Mass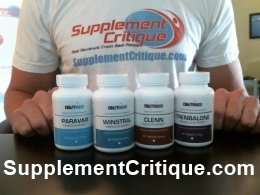 I've been researching pre and post workout products for years now, and recently came across a great combo of supplements called the Crazy Mass Cutting Stack.

This stack combines 4 different supplements that are used in conjunction to provide great results.
I recently got a chance to test it out and post my feedback, click here to read my official review.
User Reviews
Yusef's Review
I been using it for a week, nd its definitely doing its job, it have have me pushing my body more than use 2..???????

Was this review helpful to you?

---
Want To Really Get Ripped?

Click Here To Download My FREE "Get Ripped" Ebook!
Ask A Question
User Questions and Answers
No Questions Have Been Answered For This Article.