Nitro Shred and Alpha T-10 Review
By:
Rob Miller
Fact Checked On: 5-2-2018
It's no secret that celebrities like The Rock, Hugh Jackman, Chris Helmsworth, and Mel Gibson probably have a wealth of trainers, chef's, and nutritionists at their disposal. Their bodies are their brands, and like any good brand it takes alot of work to maintain the appeal of that brand. They don't just get jacked from sitting around on their asses all day eating cheesy puffs. They put the work into it, and as a result often have the bodies we dream of.
But, do they also use supplements to help them achieve that "hollywood body" they need to keep securing work? Well, one recent "Mens Health and Life" blog post I was just reading reports just that. According to them, celebrities have been using a secret combination of supplements called Nitro Shred and Alpha T-10, which apparently has been gaining popularity amount hollywood trainers.
But, there is a shocking "truth" behind this combo that they don't really want you to know about. I'll dive into that a little bit later, but let's examine the claims made by NitroShred and Alpha T-10 before we draw any conclusions.
What is Nitro Shred?
Nitro Shred is reportedly a pre workout nitric oxide booster that claims a number of benefits, including improved focus, sustained energy, stronger lists, and decreased muscle breakdown. Their proprietary blend is made up of a number of all natural ingredients which include Beet root extract, Ascorbic Acid, Melon Juice, and L-Arginine HCL. L-Arginine is more then likely the primary ingredient here, and basically works as a vasodilator which in theory is supposed to help improve blood flow, allowing for more efficient nutrient delivery.
On their official website they note that they are advertised on Men's Health Magazine, Maxim, Playboy, and Mens Journal, but I reached out to the advertising departments of each and none of them said they have even heard of Nitro Shred. This supplement is only sold on their official website, and as of this review it's not available in stores like GNC, Vitamin Shoppe, Walmart and others.
What is Alpha T-10?
Alpha T-10 is apparently an HGH releasing supplement that works to help boost your endurance threshold, increase energy levels, reduce body fat deposits, and increase lean muscle. While they don't clearly state exactly what's in their supplement, from some of the official sites literature we can see that it contains DHEA, L-Arginine, and IGF-1. IGF-1 (or Insulin Like Growth Factor) is a hormone similar in molecule structure to insulin, and plays an important role in childhood growth as well as having anabolic effects in adults. (1)
Just like Nitro Shred, Alpha T-10 says that they are advertised on several major media outlets like NBC, Men's Health, and ESPN. However, just like with Nitro Shred, I checked with all 3 of these media publications and none of them have heard of Alpha T-10. This supplement is also not available in stores, and can only be found on their official website.
What Got You Here In The First Place?
What probably got you to this article was that you probably were browsing through your Facebook news feed and came across an ad that looked alot like this. I've seen dozens of ads similar to this one before….sometimes they use a picture of The Rock, sometimes Hugh Jackman, and sometimes it's just some random dude. The promise is always the same though….it's always some "Shocking Secret" that celebs are using to get massive and cut up.
Once you click the ad, it takes you to a page that looks like this. It looks alot like the Mens Health website, doesn't it? It's complete with links to other parts of their site like the Sex & Love section, Weight Loss, Yoga, and even a newsletter signup. But, what your probably didn't notice was that if you try and click on these links it doesn't actually take you to the section you were thinking it would. Let me show you a quick example in this video below:
As you can see, EVERY SINGLE link you click on go's to the NitroShred official website. It doesn't take you to the Sex and Love section, you can't search for anything on the men's health website, and you certainly can't like it on Facebook. So, what's up with that?!?
Well, if you probably didn't realize, this is not a legit Men's Health blog post. In fact, it's not even a legit article by a Mens fitness website. Instead, it is a flat out advertisement. You probably missed it, but it's posted very clandestine-like in the upper right hand corner of the page, check it out. That's red flag #1….
Our Problem With NitroShred and Alpha T-10
All of the above aside, it really boils down to whether or not the products work, right? Unfortunately, finding credible reviews of Nitro Shred and Alpha T-10 was practically impossible. If you run a quick google search for reviews, you are bombarded by sites that are clearly setup by the company or their affiliates to help sell the product.
Finding reviews on Youtube was equally as worthless, as you'll see in the videos below:
That's red flag #2….if you can't find any credible info about a supplement in forums or discussion boards, then how can you tell if it even works?? Red Flag #3 is the deceptive billing they use to end up charging your credit card a hefty amount at the end of your supposed free trial.
What do I mean by this? Well, when you go to checkout with your orders of Nitro Shred and Alpha T-10, your prompted to enter your credit card info to pay for shipping.

It's only a modest amount of $4.95 for each supplement, but what you may NOT have noticed was the "30 day money back guarantee" at the bottom of the Alpha T-10 page….check it out: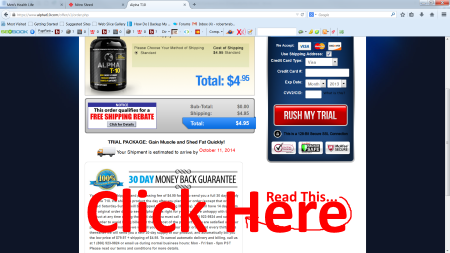 That's right….If you don't cancel your trial within 14 days they end up billing that very same credit card for close to $80, all when you thought you were getting it free of charge. Things are even worse for Nitro Shred….they don't even list their terms and conditions on the order checkout page. If you click on the terms link at the bottom of the page though, you're told the following:
"By clicking rush my order, you agree to be enrolled in the 14 day trial offer for $6.95 which is the cost of shipping, and after the trial expires, you agree that your card will be charged $79.97 for you Nitro Shred as part of our exclusive member auto ship program.Your monthly member autoship will recur at $79.97 plus $6.95 for shipping and handling every month from the time your trial expires until you cancel.
If you choose to opt of the Risk Free Trial, all product shipments must be returned at the customers expense and return the used or unused product to avoid being charged for the month supply already shipped to you.You must call 866-641-1487at least 24 hours prior to the date that your next monthly delivery order is shipped from our warehouse."
So, here we are with close to $160 in charges that most of you probably weren't even aware of. The FTC posted a great video on these sorts of scams, and what you can do to avoid them, check it out below:
The FTC makes a number of key points that you should take away from the video…
1. Do the research and look for complaints. I've already done this on the Better Business Bureau and other community message boards, but came up short on complaints. But don't worry, once guys start reading this review of Nitro Shred and Alpha T-10 it will only be a matter of time before complaints from guys who got sucked into this start popping up in the comments section below.
2. Uncheck pre checked boxes. It's funny here because when you get to the order page for each supplement, they don't even have a pre checked box, even though they are supposed to. Further evidence they are trying to bilk you out of your money.
3. Mark the cancellation date on your calendar. I can't stress this one enough!!! Even though this is a free trial and you only have 14 days to try it, some guys may want to go ahead and give them a shot anyway. If you do, please, PLEASE, mark your calendar so that you are aware of when you need to cancel your trial by. I would also suggest you make a note of the companies contact info in case you can't seem to find it in the future.
Recommendation
We come across these supposed miracle offers constantly, and try to warn as many guys as possible as to what they are getting involved in. It's pretty clear to me (and should be to you by now), that taking the combo of Nitro Shred and Alpha T-10 will probably NOT get you the results they were promising. There are plenty of other legit supplements out there that will not enroll you in a scam free trial, auto-rebill program, and ones that likely work MUCH better then these two.
Have You Used Nitro Shred and Alpha T-10? Leave Your Review Below!
References:
1. Insulin-like Growth Factor: http://en.wikipedia.org/wiki/Insulin-like_growth_factor_1
Top 3 Pre WorkoutAffiliate Disclosure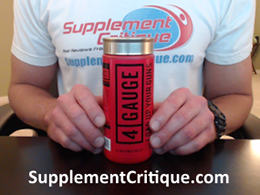 4 Gauge is a brand new pre workout that kicks in FAST and will rev up your workouts.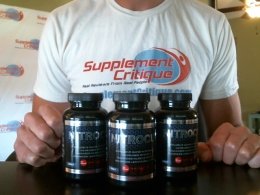 Nitrocut is a VERY effective pre workout supplement for a variety of reasons, see why here.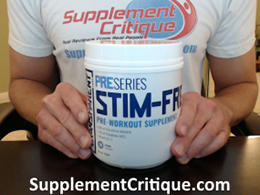 If you're looking for a stim-free pre workout, add Transparent stim-free to your list!
Want To Really Get Ripped?

Click Here To Download My FREE
Ask A Question
User Questions and Answers
No Questions Have Been Answered For This Article.