No, Conor McGregor Did NOT Use That Supplement
By:
Rob Miller
---
Let's face facts…
If there were a supplement out there that would build muscle, shred fat, and increase your energy, without having to do S#$T, you would take it?
We all would, but common sense tells us that no such pill exists.
At least until now…
Lazily scrolling through my Yahoo news feed this Sunday, I came across an ad that says "Conor McGregor Drops Bombshell On Fans", with a "WOW!" underneath.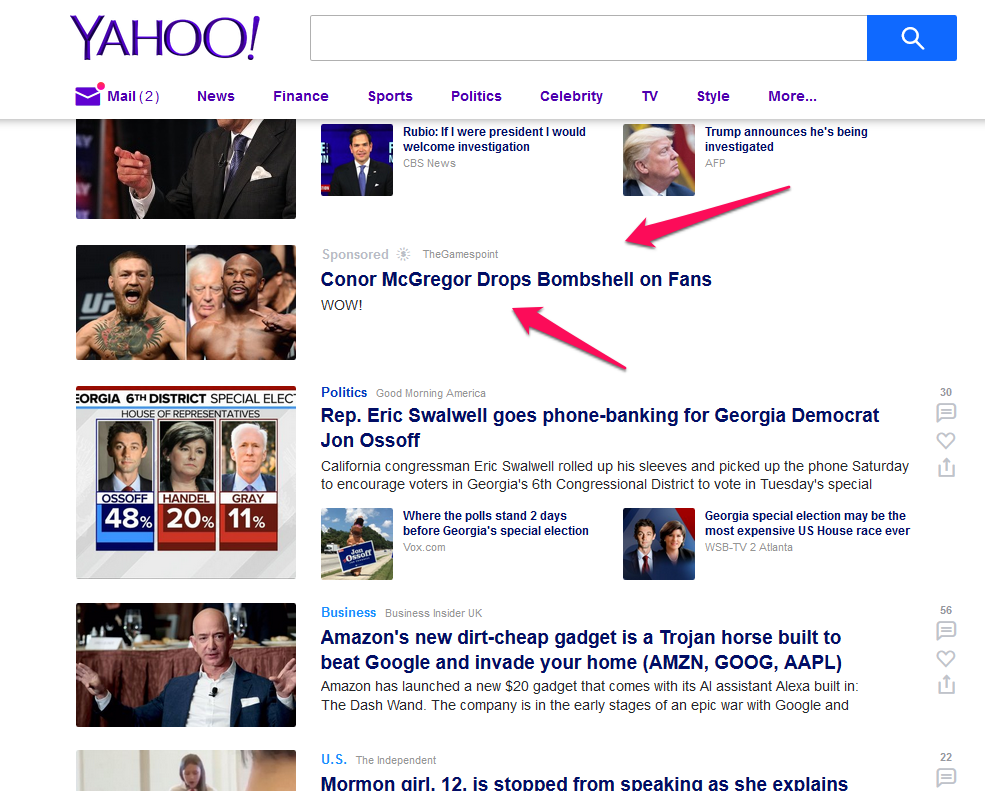 I've never been a huge fan of MMA (or boxing for that matter), but I do admire Conor McGregors work ethic.
Hey may run his mouth quite a bit, but let's face facts….
He puts the time and effort into his workouts and nutrition, and has EARNED the right to brag.
So, with that said, when I clicked on this link I was redirected to a supposed ESPN article that stated he was leaving the UFC.
Why, you ask?
Well, according to what I'm seeing here, was that he was caught violating HGH and PED testing policies by testing positive for a performance enhancing substance called Dominant Testo.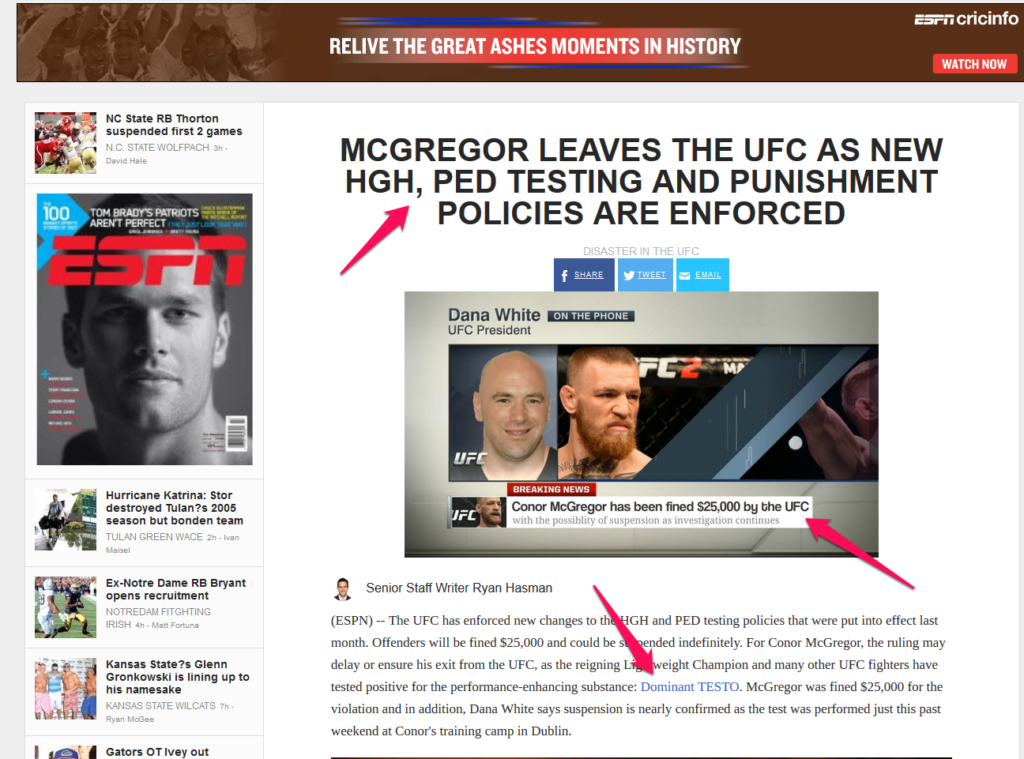 The article goes on to say that Mcgregor was fined $25,000, and faces the possibility of suspension from the UFC, as well as potentially being stripped of his titles.
Whoa!
They show a screenshot of a conversation he had with ESPN Sportscenter, where he was apparently confronted with his use of Dominant Testo.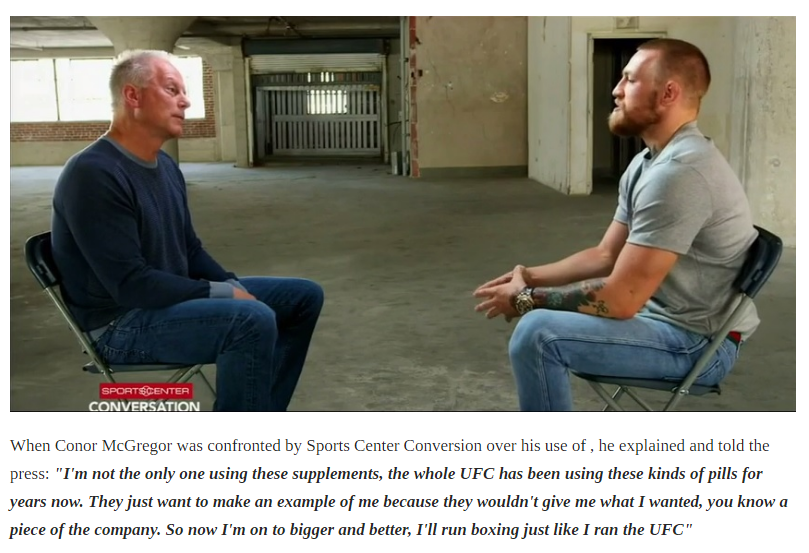 In this conversation, he stated:
"I'm not the only using these supplements, the whole UFC has been using these kinds of pills for years now."
I see a snapshot of UFC president Dana White talking with ESPN reporters, in which he said that McGregor downplayed his use of Dominant Testo.
The reasons why Dominant Testo were banned from the UFC, according to White, were two-fold:
The supplement has been CLINICALLY PROVENto give average muscle gains of over 150%, and:
You don't have to workout while taking them. They just magically pack on the muscle while you sit around and eat cheese-its all day.
Fascinating…
If alarm bells aren't going off in your head right now they should be.
According to the rest of the article, these supplement has been clinically proven to:
Boost testosterone production by over 65%
Boost energy levels and endurance by 52%
Reduce muscle repair time by over 40%
One of the ESPN editors, a guy they call Ryan Hasman, decided to test a sample bottle of Dominant Testo out, and his results were nothing less than extraordinary.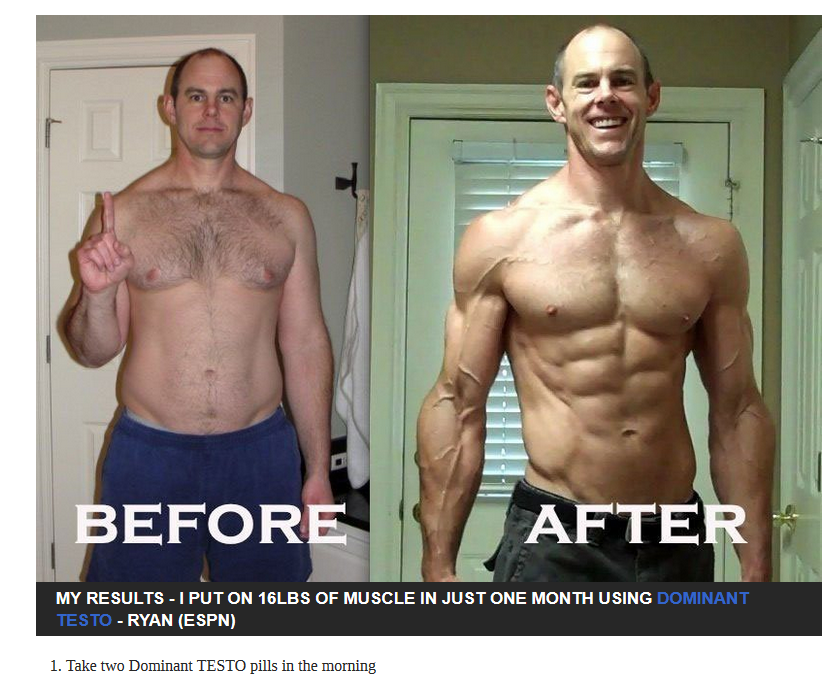 All he had to do was take 2 pills in the morning, and bam!
After just 31 days of trying it out, Ryan gained 16 pounds of muscle, even though that's literally impossible without the use of steroids.
He details his 4 week trial, and says that it's nothing short of amazing.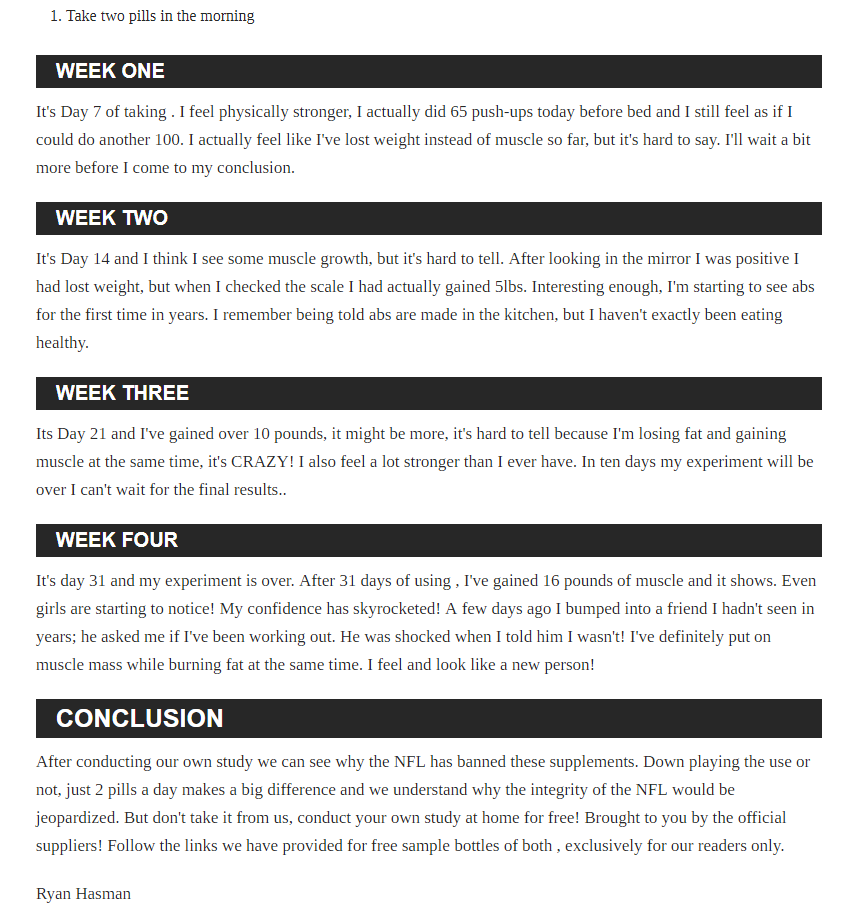 It concludes with what looks like a promo for Dominant Testo, telling you that you TOO can receive a free sample bottle of Dominant Testo.
All you have to do is click the link, enter in your info, and…..
Input a credit card number for shipping.
We're going to get back to all this, but let's first pick apart this supposed "ESPN article" piece by piece.
Red Flag #1
In the very beginning of the article, it states that McGregor was fined $25,000 as a result of testing positive for Dominant Testo.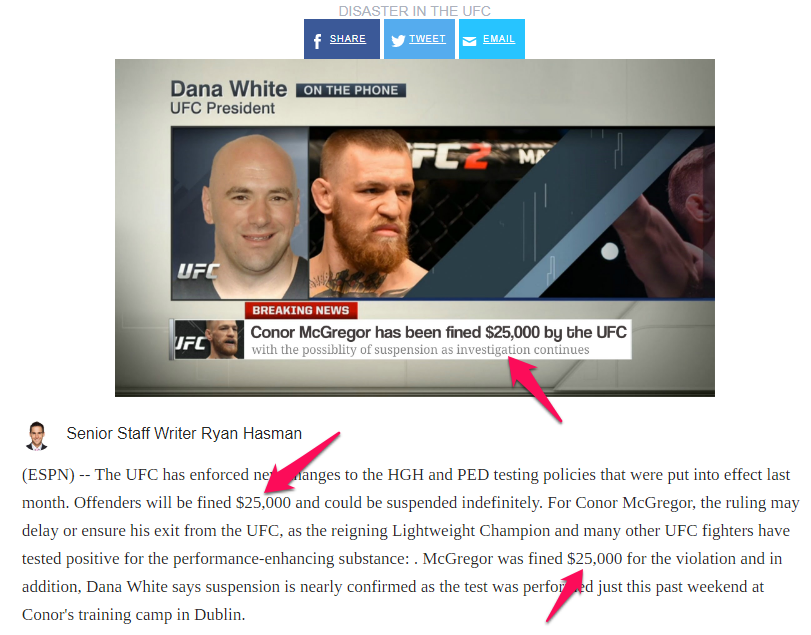 When nothing could be further from the truth.
According to MMAjunie.com, Mcgregor was fined $25K for throwing a water bottle and energy drink at Nate Diaz at a pre-UFC 202 news conference.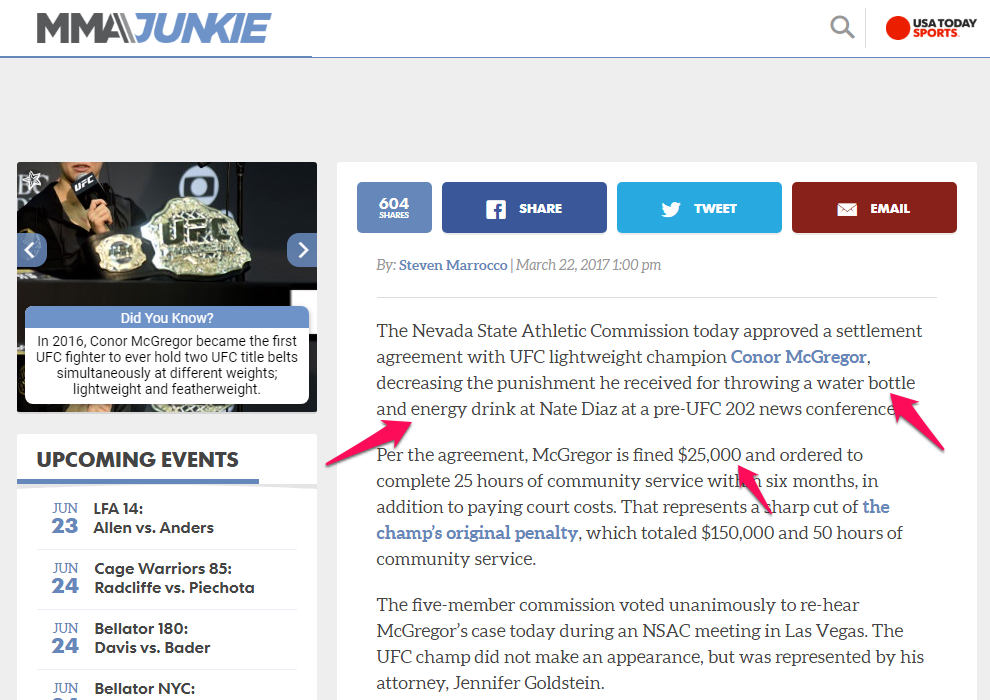 NOTbecause he was using ANY performance enhancing substances, including Dominant Testo.
Red Flag #2
Remember that sportscenter conversation where McGregor apparently let the cat out of the bag and said everyone in the UFC is using "these supplements"?
This one: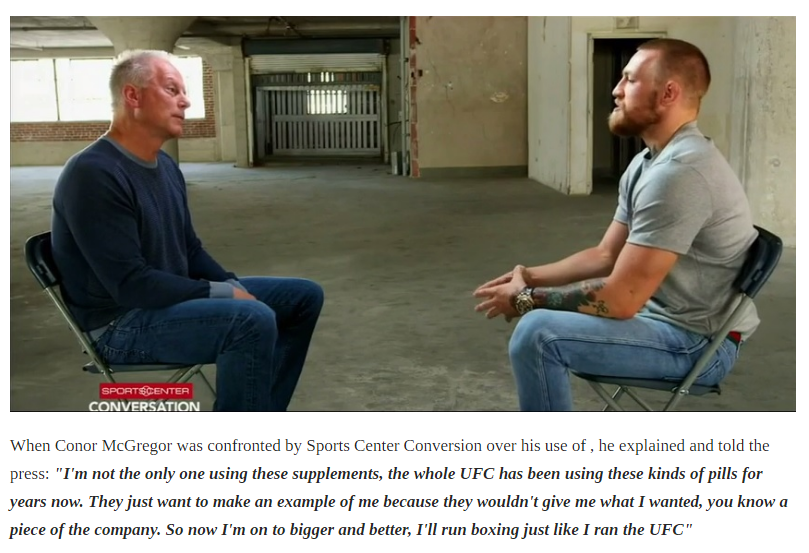 Well, I happened to watch the ENTIRE 6-minute ESPN interview, and not ONCE does he mention the use of supplements.
You can see for yourself below:
[youtube https://www.youtube.com/watch?v=dqNok8S12Kc]
In fact, he doesn't mention ANYTHING about performance enhancing substances, or him being made "an example of" by the UFC.
The whole interview is basically talking about his upcoming fight with Floyd Mayweather, more or less.
Red Flag #3
Remember that awesome before and after photo of this supposed ESPN writer?
This one: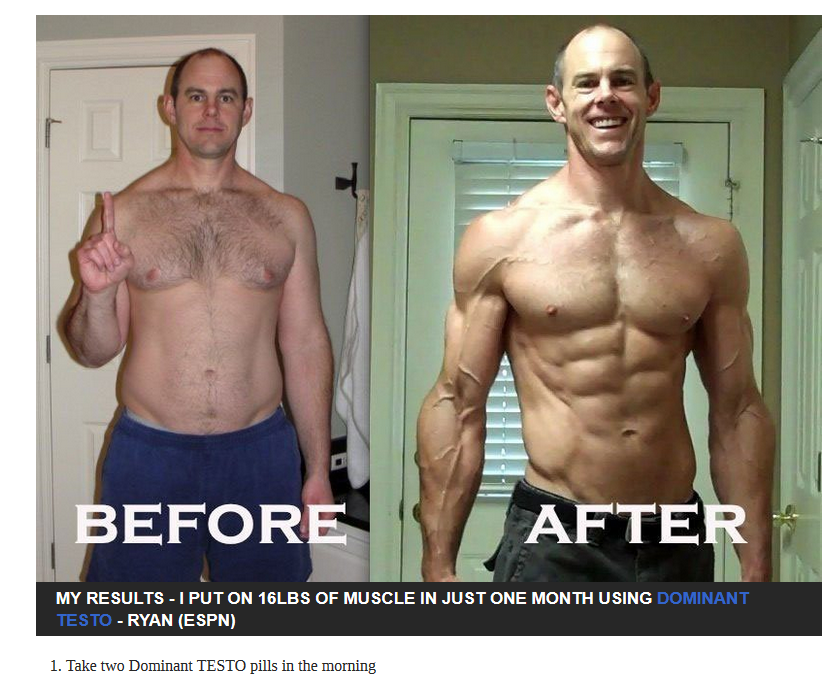 Well, I took the liberty of running a reverse image search, and it turns out that this before and after was STOLEN off of a website called TeamRipped.com.
Certainly not the first time I've seen shit like this happen.
Red Flag #4
Despite the fact that it looks just like it, this isn't REALLY the ESPN website.
You probably missed it, but if you look at the URL, it doesn't say ESPN.com.
It says, insidenews24.com/espn/mcgregor-leaves-ufc/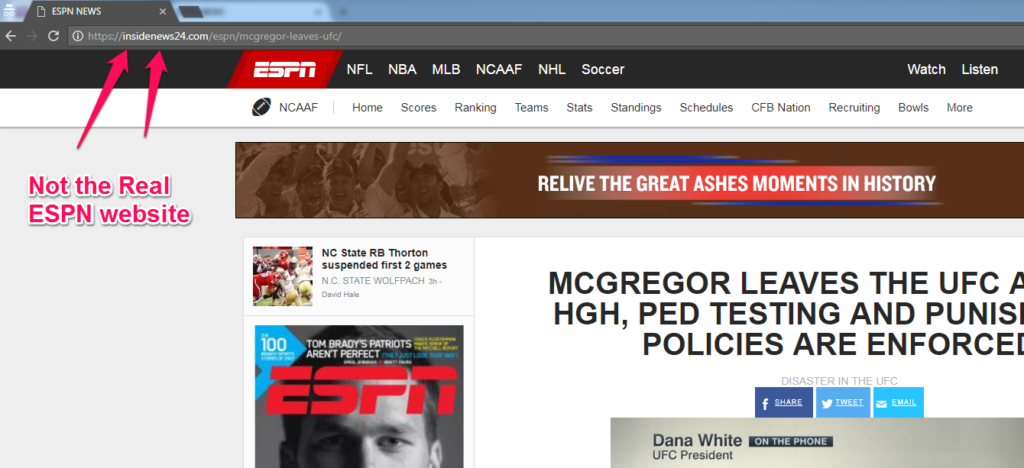 If you visit the homepage of the site, this is what you see:

Red Flag #5
If you haven't been convinced enough already, scroll down to the bottom of the "ESPN article".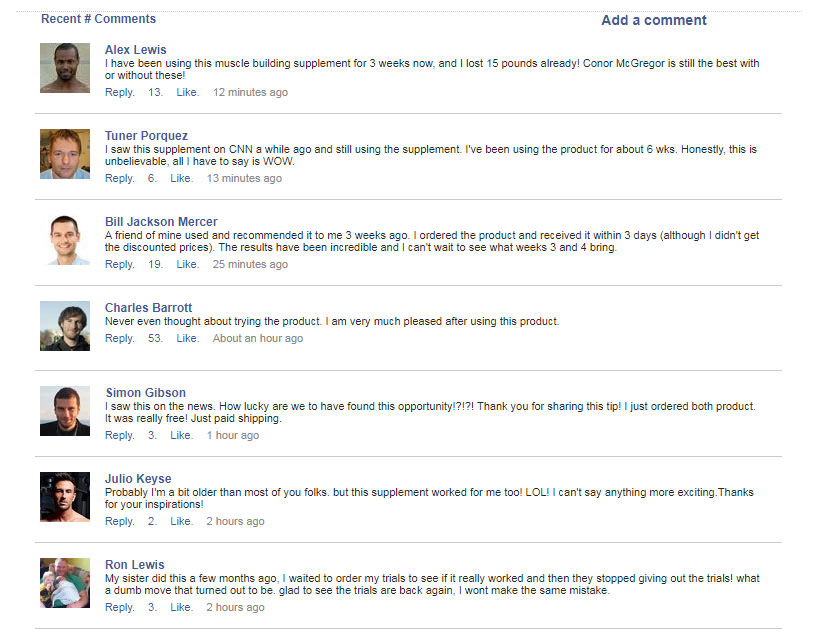 You'll see about 7 comments that "look" like they were posted via the Facebook comment plugin.
The truth is, these are NOT really Facebook comments.
They're just designed to look like them.
Case in point, on a typical Facebook comment if you hover your cursor over the name of the person leaving the comment, a little window pops up that gives some basic info about the commenter.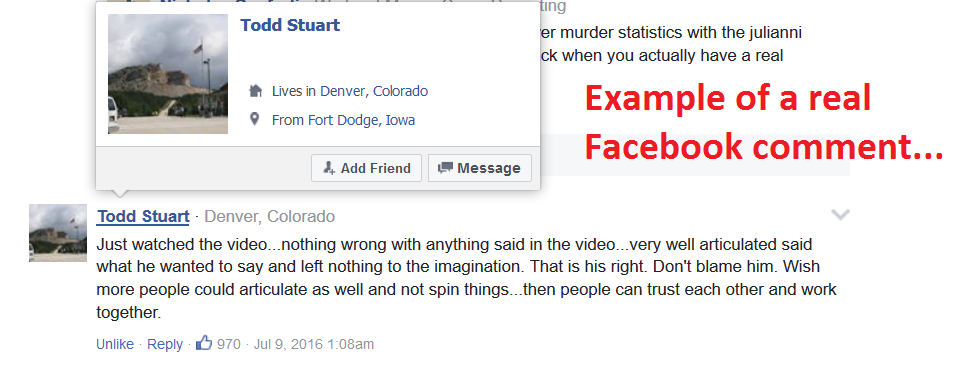 Well, if you try to do this on the article, it just doesn't happen.
Nothing pops up, you can't "like" the comment, or even leave a reply.
Proof that it's all fake.
Red Flag #6
This is the biggest red flag of them all, and something you should DEFINITELYbe thinking about should you decide you want to try this Dominant Testo out.
So right above those Facebook comments you'll see a big banner that screams "Receive a FREE Sample Bottle Of:", with a link to claim your free bottle.
When you click on it, it takes you to the Dominant Testo website, where all you have to do is fill out your information and pay a small charge for shipping, just $4.95.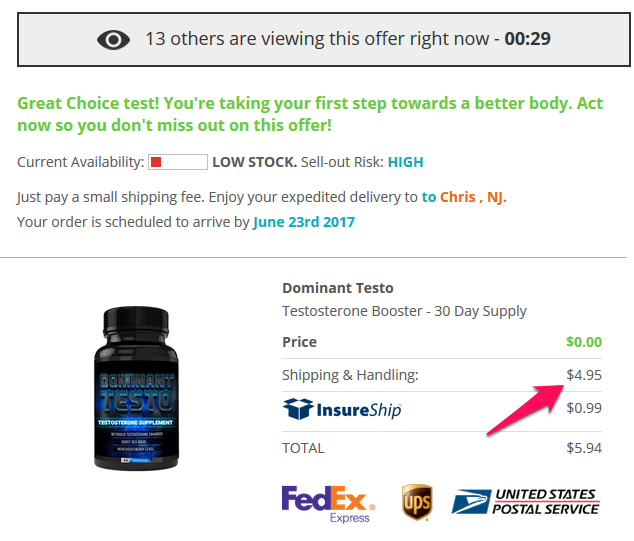 What you probably COMPLETELY MISSED was the part at the bottom that says you'll be charged almost $100 18 days after you place your order.
Don't believe me?
See for yourself:

It might be hard to read, so I'll type it out for you here:
"By placing an order, you will pay $4.95 S & H to receive a 30 day supply.You will also be automatically enrolled in our membership program.

The program will charge you $97.99 on the 18th day of your order date for a monthly supply and every 30 days thereafter until you cancel.You can cancel at any time by calling 877-673-8502 or emailing support@dominanttesto.com .

If you cancel before the 18th day of your order date, you pay the S&H of your 30 day supply.

If you cancel after the 18th day of your order date, you shall pay for the 30 day supply plus any future supplies without refund. "
Most guys don't notice this, and some of them even come to ME thinking that I'm the one charging them.
If they would just read my review, they'd see that I'm the one that's exposing the scam!
Recommendation
As you can tell from the expose above, it's pretty clear that this is a fraud designed to dupe you from your hard earned money.
This is yet on another in a long line of similar scams that don't even have much imagination behind them and are aimed solely at appealing to the most amount of customers (victims) to scam more money out of.
This is far from the only scam of a product like this available out there and I urge you to scrutinize any marketing tactics similar to this as they likely point to it being a total hoax.
I've actually seen this fake advertising used to market HUNDREDS of other supplements.
One week it was a Lebron James "ESPN article" saying he was under investigation over his use of a supplement called Test Boost Elite.
Another week it was Tom Brady being suspended from the NFL for using a supplement called Test X Core.
The fact that they are DELIBERATELY copying off the design of the real ESPN website should be reason enough to give pause.
But it's pretty clear that the fake interviews, before and after photos, and Facebook comments should be MORE then enough reason to take a pass on this supplement.
Conor McGregor MAY use supplements, but it's HIGHLY unlikely that he is / was using Dominant Testo (I'll have a full review of this supplement posted shortly, so check back soon).
Just think about, most of these celebrities that the scammers are claiming are giving them raving endorsements are not really in the market for endorsing any product of that nature and often times a little bit of common sense can go a long way in steering you away from a scam like this one.
Help me spread the word by sharing this page on your Facebook feed, tweet it to your friends, do whatever you can to help keep others from getting completely ripped off.
Check Out My Top Choice For T Boosters - Testofuel

Click Here To Read My Review
Ask A Question
User Questions and Answers
No Questions Have Been Answered For This Article.