Nugenix is one of the most popular testosterone boosters we've ever personally tested.
As a result, I get a LOT of guys asking me about what the potential side effects are.
I've talked about it briefly in my original review, but I wanted to created this post to go into more depth about what (and what NOT) is possible.
First off, What's In Nugenix?
We can't determine what the side effects will be without knowing first what's in the formula.
Here's a snapshot of the label: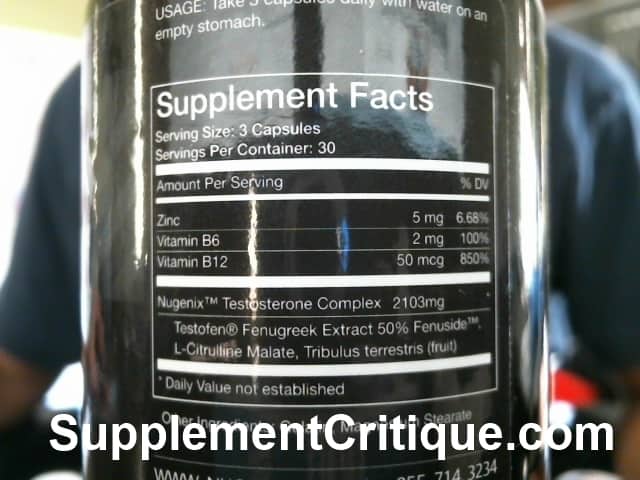 Now, side effects can loosely be defined into 2 categories:
What the anecdotal reports (customer reviews) say.
What the medical literature says.
Let's start with Nugenix reviews.
I went through all the reviews on Amazon (yes, all 1,000+ of them), to get an idea of what the most common side effects were.

It took me almost 2 hours, but I got through all 105 pages.
The vast majority (about 60% of them) were not comprehensive at all, and just said things like "didn't work", "OK", or "it works".
However, some of the more informative ones were pretty detailed in their assessment.
Especially when it came to problems they had with it.
Below is the breakdown in side effects that I saw (listed in order from most common to least common):
Increased blood pressure: 10
Nausea / Vomiting: 9
My urine smells bad (I can confirm this, it's the fenugreek extract): 8
Upset Stomach:  7
Increased heart rate / heart palpitations:

4

Headaches: 4
Burping with a bad aftertaste: 3
Indigestion / Heartburn: 3
Diarrhea: 3
Decreased blood pressure: 2
Jitters: 1
Flatulence:

1

Body itching: 1
Hot Flashes: 1
Burning urination: 1
Intestinal bleeding: 1
Fatigue: 1
Agitation:

1

Anxiety: 1
Stomach Pain: 1
Abdominal Cramps: 1
Changes in vision: 1
Constipation: 1
Vivid Dreams:

1
Total reviews where side effects were reported: 36
*Some of these are combined.  If a guy had headaches AND nausea, I counted his assessment in both categories.
Keep in mind that this is what guys REPORTED while taking Nugenix, and not necessarily CAUSED by it.
For instance, you can have a headache without taking a supplement, right?
There's really no way to tell if Nugenix was the culprit.
Some of the stories I read were horrible:
One guy said that he experienced every single side effect had, he came down with.

On guy said he ended up in the ER all day because his blood pressure shot up to 170 / 110.

Yet another reviewer mentioned that he had some serious side effects from it, including shaking, sweating, and feeling very ill.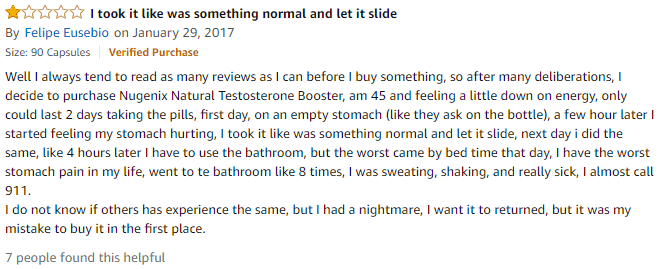 To me, that simply sounds like he either had an allergic reaction to it, or it could have been food poisoning from something he ate earlier in the day.
Same with this guy:

What does the medical literature have to say?
First off, here's a chart with every ingredient in Nugenix and their corresponding side effects.
Ingredient
Potential Side Effects
Source
Zinc - 5 mg
Nausea / Vomiting


Stomach Pain / Diarrhea


Flu-Like Symptoms


Lowered HDL Cholesterol


Copper Deficiency
Healthline.com
Vitamin B6 - 2 mg
Nausea / Vomiting


Stomach Pain


Loss of Appetite


Headache


Tingling


Sleepiness
WebMD.com
Vitamin B12 - 50 mcg
Headache


Itching


Swelling


Nervousness / Anxiety


Uncontrollable Movements
Everydayhealth.com
Fenugreek Extract - amount unknown*
Diarrhea,


Upset Stomach


Bloating / Gas


Dizziness


Headache


Maple syrup odor in urine


Nasal Congestion


Coughing / Weezing
WebMD.com
L-Citrulline - amount unknown*
No Reported Side Effects
WebMD.com
Tribulus Terrestris - amount unknown*
Stomach Pain


Cramping


Diarrhea


Nausea / Vomiting


Constipation


Excitation


Insomnia
WebMD.com
* Part of a proprietary formula.
As you'll see, the most common adverse effects are things like nausea, vomiting, and upset stomach.
What was interesting to note was, despite several men complaining about increased blood pressure, none of the ingredients list that as a common side effect.
In fact, several of the ingredients (most notably Tribulus, L-Citrulline, and Fenugreek) have actually been shown to lower blood pressure. [Source: 1, 2, 3]
So what can be causing all of these instances of increased BP?
This can only lead me to believe that their increase in blood pressure was either the result of excitation or anxiety that may have been caused by the Nugenix, or an outside factor completely independent of the supplement.
With that said, several men did not that their blood pressure returned to normal by either lowering the dose, or abstaining from the product altogether.
What About Medical Conditions?
We had our in-house pharmacist go over the formula, and he found that in general Nugenix is safe to take.
There are no known contraindications for taking this supplement with:
High or low blood pressure
Anti-depressants
Caffeine
With that said, you should NOT take Nugenix under the following conditions:
Are taking Cyclosporine or any medications for organ transplant.
Have HIV (human immunodeficiency virus)/AIDS – Zinc use has been linked to shorter survival time in people with HIV/AIDs.
Have Leber's disease, a hereditary eye disease: Do not take vitamin B12 if you have this disease.  It can seriously harm the optic nerve, which might lead to blindness.
Have abnormal red blood cells (megaloblastic anemia).
Have high numbers of red blood cells (polycythemia vera).
Have cancer.
Or have received post-surgical stent placement.
Here's a complete list of potential drug interactions that our pharmacist identified:
Moderate:
Mental Health
Blood Thinners and Antiplatelets

NSAIDS
Aspirin
Coumadin (warfarin)
Plavix (clipidogrel)

Antidiabetic medications

glimepiride (Amaryl)
glyburide (DiaBeta, Glynase PresTab, Micronase)
insulin
pioglitazone (Actos)
rosiglitazone (Avandia)
chlorpropamide (Diabinese)
glipizide (Glucotrol)
tolbutamide (Orinase)
and others

Certain Antibiotics

Quinolones

ciprofloxacin (Cipro)
enoxacin (Penetrex)
norfloxacin (Chibroxin, Noroxin)
sparfloxacin (Zagam)
trovafloxacin (Trovan)
grepafloxacin (Raxar).

Tetracyclines

demeclocycline (Declomycin)
minocycline (Minocin)
tetracycline (Achromycin).

Cancer Treatment
Other

Penicillamine
Amiodarone
Phenobarbital
chloramphenicol
Click Here to read his full report.
Is Nugenix REALLY Safe?
Despite everything you read above, I personally believe that Nugenix is a completely safe supplement.
The fact that only 36 men out of the 1,048 that left reviews of it mentioned anything about side effects is pretty telling.
I mean, that's a little over 3%. 
That may sound like a lot, but considering some supplements have a side effect ratio approaching 15% and above, I think it's pretty good.
I've personally used it as well, and didn't note ANY side effects with Nugenix.
Click Here to read my full review.
Ask A Question
User Questions and Answers
No Questions Have Been Answered For This Article.