What Does Rhino Pills Do To You?
They get you hard!!
Seriously, I don't even understand why this question is asked as often as it is.
Anyone that is asking what rhino pills do to you maybe shouldn't be taking them in the first place.
That's the TL;DR (too long, didn't read) summary.
Now for the more "enhanced" explanation.
How Do Rhino Pills Work?
Since we know that the vast majority of pills with the name "Rhino" in them contain Sildenafil (source, source, source, source, source, source, source), we can explain exactly what happens when you take one of their pills.
It's basically a matter of blood flow…
Let's first explain why erectile dysfunction happens in the first place
The penis has arteries and blood flows through these arteries.

When a man becomes aroused, this blood fills the spongy tissue inside the penis to cause an erection.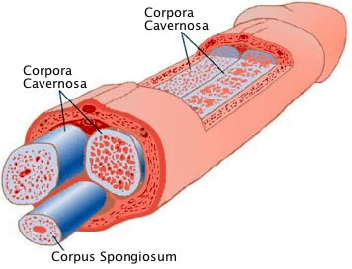 Sometimes a health problem like high blood pressure or diabetes can keep blood from flowing properly through the arteries of the penis.
When this happens, a man can have problems getting or maintaining an erection.
Drugs like Sildenafil (which are found in most Rhino Pills) not only helps men achieve an erection, but also maintain it.
It works by increasing blood flow to the penis.
Rhino pills are only supposed to work when they're need to, when you're sexual aroused.
Key word, "supposed to".
This wouldn't explain why I've gotten random boners walking down the street while on the stuff, but that's a whole other matter.
What Else Rhino Pills "Do To You"
Unfortunately, it's not all it's cracked up to be.
There are some SERIOUS side effects that can come from taking Rhino pills, including:
Flushing:  Basically what happens here is your face and neck will get really hot and tingly, and make you feel weird.  It's usually short-lived in my experience, and goes away in about an hour or so.
Headache – I can't even begin to describe how bad the headaches from Rhino Pills can be.  Think of your head being squeezed in a vice and you get the picture.
Runny or stuffy nose– I never really got a runny nose from Rhino pills, but I definitely get a stuffy nose.
Not the kind of runny / stuffy nose where you pop some dayquil to get rid of it, but a stuffy nose nonetheless.
Abnormal Vision– Translation:  You'll see weird traces of light.
It's almost like your in a ray gun battle scene from star wars, without the whole getting shot at with a particle laser beam.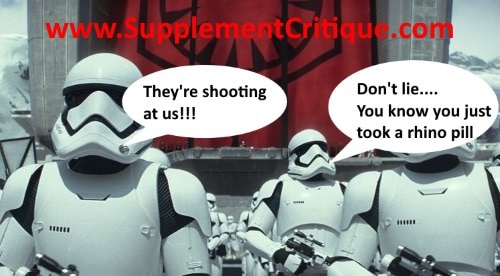 Sleep Problems – If you take it late at night (when most sex occurs, I guess?), it might keep you up.  No idea why it does that, but it does.
Bottom Line
If you're looking for Rhino pills to do to you what you think they'll do to you, then give them a try.
They really do work, I can tell you from experience.
But seriously, if you suffer from ANY sort of medical condition whatsoever, or are taking any medications, go to your doctor first.
There could be some SERIOUS interactions with Rhino pills that they don't exactly warn you about on the packaging.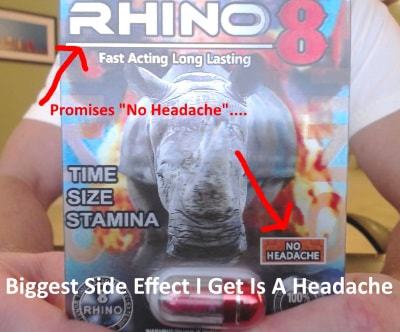 Like headaches!
Top 3 Male EnhancementAffiliate Disclosure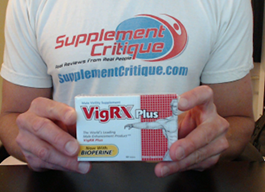 Out of the 100+ male enhancement products Ive tried, Vigrx Plus was the best.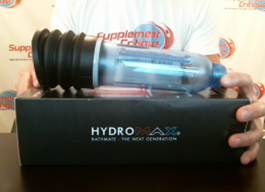 The Bathmate is a proven water-based vacuum pump that can help dramatically increase your size.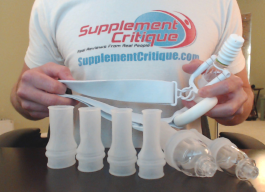 Phallosan Forte is a GREAT option for those looking to grow both length AND girth, permanently.
Honorable Mention/Inexpensive Alternative: Magnum Rings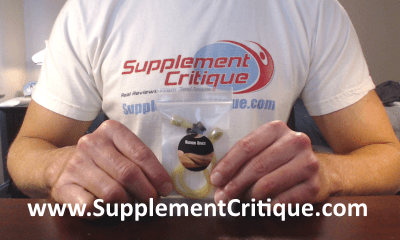 Magnum Rings are a VERY affordable option to getting both girth and length gains, at a fraction of the price of the Bathmate or Phallosan Forte.
Click Here to see our full Magnum Rings review.
Ask A Question
User Questions and Answers
No Questions Have Been Answered For This Article.