Omega Sports Burn24 Review – Does It Work?
Rob Miller | September 15, 2014
---
Product Reviewed:
Omega Sports Burn24
|
OUT OF 5 | Review by:
Rob Miller
Last Fact Checked On:
---
REVIEWS
QUESTIONS
COMMENTS
---
Home » Fat Burners » Omega Sports Burn24 Review – Does It Work?


Omega Sports Burn24 Overview
There are as many weight loss supplements on the market as there are theories about how to lose weight.

In other words, there are a lot, tons you might say, and it seems like they each use their own theories about how weight comes off to inform their formulas and their mechanisms of action.

Some are all about the stimulants to give you energy and burn fat.

Some block fat and carbs from being absorbed and stored by the body.

Some use fiber fillers to make you feel full.

Some try to combine all these tactics and more.
Omega Sports Burn24 works on the theory that insulin resistance, actually insulin "super resistance," is what's making you fat and keeping you fat.

With insulin resistance, your body goes into fat storage mode, you're hungry all the time, and almost everything you eat gets stored as fat.

Omega Sports Burn24 claims to have the solution so you can get back on track and lose the weight.
Omega Sports Burn24 Ingredients and How They Work
The ingredients in Omega Sports Burn24restore a normal insulin response so your body gets back to the business of burning fat instead of storing it.

They do this by helping your muscle cells become more efficient at absorbing the nutrients they need so there's less need for insulin.

This leads to more fat burning as well as better appetite control.

The ingredients also help direct nutrients to muscle cells and away from fat cells, inhibiting new fat cell growth.
These ingredients include:
Green Coffee Bean Extract which has been shown to reduce body fat.
Bergenin which makes it harder for your body to create and store fat.
GS4 Plus (Gymnema Sylvestra) which supports insulin production and release.
Berberine HCI which improves insulin sensitivity by increasing the number of insulin receptors.
Momordica Charantia Extract which stimulates the release of thyroid hormones.
Cissus Quadrangularis which can improve body composition by promoting the growth of new lean muscle tissue.
Omega Sports Burn24 contains no stimulants, and the instructions are to take 2 capsules, 20-30 minutes before meals, 3 times daily.

It is important that you don't take it without eating shortly thereafter.
Omega Sports Burn24 Pros and Cons
Advantages of Omega Sports Burn24
It contains no stimulants so you can take it any time of day.
The majority of the Omega Sports Burn24 reviews I've come across are positive.
For a weight loss supplement, it's pretty inexpensive.
Disadvantages of Omega Sports Burn24
It's difficult to remember to take 2 pills 3 times a day.
Some reviewers have stated that it has no effect.
Where to Buy
There are a few different online retailers where you can purchase Omega Sports Burn24.

The 180-count bottle which should last a month costs about $40 anywhere you look.
Conclusion
If you've tried stimulant fat burners and haven't gotten the results you want, insulin resistance may be what's holding you back.Try Omega Sports Burn24 as an alternative with the potential to get you past those plateaus.
Have You Used Omega Sports Burn24?

Leave Your Review Below!
Our Top Choice For Fat Burners – Instant Knockout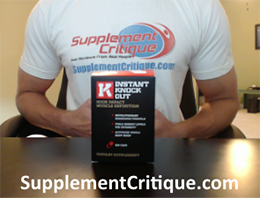 Instant Knockout is a revolutionary formula that's designed to not only boost energy levels, but also help to burn body fat.

This supplement can easily help to not only rid your body of that excess fat, but also boost your metabolism.
We tested a one month supply to determine it's effectiveness, and the results shocked us.
Click here to learn more in our official review.

Ask A Question
User Questions and Answers
No Questions Have Been Answered For This Article.