Contents
What is Peptiva
Peptiva Reviews
Who Makes Peptiva
Who is Dr. David Katz
Where else can you buy it
Conclusion
Scrolling through my yahoo news feed earlier this morning, I came across a sponsored post that stated to "Take 1 before bed, wake up rested and less bloated".

I never really wake up "bloated", but there are some mornings where the fog just never seems to lift.
I wouldn't mind waking up more rested, especially after a night of binge watching House of Cards on Netflix.
Additionally, I haven't been feeling my usual, energetic self lately.
Clicking on the ad, I was taken to a sponsored post that talked about the importance of your gut on maintaining a healthy body.
The supplement in question was a probiotic pill called Peptiva.
It was clearly labeled as an advertisement, but the ad copy left me intrigued.
Could my recent lack of energy be attributed to my poor gut health?
I'm not going to lie, I don't have a TON of experience with probiotic pills.
I've only tested a handful of them, including Bio X4, and I've done a bit of research on the various probiotic pills that are sold in stores like GNC, Walmart, Walgreens, and CVS.
I also understand why they may (or may NOT) be helpful in improving your digestive system, and my wife seems to swear by them.
Let's see what Peptiva has to say about the matter.
1.  What is Peptiva?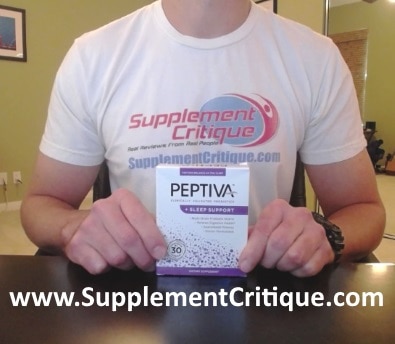 Note: I was recently contacted by one of the founders of Peptiva, Brandon Adcock.
He wanted to share some info about Peptiva in regards to how it was formulated and why it costs what it does.
It's actually a really interesting and insightful look into the "backstory" of how supplements like this are developed, check it out below:
"The project started as a blank slate for Dr. Katz to create the optimal probiotic.  His thesis boils down to everyone is taking probiotics at the wrong time.
They're taking them in the morning then dumping junk food, soda, stresses of the day, and everything else into their system which isn't creating the optimal environment for the probiotic to work.  So after further research, we found that one of the most common reasons people have trouble sleeping is because gut and intestinal issues.
Two of the most common items purchased at GNC with probiotics are melatonin and stress relief ingredients.
We decided that people didn't even realize the connection and we need to pair the 2 together.
By combining the two, we can ensure the consumer is put into a restful state to create the optimal environment for the probiotic to work.  The byproduct of this is that you also get a great night's sleep.
The product made an in ultra-high end facility in the UK that uses a patented freeze drying process to lock in the stability of the probiotics.
Most probiotics labels their CFU count as "time of manufacturing", which essentially means that when you buy it there is no guarantee about what you're going to get.
On top of the sleep angle and that we're using clinically studied probiotic strains at the specific clinically studied dose, we guarantee a CFU count, at the time of expiration (18 months), even at room temperature storage.
This requires a lot more investment and drives up the price of the product.  If you look at all of the large low cost probiotic brands, they are all labeled as "time of manufacturing".
We don't believe in this want to guarantee a standard that our customer will get.   Based on storage, timing, and heat conditions, those probiotics may only have 10% of label claim left when a customer buys them.
This a huge problem with probiotics that most consumers don't understand."
According to their official website (www.peptivaprobiotics.com), Peptiva is a multi-strain probiotic matrix that is designed to help:
Renew digestive health
Target digestive discomfort at the source
Restore balance as you sleep
It was apparently developed by Dr. David L.

Katz, a director and co-founder of the Yale preventative research center, and director of integrative medicine at griffin hospital, located in Shelton, Connecticut.
Peptiva is designed to be taken at night, and is formulated with the following ingredients:
2.  Proprietary Priobitic Matrix (26 billion cfu)
Lab4 Clinical Cultures:  Lactobacillus acidophilus (ATCC SD6865), Lactobacillus acidophilus (ATCC SD6866), Bifidobacterium bifidum (ATCC SD6869), Bifidobacterium animalis subsp. lactis (ATCC SD6870)
Active microbiome blend: Lactobacillus rhamnosus IMC501, Lactobacillus paracasei IMC502
GABA
Valerian Root Extract
Melatonin (immediate release)
Melatonin (delayed release)
From my perspective, this looks like a decent formula.
Here's a snapshot of the Peptiva label: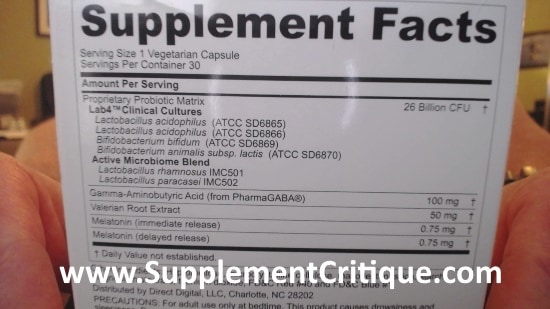 It definitely contains a suitable amount of probiotics to get the job done, and the addition of the sleep aids is definitely a plus.
I also like the fact that Peptiva is not pumping a HUGE amount of those sleep aids into their formula.
There's a lot of sleep aids out there that will put anywhere from 2 to as much as 8 mg of melatonin into their supplements, which is WAY more than the recommended dose.
Too much melatonin like this has a tendency to disrupt your sleep cycle, and can often leave you feeling groggy the next day.  (Source)
Peptiva only contains a total of 1.5 mg of melatonin, so you should be safe in that regard.
The only Peptiva side effects you may encounter would be the same ones you would get with just about any probiotic.  (Source)
This includes digestive issues like gas, constipation, irritable bowel syndrome, diarrhea, bloating, and nausea.
These tend to be mild in nature (if at ALL), and in most cases is a sign that the product may actually be working.
3.  Peptiva Reviews
This is where things start to turn a bit south.
Apart from their website, the only independent Peptiva reviews I could find were on Amazon, where it was rated an average of 2.2 out of 5 stars.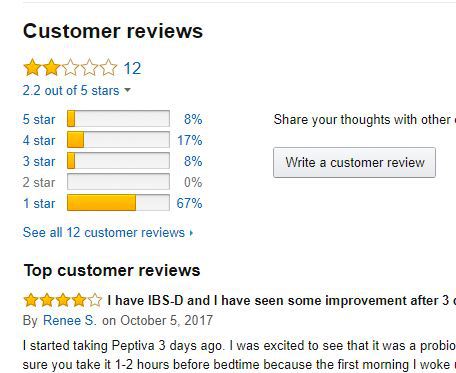 Other than a couple of people that noted some positive results, the vast majority were complaining about the price.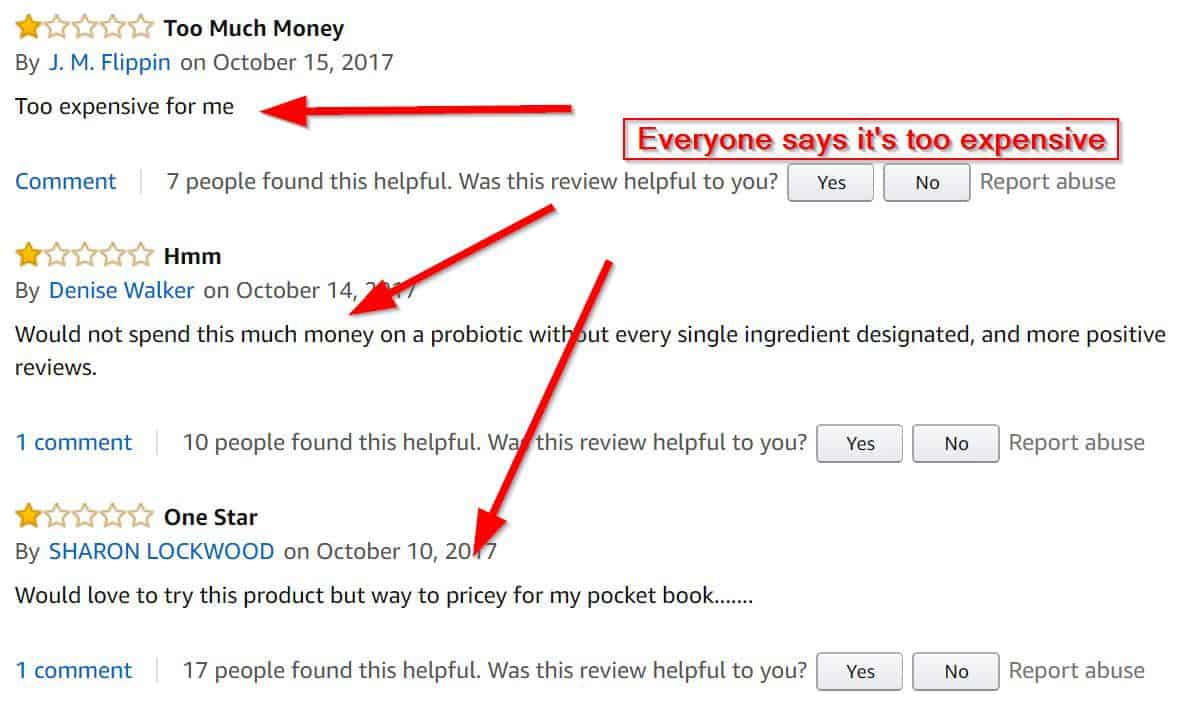 And at almost $60 for a 30 capsule bottle, I sort of have to agree with them.
If you run a search for probiotic pills on Amazon, you'll see that the vast majority are priced in the $10 – $25 range.
At $60 per box, you're looking at a 42% – 160% between Peptiva and most other Probiotic pills.
I can understand their angle.
Most of these probiotic supplements are literally just that…probiotics.
They don't include additional ingredients like melatonin, GABA, and Valerian root.
However, Peptiva does.
Does that justify such a huge price increase?
That's up to the individual to make that decision, but based on the reviews I'm seeing here, they may have priced themselves out of the market on Amazon.
4.  Who Makes Peptiva?
According to my research, Peptiva is owned by a private company called Direct Digital LLC.They were founded by Brandon Adcock and Paul Reichelt, and Dr. David L.

Katz was brought on recently as their chief scientific advisor (more on him below).
This company is behind many other popular supplement brands such as Nugenix, Instaflex, and Lumiday, all of which we have personally tested.
5.  Who is Dr. David Katz?
According to Wikipedia, Dr. David Katz was born on Feb. 20, 1963 in Los Angeles, California, and he is a physician and founding director of the Yale-Griffin Prevention Research Center.
He earned his B.A. degree from Dartmouth College, his M.D. from Albert Einstein College of medicine, and his MPH from Yale Univ.

School of Public Health.
According to his website, he has published roughly 200 research scientific articles, as well as 15 books.
The most notable of these is "Disease Proof:  Slash Your Risk Of Heart Disease, Cancer, Diabetes, and More – By 80 Percent", which as of this review had 125 reviews on Amazon.
Here are a few quotes from Dr. Katz regarding the importance of probiotics:
"The natural way to get 'probiotics' would be exposure throughout the day.  They would enter through the mouth all during the day, and likely settle into the large bowel during the night, and colonize then.  By providing a concentrated dose of commensal bacteria at night, we are attempting to reproduce this native pattern.
Also, during the day, a probiotic supplement will be affected by changes in movement through the GI tract at different times, with variations induced by food intake.  During the night, there is a relatively constant state of GI muscle activity (peristalsis), and thus a stable environment for bacterial colonization.
Fundamentally, the human body replenishes itself in sleep.  This is the logical time to replenish the microbiome, without sudden changes in insulin levels, stress hormones, digestive activity.  Probiotic bacteria encounter a gut mucosa at relative rest, in its own 'replenishment' mode, and can populate the mucosa accordingly."
6.  Where else can you buy it?
Apart from Amazon, you can find Peptiva both on their website, www.peptivaprobiotics.com, as well as GNC.
Your best bet, from a cost perspective, is to buy it on their official site.
At GNC (just like Amazon), it costs $60 for a box of 30 capsules.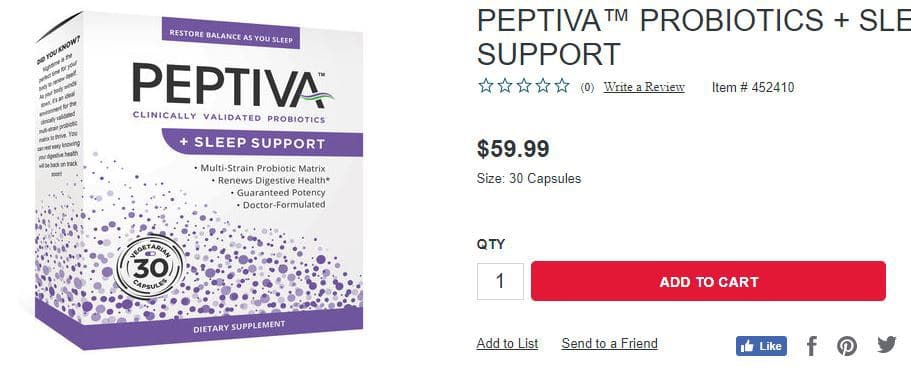 On their website, that very same bottleis sold at the same price.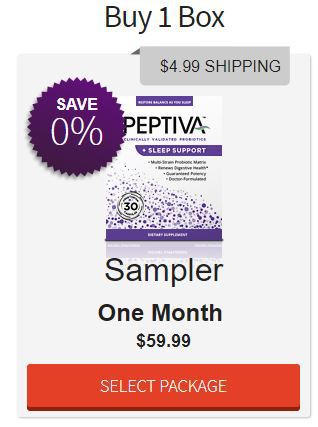 HOWEVER, Peptiva does offer a substantial discount if you purchase more than one box.
For example, if you buy 2, you get 1 free.  This brings the price down to an average of $49.99 per box.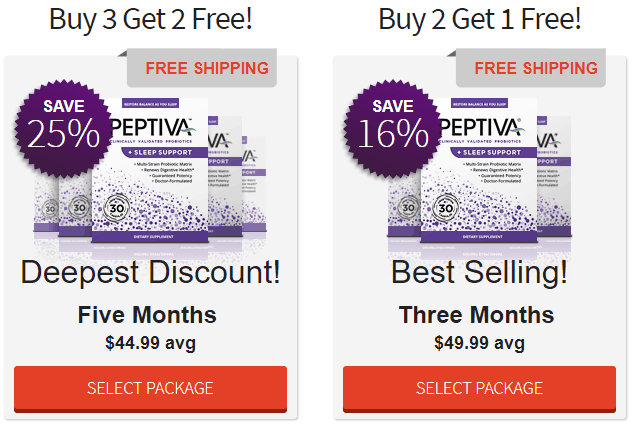 If you buy 3, you'll actually get 2 free.  This brings the price down to an average of $44.99 per box, making it even cheaper.
However, this is NOT what's reflected when you go to checkout.
For example, we've already established that a one month supply of Peptiva costs $60.
When you select the "Buy 2 Get 1 Free" deal, that should come out to a total of $120, right?
Well, when I did that this is what shows up: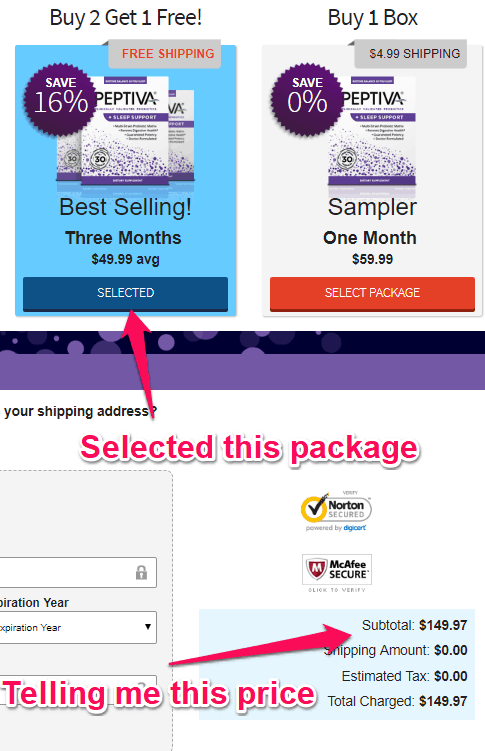 The same thing happens when you select the "Buy 3 Get 2 Free" deal.  Based on the one month supply pricing, it should come out to $180 (3 Boxes X $60 a box = $180).
And this is what ends up showing up: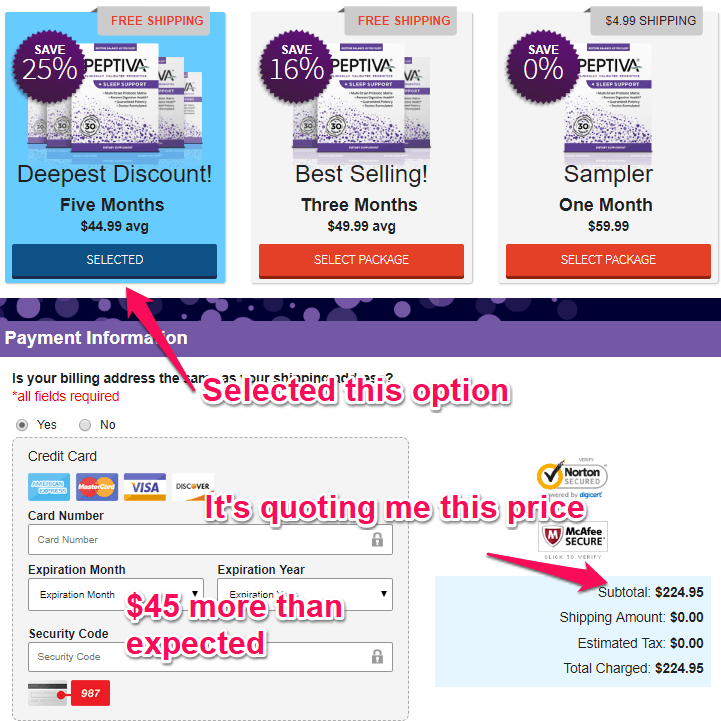 I may have to shoot them a message and let them know this pricing is way out of wack.
7.  Conclusion
Peptiva certainly does a good job at differentiating themselves from other supplements in this category.
It was developed by a doctor, so you KNOW it will contain what they say it contains.
It contains more than just a simple probiotic formula.
It's sold at GNC.
But does the high price justify all of this.
The only other thing I wanted to mention was that they are currently offering samples for their product.
This might actually be the way to go, given the big initial price tag.
One thing I would caution you on is that it's really not just a "sample".
It's a trial, which basically means that you will have 18 days to try the product out.
If you do nothing, they will charge you the full price for the product ($59.99).
It's all right here in the terms and conditions: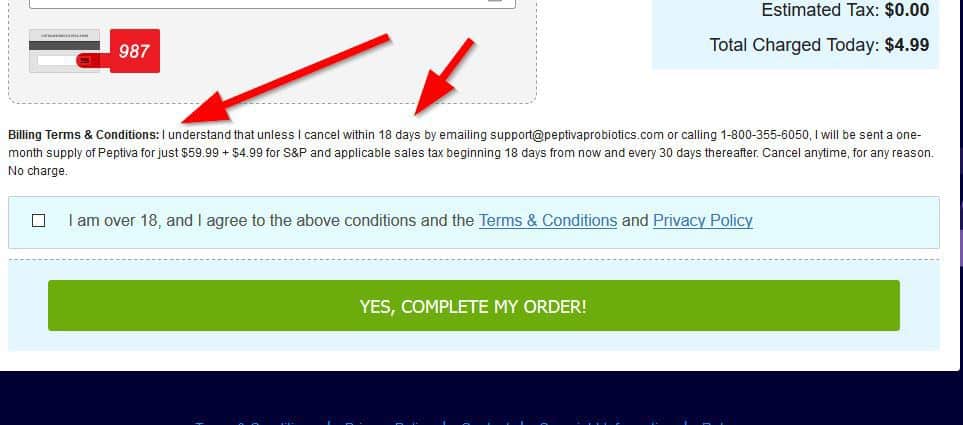 Cancelling is easy, all you have to do is email them at support@peptivaprobiotics.com or call their customer support phone number at 800-355-6050 and tell them you'd like to stop the trial.
Again, this may be the better route to take so that you can accurately judge whether or not the supplement is right for you, without having to fork over a significant amount of cash upfront.
We'll be testing this supplement soon, so stay tuned.
Have You Used Peptiva?  Leave Your Review Below!
User Reviews
Carol's Review
I? took one Peptiva last night and it seems to have worked the opposite affect on me. I? slept for two hours then woke and couldn't go back to sleep.

Was this review helpful to you?
7 out of 7 people found this review helpful.
---
John gourlay's Review

By

John gourlay

Oct 29, 2017

First thanks for your lack of sympathy towards the " bloated specie ".....we do exist.
I am 2 days away from completing the trial period. My take on it is that it has helped me digesting, the question is : have l reached the potential of the product.

As far as sleep, I'll second a big gain mainly in the depth of the sleep to the point that I recall my dreams in the morning which has not been the fact for over 30 years. l will give it an additional month to confirm the benefits.....good sleep has no price.


Was this review helpful to you?
8 out of 11 people found this review helpful.
---
Katy wilkinson's Review

By

Katy wilkinson

Feb 24, 2018

This product does not work for me. I have taken 4 of my trial package.

I sometime sleep, but when I do, I have nightmares and wake up with a headache and a real dry mouth. Other times I can't sleep, but I can lay there all night and not go to sleep


Was this review helpful to you?
2 out of 2 people found this review helpful.
---
By

Debbie Wilson

Mar 10, 2018

I had a 30 day supply and love this product. It helps me relax enough to go to sleep, I do not wake up bloated or feeling sick to my stomach.

I'm ready to order more.


Was this review helpful to you?
1 out of 1 people found this review helpful.
---
Shelia b mcmullen's Review

By

Shelia b mcmullen

Jul 20, 2018

I have only been taking the Peptiva for For five nights. This was a free sample I would like to say it has helped me very much.

My problem area, with what I ordered it for which is the midsection of my gut. I also have a bad case of spastic colon.

I found your product has been a Godsend . I got results that suppressed what I thought would happen with this product.

I have the following results from taking it, 1 get great sleep, 2 I have regular bowel movements, 3 your product has done what no other supplements have been able to do, they have taken out of my colon toxins by bowel movements that were yellowish in color. I now feel great.

I have done what I normally do everyday sleep late, and have lots of energy. Love Peptiva.

Thanks


Was this review helpful to you?
1 out of 1 people found this review helpful.
---
Ask A Question
User Questions and Answers
---

can it be taken if u have heart issues like heart failure and taking heart meds? -Lee

Because of your medical condition, you'll need to check with your doctor to be sure any supplement is safe for you to take.- Rob
Was this question helpful to you?
10

out of 11 people found this question helpful.
ASK A NEW QUESTION
---

Can I take 2 tablets one tablets didn't help or for does it take a while for it to work ( didn't get any sleep when took one pill) -Gary

There is no warning against taking more than the recommended dose, so you'll probably be fine taking 2. I wouldn't go any higher than that.- Rob
Was this question helpful to you?
8

out of 8 people found this question helpful.
ASK A NEW QUESTION
---

This product does work for me. I am able to relax get a good night's rest without feeling groggy in the morning. I had trouble sleeping before. I do seem to notice a slight improvement with bloating as well. Is this product tested by the FDA ? -Kim

As a supplement, Peptiva does not need or even qualify for FDA testing or approval.- Rob
Was this question helpful to you?
6

out of 6 people found this question helpful.
ASK A NEW QUESTION
---

How do I cancel the subscription? -John

Call the company you ordered from and let them know you want to cancel your subscription. If you're having trouble finding their number, check the transaction on your credit card. There's a good chance it's listed there.- Rob
Was this question helpful to you?
6

out of 7 people found this question helpful.
ASK A NEW QUESTION
---

Does Peptiva interact with any med's, and would any of the ingredients interfere with heart palpitations? -Ina

These are questions for your doctor. I don't have the knowledge of pharmaceuticals or medical conditions to know what's safe to use with each.- Rob
Was this question helpful to you?
7

out of 9 people found this question helpful.
ASK A NEW QUESTION
---