PhD Test Matrix Review – Should You Try It?
By:
Rob Miller
Fact Checked On: 4-28-2020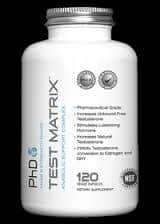 PhD Test Matrix Overview
One thing we run into a lot when researching supplements is that they have all or some of the right ingredients, but either those ingredients are present at such low levels as to not be effective, or they keep dosing levels a secret, so we're left not knowing whether it's effective or not.

That's not the case with PhD Test Matrix.

The main push of this natural testosterone booster is that it contains clinical doses of each of its ingredients.

It also claims to support your workout efforts from a number of angles, including:
Boosting the body's natural testosterone production.
Decreasing Aromatase, which is the conversion of testosterone to estrogen.
Increasing free testosterone.
Blocking DHT
PhD Test Matrix Ingredients and How They Work
The PhD Test Matrix formula is divided up into 5 Matrices:
The Free Testosterone Activator Matrix (820mg) includes Fenugreek which has been shown to increase free testosterone.
The Luteinizing Hormone Stimulating Matrix (1,000mg) which contains Tribulus Terrestris to increase the release of LH which in turn signals the testes to increase production and release of testosterone.

It also enhances the conversion of DHEA to testosterone.
The Anti-DHT Matrix (644 mg) which contains Bulbine Natalensis.

Saw Palmetto, and Stinging Nettle Extract which have been shown to prevent the binding of DHT to androgen receptors, to block aromatase, and to increase leydig cell production.
The Anti-Aromatase Matrix (300 mg) which contains Resveratrol, Chamomile, and Hesperiden Complex which all block the conversion of testosterone to estrogen. This has the effect of increasing total testosterone.
The Anabolic-Test Booster Mineral Matrix (130.5 mg) which contains Zinc, Magnesium, and Vitamin B6 which support the entire testosterone increasing process from beginning to end.
The recommended dose is 4 PhD Test Matrix capsules each night before bed.

It's best to take it on an empty stomach, at lease 30 minutes after your last meal.

It is also recommended that you take it for an 8 week cycle before taking 2 weeks off.
Sticking with it for the full 8 week cycle is the optimal way to get peak results out of using it.
PhD Test Matrix Pros and Cons
Advantages of PhD Test Matrix
The ingredients are dosed at clinical levels.
The formula includes ZMA, which will help you sleep better for improved recovery.
You can find it for a reasonable price.
Disadvantages of PhD Test Matrix
There aren't really any PhD Test Matrix reviews from customers available to see online, so it's difficult to tell how effective it really is.
Where to Buy
You can find PhD Test Matrix for purchase online. I've seen prices range from $42 to $52, so make sure you look around before you settle on a retailer.
Conclusion
It's a good formula, and if these are clinical doses, then that's even better.But it's tough to jump in and try a product when you have no feedback from other users to go on.

This is the case with PhD Test Matrix.

It may be great, but with so many other good testosterone boosting options, I'd recommend you go with something else, at least until there's more good worth of mouth buzzing around about PhD Test Matrix.
If you decide to take it, be wary of potential side effects and be sure to make sure that it does not interact with your medications or if you are allergic to it.
Have You Used PhD Test Matrix?

Leave Your Review Below!
Top 3 Testosterone BoostersAffiliate Disclosure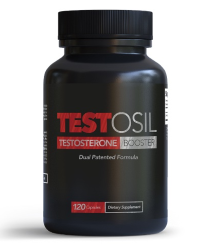 Testosil is the most effective testosterone boosting supplement on the market that I've tested.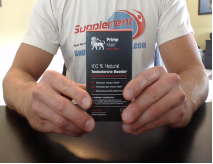 Prime Male is another very effective testosterone booster that uses clinically proven ingredients.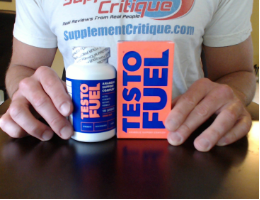 Testofuel is a VERY popular testosterone booster that contains ingredients to help older men.
Check Out My Top Choice For T Boosters - Testofuel

Click Here To Read My Review
Ask A Question
User Questions and Answers
No Questions Have Been Answered For This Article.