Powher Cut Fat Burner Review
By:
Rob Miller
Fact Checked On: 9-19-2019
Reviewing supplements is our business, so we know the main things to look out for when choosing a new product.
And right now there's a new fat burner on the block that's been garnering a lot of attention…
It's called Powher Cut, and it's from the same people who made Leanbean: One of favorite female supplements.
As you might have gathered, the market is currently awash with more fat burners than ever before, meaning more choices for you, but also more potential for confusion.
After reading this review you'll know Powher cut is the right fat burner for you.
What is the Powher Cut fat burner?
Powher cut is a premium female fat burner.
These are supplements designed to help women see increased results from their weight loss efforts.
Female physiology is different to male: If you see a generic or male-focused fat burner, it will not be tailored specifically to your body.
Why does this matter?
Losing weight can be tricky, and men and women face different challenges.

Women struggle more with cravings for example, while men can generally tolerate higher levels of stimulants.
Choosing a supplement that accounts for these differences will set you up for success.
And Powher Cut is one of them.
POWHER Pre Workout Review: Is This The Best Female Pre Workout?
How does the Powher fat burner for women help you lose weight?
At a top level, Powher Cut works in three ways to help you lose weight:
Helps you crush your cravings.
Improves your endurance capacity to fuel a healthy lifestyle.
Supports your body's natural metabolism.
As we've said, this is a supplement that approaches weight loss from three angles.
This fat burner is made by a company with a proven track record, and a demonstrable history of building and refining supplements based on the latest scientific research.
Powher Cut is one of three supplements in the Powher range that can be stacked to "fire up your shredding goals".
Their website sings from the rooftops about "all-natural ingredients that actually work."
Powher Fat Burner Ingredients
Ingredients are included to fit the three following criteria:
Linked to weight loss outcomes through scientific research.
Scientific studies using human participants, rather than animals.
Doses that have been approved to work by leading health regulators.
This means that despite thousands of ingredients having been linked to a boosted metabolism or other weight loss goals, Powher Cut only uses the ones whose claims are backed up by health authorities.
And here's the kicker:
The doses are aligned with the research, too.

This means there are no ingredients piggybacking off the scientific literature, while including such a small dose that they don't actually deliver the claimed effect.
The flagship ingredient, glucomannan, is a perfect example of this.

This naturally occurring fibre from the konjac plant has been found to suppress appetite, meaning you'll feel the need to eat fewer calories.
Here's what European health authorities have to say about glucomannan…
(Source)
Note the dose they mention: 3g.

This is exactly the same as the daily dose you'll find in Powher Cut, split into three daily doses of 1g each.
And here's what the konjac plant looks like, in case you were curious (like us)…

Next on the ingredients list is magnesium.
You may remember setting this on fire back in high school…
But it turns out your body has much more sensible uses for it.
Magnesium activates adenosine triphosphate in your body: The molecule that stores and transports chemical energy in cells. (Source)
In simpler terms, this means that supplementing your magnesium levels will boost your energy and fuel an active lifestyle.
Because women are more prone to magnesium deficiencies than men, this is especially important!
Next up, selenium.
This mineral keeps your thyroid healthy.

A healthy thyroid means a better hormonal balance, and more balanced hormones means better regulated metabolism. (Source)
As metabolism is how your body controls storage and usage of fats, sugars, and various other macronutrients, keeping your metabolism at optimal levels is a precursor to a healthy lifestyle and effective weight loss.
Then we have chromium: Another mineral which contributes to healthy macronutrient metabolism. (Source)
As we just said: Healthy metabolism means you're more geared up for a healthy lifestyle.

By including multiple ingredients that target different aspects of your metabolism, Powher Cut claims to provide holistic benefits.
Iron is on the list, too.

This powerful mineral fuels your body's activities in a couple of ways:
Firstly, it is used to make haemoglobin in your blood: The molecule that transports oxygen around your body to be used as fuel.
Secondly, iron supplementation nips anemia in the bud.

As women are more prone to anemia caused by iron deficiencies – and one of the symptoms is low energy – it's good to keep your levels topped up.
Next up is choline, another metabolism booster.

Here's what health authorities have to say:
(Source)
Normal lipid metabolism is how your body breaks down and stores fats.

Keeping this process working properly gives your body the best chance of not storing excess fat.
And, last but not least, we have natural caffeine.

With "natural" being the key word.
Powher Cut prides itself on being tailored for women, and traditionally female fat burners feature lower stimulant levels than their male counterparts.
Well, Powher Cut follows this trend with 100mg per day, but this is slightly higher than some other female fat burners.
Let's be honest, no one thinks about caffeine in terms of milligrams…
The daily dose in Powher Cut works out about the same as one large Americano.

Enough to give you a boost, but not to give you jitters or any other untoward effects.
Here's the full list of Powher Cut ingredients, for your reference: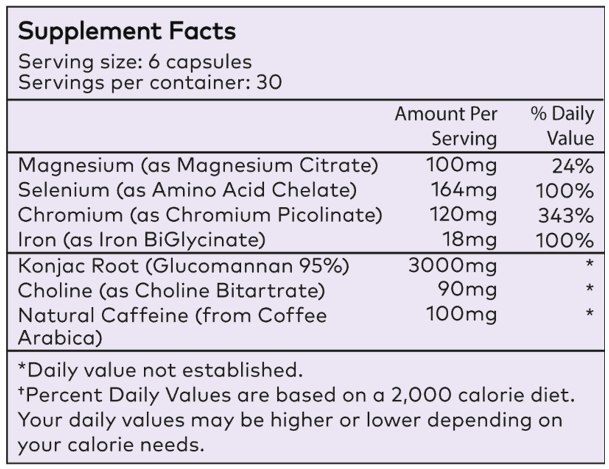 And here's a roundup of the benefits of Powher Cut:
Feel the need to eat less thanks to appetite suppressants.
Give your body what it needs to use and store the nutrients in your diet.
Get an energy boost to fuel your active lifestyle.
In short: Everything you need to improve your endurance capacity, support your normal metabolism, and boost your weight loss.
By following the instructions and taking Powher Cut as directed alongside healthy diet and exercise, you can expect to see boosted weight loss results.
The daily dose is configured precisely to deliver benefits all day long.
Frequently Asked Questions
Who makes Powher Cut?
This supplement is made by a company called Ultimate Life.
And their track record is solid.

All the information we could find about Ultimate Life and their products was positive.
They have these trust signals on their website, too.

All reassuring stuff:

Is it safe?
There's nothing illegal, and none of the ingredients have been involved in any controversy.
Taken as directed, Powher Cut is safe.

If you're concerned about how it might affect your body or interact with any other supplements or medication you're taking, have a chat with your doctor.
Due to the large dose of Glucomannan it is important that you always consume this product with a large glass of water.
How long will Powher Cut take to work?
How long is a piece of string?

Unfortunately there's not a definitive answer to this question.
The time it will take to see results depends on various factors: Your starting weight, your caloric deficit (in short, how many calories you're consuming versus how many you're burning), your physiology, and more.
As we've said a couple of times: Powher Cut will boost your weight loss results.

It is not a substitute for a healthy lifestyle, and should not be seen as such.
You cannot expect to take Powher Cut and lose weight instantly, especially if your diet and exercise habits are still conducive to weight gain.
Where can you buy Powher Cut?
This product is only available to buy from the official website, here: www.Powherofficial.com/powher-fat-burner/
If you're used to shopping on Amazon, GNC, or some other online marketplace, you may be wondering why it's only for sale on their website?
Well, Ultimate Life made this decision so that you can be absolutely sure that every bottle you get is the real deal.
In the past there have been issues of inauthentic products making their way onto Amazon, and when this happens it's harder to be sure you're taking what you expect.
Restricting orders to the official website means you're always getting proper Powher Cut.
How much does Powher Cut cost?
One bottle is $65. That'll last you a month.
Two bottles is $129: A saving of one dollar.
For $195 though, you can get four bottles of Powher: Four month's worth.
This price puts Powher Cut at the premium end of the fat burner supplement range, but from everything we've covered so far, we think it's worth the price.
How easy is Powher Cut to take?
If you're happy swallowing capsules, it's easy: Just take a couple with a large glass of water before meals, as directed.
If you're less of a fan of capsules, you can break them open and mix them into a glass of water instead.Make sure to drink it fairly quickly, as glucomannan will thicken and become indigestible after a time.
What about if I'm pregnant or expecting, can I still take it?
There's nothing on the ingredients list that stands out as particularly problematic, but our answer here is the same as the question about the product safety: If you're unsure, check with your doctor.
We're reviewers, not medical professionals: The information in this review does not constitute medical advice.
Can Powher Cut be stacked with other supplements?
If you're asking about other supplements in the Powher range, the answer is a resounding "YES!"
This range has been built to help females looking to optimize their physical and mental performances.
If you're asking about other supplements, the answer is less clear.

It depends on what ingredients each supplement contains, and whether their combined dosage across the different products exceeds the daily allowance.
Where this is the case, you'll want to do a lot of research to check whether this puts you at risk of side effects.

We'd always err on the side of not taking too many supplements together, but again…
Ask your doctor if you're not sure!
Our verdict
Wanting to lose weight and keep yourself in shape is a noble goal.

Starting out on the weight loss journey means eating well, exercising regularly, and burning more calories than you use.
And all of this within healthy, safe parameters.
If you accept this reality of losing weight – that there is no magic pill – the Powher Cut could be the supplement you need to kick start your results.
As a woman looking to lose weight, Powher Cut is designed specifically to help you.
It has your physiological needs built right into its formula, and the ingredients have all been subject to extensive research on humans, so you can rest easy.
Top 3 Female Fat BurnersAffiliate Disclosure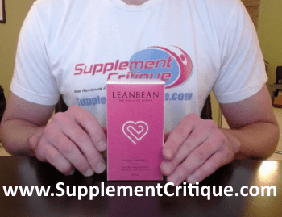 LeanBean Female Fat Burner is the BEST fat burner for women we've ever tested.

Read our review here.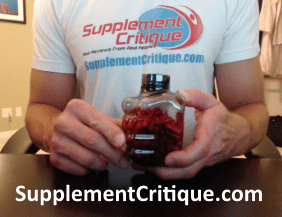 Instant Knockout is actually a new fat burning supplement I just came across, and got great results.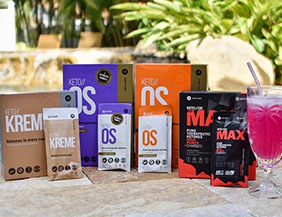 Biohacks your body into instant ketosis to burn fat instead of carbs.

Weight loss, energy, focus, anti-inflammatory, anti-aging.
Ask A Question
User Questions and Answers
No Questions Have Been Answered For This Article.