Provitalize Review – Does It Really Work?
By:
Rob Miller
Fact Checked On: 4-25-2021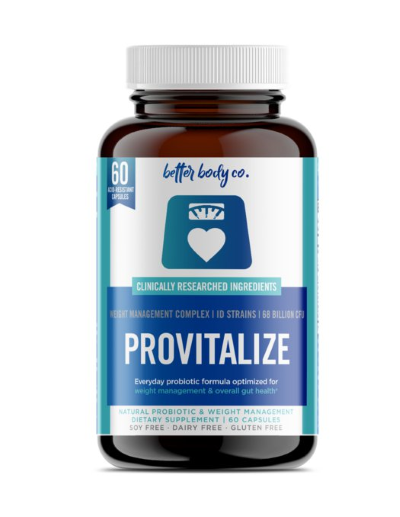 Diet pills and supplements are not a new thing.
For decades, drug manufacturers have been producing various products to help people lose stubborn weight that they have been fighting for years.
It's no secret that weight gain happens as we age; someone that was slim in their 20's could easily pack on the pounds as they approach their 40s and 50s.
With this easy weight gain comes difficulty losing weight.
Provitalize uses a unique formula, combining probiotics and weight management to help shed the pounds quickly and naturally.
Made by Better Body Co., Provitalize is said to offer help with stubborn fat, immune system support, natural metabolism boost, gut support, and digestive system support.
With so many diet aids on the market, it can be hard to tell which are legit and which are scams, but we're hoping to help point you towards something that will work for you.
We've tested dozens of dietary supplements over the years and Provitalize certainly is one of the best we've tried.
Many men and women both face struggles with weight gain and self-image issues, but you don't have to stay stuck there.
Full of natural ingredients, you'll be able to shed pounds without filling your body with harmful chemicals.
Overall, you'll feel healthier and, before long, your appearance will reflect that.
There are many products like this all over the internet, but Provitalize certainly is a great option for anyone looking to shed stubborn weight.
Let's take a closer look at how Provitalize works and if it is the right choice for you.
Related Article – Instant Knockout Review: 3 BIG Reasons It's The Best
What is Provitalize?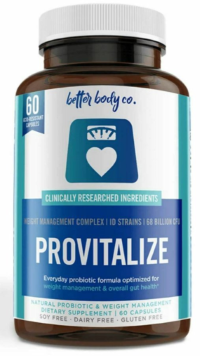 Provitalize is a natural weight management and energy supplement, designed to help the user lose weight and improve their gut health as well.
Combining plant-based ingredients and probiotics to help the body naturally lose weight, Better Body Co. states that Provitalize boosts your metabolism so your body can use both stored and ingested fat, leading to weight loss.
Provitalize boosts the metabolism, which results in weight loss and increased energy without using any sort of stimulants.
How Does Provitalize Work?
Provitalize consists of a blend of three strains of probiotics that work together to burn fat and balance the flora of your gut.
According to Better Body Co., Provitalize helps to prevent the storage and absorption of fat as well as increase metabolism.
It also uses ingredients that are high in antioxidants, which are said to improve nutrient absorption as well as reduce inflammation.
When the body has excess fat, this can lead to oxidative stress; to combat this, antioxidants can help speed up the weight loss process by reducing the oxidative stress you've been experiencing.
Related Article – Thermofight X Review
What Are Provitalize's Ingredients
L. Gasseri
Lactobacillus gasseri is a natural probiotic that has recently enjoyed a significant surge in popularity.
It is widely known as a beneficial flora, or "good bacteria", and these organisms are found both in nature in the foods we eat, as well as part of our general digestive gut flora.
Lactobacillus gasseri can be consumed as a dietary supplement and is often attributed to reductions in inflammation, as well as other noticeable health benefits.
The genus Lactobacillus is an entire family of bacteria that are found to naturally occur in both the digestive, as well as urinary systems.
Research points to it being helpful in the suppression of harmful bacteria, which can produce an improvement to the overall immune function and digestive function of those who take it. (Source)
Some of the benefits it is claimed to have, are the ability to prevent bacterial vaginosis, ulcerative colitis, irritable bowel syndrome, peptic ulcers, and even pain resulting from endometriosis. (Source)
Clinical trials, as well as animal studies, have shown that L. gasseri may be able to help reduce abdominal fat as well as assist with weight loss. (Source)
In women with severe menstrual pain, this probiotic may be able to help lessen the pain associated with endometriosis. (Source)
B. Breve
The probiotic Bifidobacterium breve is a member of the Bifidobacterium genus and lives a symbiotic existence in the intestines of all humans.
They are sometimes used to treat conditions such as constipation, IBS or irritable bowel syndrome, the common cold, the flu, and even diarrhea.
Some uses have been shown to have medical efficacy in studies and trials, while others have yet to be subjected to empirical investigation.
Bifidobacterium breve has been linked to the treatment of several different conditions, sometimes administered as probiotics or prebiotics in therapies to reduce their symptoms and occurrence. (Source)
There have been studies that point to B. breve having a role in the prevention and possible reversal of obesity, with some patients in studies showing the ability to reverse obesity if treated with a particular strain of the B. breve bacteria. (Source)
There is ongoing research into the effect of B. breve on both gut health, as well as potential implications in the mental health of the elderly. (Source)
B. Lactis
Bifidobacterium lactis is an incredibly powerful live organism that provides a number of benefits as well as possible health improvements.
B. lactis is often taken in a pill, as a powdered additive, or even naturally in some foods that host them.
It is one of the most beneficial gut health strains that you can possess, and it can help improve most symptoms of ill gut health by boosting intestinal motility and hypersensitivity. (Source)
There is also evidence to suggest that when people without a particular strain of B. lactis consumed the probiotic in conjunction with other supplements, they experienced a marked decrease of dental plaque as well as improved overall oral health. (Source)
This is likely because gut health is often closely tied with oral and dental health, as well as the skin, hair, and nails.
B. lactis can also have a significant effect on glucose levels and fat mass, particularly in those with pre-existing diabetes or obesity. (Source)
Turmeric Root
Turmeric root is a powerful all-natural ingredient that has been used for thousands of years to reduce inflammation and provide antioxidant properties in large amounts.
These properties have been used by people in India as part of medicine and cooking as one of the main spices. (Source)
There is also significant evidence to suggest that turmeric root has a role in reducing the occurrence or possibly severity of some mental issues like alzheimers that can present in the elderly. (Source)
Moringa Leaf Extract
Moringa leaf has an enormous amount of vitamin C, as well as more potassium than bananas. (Source)
Additional nutrients that it can supply in significant quantities are iron, protein, and even amino acids, all of which help your body naturally build more muscle, and heal from exercise or injury. (Source)
Related Article – Trans4orm Fat Burner Review
Does This Program Have any Side-Effects?
Generally, there aren't any major side effects caused by adding Provitalize to your diet.
This stimulant-free weight loss supplement is safe for long-term use.
Because this is such a potent blend, customers may notice some gastrointestinal discomfort, but it should go away on its own.
Other side effects that have been reported by consumers include:
Headache
Dizziness
Nausea
General discomfort
Heart discomfort
Most users that experienced these more mild side effects stated that they went away after about 2 weeks, so we do recommend waiting 2 weeks to allow your body to adjust.
If you begin to experience severe side effects or an allergic reaction, stop taking the drug immediately and contact your doctor.
Does Provitalize Really Work?
Actually, we've found that it does seem to work rather well.
There are a lot of products on the market that seem to use the "thermogenic" method of increased fat burning, but Provitalize lives up to the promises.
It does require sticking with it and taking the capsules daily, and you will still need to watch your diet and exercise, but Provitalize will help you see that needed boost in your results if you give it the chance.
How to Use Provitalize
Using Provitalize is extremely easy.
The manufacturer advises taking two capsules per day, as regularly as possible without missing a dose.
The most significant benefits are seen after approximately one month of use, and they will continue to become more beneficial with each dose.
Where Can You Buy Provitalize?
To guarantee that you get the original and official Provitalize formula, with delivery right to your door, you can obtain Provitalize directly from the manufacturer, Better Body Co.
Every order is quality checked after formulation and manufacturing, and once it is fulfilled, it will be delivered directly to you by a private courier.
They have a number of different packages available, as well as a points system for those who regularly purchase their supplements.
Related Article – NJ Diet Review
Conclusion – Is it Worth Trying Provitalize?
Provitalize is one of the best thermogenic supplements on the market today.
Not only does it deliver on its reasonable claims, but it does so with flying colors.
If you need a reliable way to boost your metabolism as you head into your 20s, 30s, and beyond, Provitalize could be right for you.
Top 3 Fat BurnersAffiliate Disclosure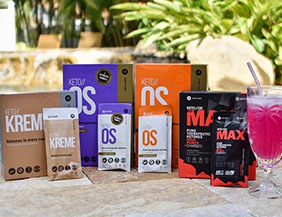 Biohacks your body into instant ketosis to burn fat instead of carbs. Weight loss, energy, focus, anti-inflammatory, anti-aging.
Click Here To Learn More »
Ask A Question
User Questions and Answers
No Questions Have Been Answered For This Article.