Razor 8 Blast Powder Review – Does It Work?
By:
Rob Miller
Fact Checked On: 8-3-2014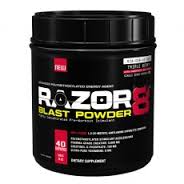 Razor 8 Blast Powder Overview
Whether this is your first time thinking about taking a pre workout supplement, or you've used a dozen, and you're looking for one to try next, there are generally a few things you look for. You want energy and you want pumps.

There may also be a few bells and whistles you want, but these are the basics.

If you don't get these, you may as well move on.

If you do, then start looking at those bells and whistles, deciding which ones you want and which ones aren't worth it to you.

With all that in mind, we recently looked into Razor 8 Blast Powder by AllMax Nutrition.
Razor 8 Blast Powder puts its primary focus right where it ought to be, on energy and pumps.

They say it delivers direct and extreme energy and focus as well as "mind blowing" pumps that last hours after you've been in the gym.

The bells and whistles are strength and muscle energy providing components that may take your workout to the next level and beyond.

There are lots of Razor 8 Blast Powder reviews from customers, and the majority are pretty positive on this stuff, so let's take a look into the formula.
Razor 8 Blast Powder Ingredients and How They Work
The Razor 8 Blast Powder label divides the ingredients into a few different sections, based on the function it serves.
For energy, there's Caffeine, Norcoclarine, Hordeine, and Yohimbine.

Together, they provide energy and focus so your mind and body are both targeted on the task at hand.
For vasodilation (ie pumps), there's Nitrosigine, 3 kinds of Arginine, Hydromax, and Agmapure.The Arginine works as a precursor to nitric oxide, which relaxes the blood vessels.

The Nitrosigine has been shown to work similarly yet more effectively, almost doubling the maximum blood flow as compared with Arginine.

HydroMax keeps muscles hydrated which studies show helps them work harder and longer.
For increased muscle energy and strength, there are 2 kinds of creatine as well as Beta Alanine.

Together, they have your muscles working at full potential, giving you that tingle that tells you it's working.
Instructions are to take one scoop with 4-6 ounces of water about half an hour before working out.

This is not the kind of supplement you want to increase your dose of as you build a tolerance.

There is a strong caution that you not take more than one scoop at a time.
Razor 8 Blast Powder Pros and Cons
Advantages of Razor 8 Blast Powder
It mixes really well.
It comes in 3 flavors – Watermelon, Extreme Berry, and Key Lime Cherry.

I've seen very few complaints about the taste among customer reviews.
Razor 8 Blast Powder reviews are mainly positive with particular attention paid to focus, energy, and pumps.
Disadvantages of Razor 8 Blast Powder
It contains Yohimbe, which the FDA recommends against because some guys have experienced serious side effects, such as heart palpitations, racing heart beat, and extreme drops in blood pressure.
Some reviewers say they felt no effect at all or that it was very short-lived.
Where to Buy
You can buy Razor 8 Blast Powder at the AllMax website or an few others.

At the site, the 30 serving tub costs $39.99 and the 60 serving tub costs $59.99. You can find it cheaper through other outlets, so make sure you shop around.
Conclusion
Razor 8 Blast Powder has some devoted followers, but the Yohimbe concerns me.Some otherwise healthy guys have had some bad reactions to it.

If you know it doesn't adversely affect you, Razor 8 Blast Powder is a good solid pre workout.

If you're not sure, start off with a half dose or even less to see how you respond.
Have You Used Razor 8 Blast Powder?

Leave Your Review Below!
Top 3 Pre WorkoutAffiliate Disclosure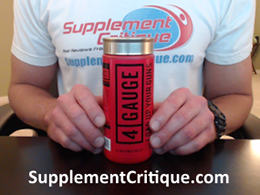 4 Gauge is a brand new pre workout that kicks in FAST and will rev up your workouts.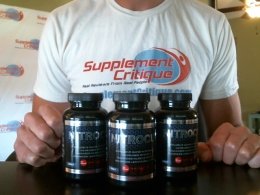 Nitrocut is a VERY effective pre workout supplement for a variety of reasons, see why here.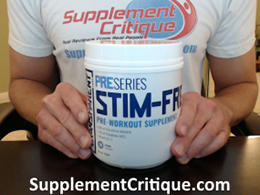 If you're looking for a stim-free pre workout, add Transparent stim-free to your list!
Want To Really Get Ripped?

Click Here To Download My FREE "Get Ripped" Ebook!
Ask A Question
User Questions and Answers
---

My concern is that my 16 year old son is taking the Razor 8 pre workout supplement and I'm a little worried that taking something like this may be more harmful than good to a young person? Is there a general age where taking Creatines etc is recommended? Thanks in advance -Troy

Creatine is the most widely studied and tested work out supplement there is, and it's been determined to be safe for teens. The problem is Razor 8 contains a lot more than creatine that I wouldn't recommend for his age.  On top of everything else, it's loaded with stimulants.  Have him switch to plain Creatine like this one. And add a protein shake too. At his age, it's what's safe and it should be all he needs.- Rob
Was this question helpful to you?
2 out of 2 people found this question helpful.
ASK A NEW QUESTION
---

Can woman drink this -Yesenia

It's fine for women to take.- Rob
Was this question helpful to you?
2 out of 2 people found this question helpful.
ASK A NEW QUESTION