There have been hundreds, if not thousands, of Nitric Oxide (NO2) producing products popping up all over the Internet, and it can be mind boggling to keep up with them. It seems like when one goes out of business, about 5 more come in to fill the gap in this market. Ripfire Xcelerate is an all natural blend of amino acids and various kinds of L-Arginine which promises to build lean muscle mass and get you shredded fast. We see these claims all of the time, and the fact that there have been some studies indicating that NO can help with certain ailments supports some of these claims. Read our review of this supplement here to get the facts from an independent source.
"The Future Of Bodybuilding Supplements"
This particular product is said to boost nitric oxide levels naturally, which is supposed to boost energy levels and endurance, enhance workout performance, and help you train harder so you can build muscle faster. The science behind this formula, according to the manufacturer, was proven in an in-house test which resulted in participants obtaining an increase in energy, an increase in muscle definition, and the ability to lift heavier weights easily.
The company themselves actually provides a list of exercise routines and educational facts to help you grow muscle, something you don't see from too many other products. Ripfire also challenges the consumer to take action, and order a 30 day trial of their supplement "risk free", to see how much lean muscle they can achieve.
Let's see exactly what they mean by risk free as well as what RipFire is made out of, how it works and if it is even worth your time and money.
What Does Risk Free Mean?
Alot of companies that enroll their customers into whats called an "auto-ship" program start off by offering a risk-free trial. There is some debate as to what exactly is risk free about it, but ripfire offers one of these trials for just $3.95 for shipping and handling for a one months supply. After the 30 day trial is up, however, they will bill you $100 every 60 day for a new supply of the product. Some will tell you that this makes it easy to order the product, and get it every month without having to worry about renewing it yourself every month, similar to the netflix business model.
The problem is, when you go to cancel your trial, if you haven't done so before the trial period is up, you may be stuck paying for a product you don't want anymore. Be careful and arm yourself with the cancellation phone number and mark your calendar.
The Ingredients in RipFire
There is not much different from the ingredients in Ripfire and most of their competitors. According to the label, this supplement contains: L-Arginine HCL (Hydrochloride), L-Arginine Ketogluterate (L-KTG), L-Arginine Ketoisocaproate (L-KIC), dipottasium phosphate, L-Citrulline, Dicalcium Phosphate, and Nictotinamide Adenine Dinucleotide (NAD).
What do all of these fancy sounding ingredients mean? Well, after a little bit of research, we found that almost all of these are amino acids which are essential for growth in the human body. They are actually produced in the body, but in much smaller quantities, and the addition of these ingredients does lead to some substantial benefits.
Take L-Citrulline for instance. In recent clinical studies, it has been found to help relax blood vessels, which helps back the claims made by Ripfire that it does this. L-Arginine is also found to do the same, and have an effect not uncommon to some very potent nutrients.
Overall
Ripfire seems like a pretty legit supplement. Good customer support structure, testimonials on their site, articles on how to build muscle and effectively; these are not things you see on alot of their competitors sites. Unlike alot of the other rehashed products out there that just change a few ingredients here and there, this one seems to really work effectively at burning fat and helping to increase energy for the gym. We actually ordered a bottle of this supplement today and took the challenge, and will be reporting our results in a few weeks. Please check back on this blog then to see what kind of effects we had from it.
Top 3 Pre WorkoutAffiliate Disclosure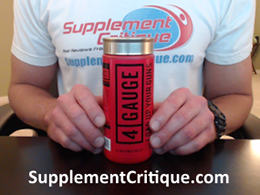 4 Gauge is a brand new pre workout that kicks in FAST and will rev up your workouts.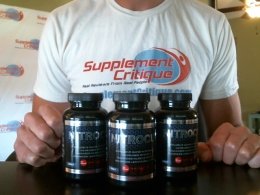 Nitrocut is a VERY effective pre workout supplement for a variety of reasons, see why here.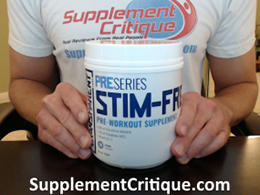 If you're looking for a stim-free pre workout, add Transparent stim-free to your list!
User Reviews

4.0 out of 5 Stars (3 Reviews)
Have you used this supplement?
I got the free trial, cancelled a few days later so that I would not be charged. Of course they try to convince you to keep getting the product. I got the product last year and finally used it yesterday it gave me energy but that was only one day. I will come back once a week until the product is gone to let you know if I see results. I havent worked out in months so this should show some results if it works like they say. Until next week.

Was this review helpful to you?
2 out of 3 people found this review helpful.
---
Thanks for the awesome review! I was lucky enough to get my hands on some Ripfire and it worked well for me.

Was this review helpful to you?

---
IT WORKS
By
Beast mode again

,
Feb 14, 2014
Ripfire xcelerate This product has worked for me and my brother. We have used 3 bottles a piece and I get awesome results. Some of you might not be getting results because your expecting to get ripped without faithfully working out. If you're over weight this is not a magic potion that will change fat to muscle with one or two bottles. I'm a personal trainer and I'm in the gym 5 days a week and I'm in pretty good shape before taking the pills, so that could be the reason I saw results after 2 weeks. Anyway, I enjoy the product and the reason why I'm on this site now is because I'm about to order another bottle. Thanks Ripfire!! It's all good.

Was this review helpful to you?
0 out of 1 people found this review helpful.
---
Want To Really Get Ripped?

Click Here To Download My FREE
Ask A Question
User Questions and Answers
No Questions Have Been Answered For This Article.