Shark Tank Muscle Builder / Testosterone Booster Scam – WATCH THIS!
By:
Rob Miller
Did Dan Effers or Angela and Yoojin Kim really get a deal on Shark Tank for their testosterone booster / muscle builder? Likely NOT! Watch my video review and learn more about this scam.
If you'd like to read my written version of this report, click here.
Note:They also do this with weight loss pills, click here to read more about that.
Video Transcription
Hey Guys, Rob here again with Supplement Critique dot com, and in todays video we're actually going to be talking about some fake advertising I've been coming across a lot lately that's being used to promote certain testosterone boosters.
I had a few guys email me over the past couple of months asking if I heard about the miracle testosterone boosting pill that was recently seen on Shark Tank.
Immediately I thought "scam", but figured I'd look into it a bit deeper.
If you'd like to read the written version of this, I've actually placed a link in the description box below.

It breaks down everything I talk about in the video here pretty comprehensively.
You can also run a quick google search for something like "shark tank testosterone booster supplement critique" and you can find it that way.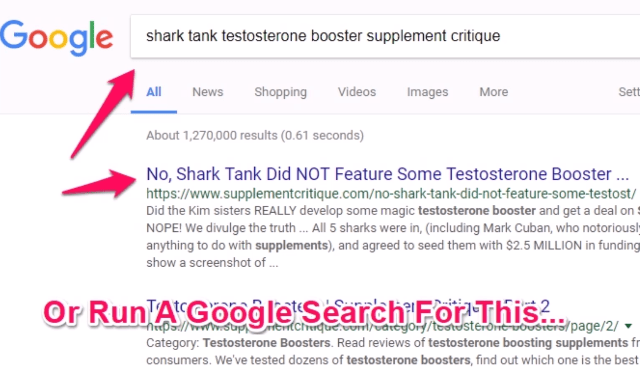 So anyway, you may have been scrolling through your Facebook or Twitter feed one day and see an ad that looks like this: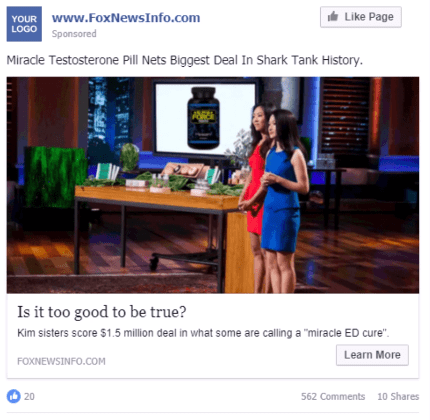 Alternatively, you could be browsing websites like CNN.com or Fox News, or even get an email that says something like "Miracle Testosterone Pill Nets Biggest Deal in Shark Tank History".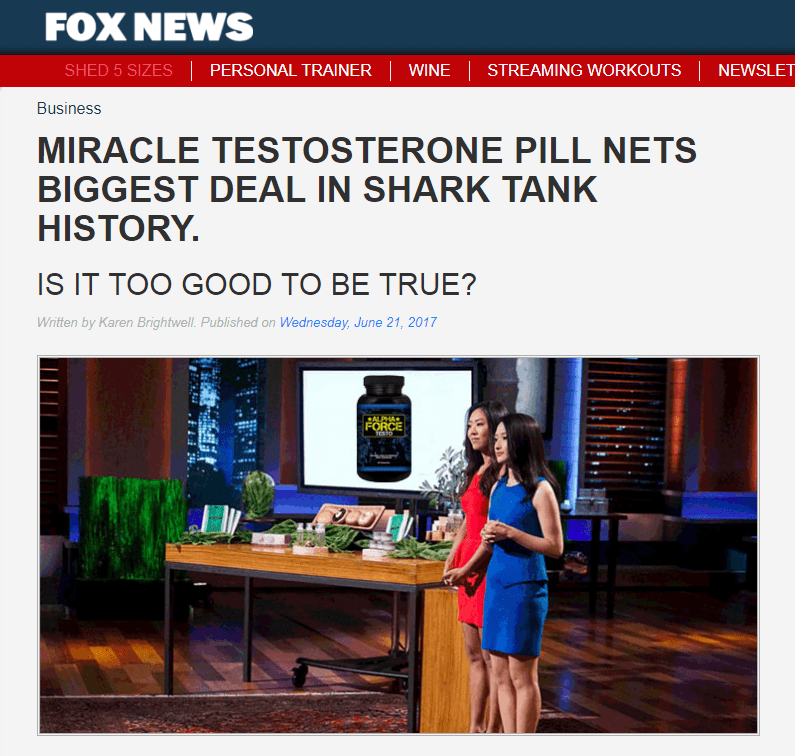 For the purposes of this video, we're going to go with the supposed Fox News interview, mainly because I have a ton of screenshots to show you.
When you click on the ad or email, the story pretty much goes like this…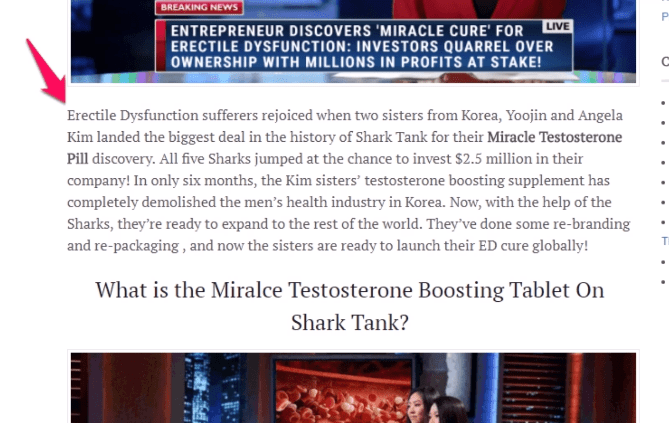 Two sisters from Korea, who are named Angela and Yoojin Kim, recently went on the TV show "Shark Tank" to pitch their new product to the Sharks.
They'll show some screenshot of the taping which shows the 2 sisters standing in the tank, with a picture of the supplement that they recently developed sitting on a big TV in the background.
According to this article, apprently they've developed some new chemical compound that is supposed to help you PERMANENTLY retain testosterone, and is also a permanent cure for erectile dysfunction.
The Sharks were so impressed that all 5 of them agreed to invest a staggering $2.5 million in funding for this new miracle cure.
The article goes on to show screenshots of Robert Herjavic being interviewed on the Jeff Probst show, quoting him as saying that he's "thrilled to be working with the Kim sisters, and that he's looking forward to scaling production".
The author of this article, who's actually a woman, apparently decided to put this new supplement to the test, and details a story about how she gave 2 pills to her husband and told him it was a multi vitamin.
Within an hour, he woke up with a raging hardon and they went at it for almost 2 hours.
Sounds pretty impressive, right?Well what's even more impressive is that they happen to be giving away bottles of this stuff for FREE.
What could go wrong?
Well, I'm here to tell you that this is all complete bullshit, and I'm going to break it all down here.
The first issue is trying to find the episode where all of this apparently took place.
If you run a search for the kim sisters on shark tank, you're not going to find it.
Case in point, remember the image I showed you at the beginning of the video which showed the kim sisters standing in the tank, with a picture of the supplement spread across a TV screen in the background?
Well, I happened to do a little research, and it turns out that the Kim sisters don't actually exist.
If you look at a screenshot of the REAL episode, you'll see that the REAL product being pitched is called the Glow Recipe, which is actually a line of skincare and anti aging products.
In fact, their names aren't even Angela and Yoojin Kim, theyre are actually Sarah Lee and Christine Chang from New York City, and they didn't develope ANY testosterone booster.
The second issue is the supposed Robert Herjavec interview, which apparently shows him being interviewed on the Jeff Probst show talking about his investment the "Kim sisters"
I found the actual interview on Youtube, and sat through the entire 15 minutes of it.
I actually watched it twice, just to be sure I didn't miss anything.
There was not ONE mention of the Kim sisters, or even investing in some miracle testosterone boosting supplement at all.
The third issue, and probably one that you didn't even realize is, this article isn't ACTUALLY on the Fox News website.
I know it looks like it at first glance, but if you look at the URL in the address bar, it says rockyourworld.rocks, NOT Foxnews.com.
If you go to the url rockyourworld.rocks, they actually try to make it out to be the official Hustler Magazine website.
The last issue is the comments at the bottom of the page.

They are disguised to look like Facebook comments in a sort of piss poor way, but they are clearly NOT Facebook comments.
If they really were Facebook comments, you would be able to click on the persons name and see their basic profile information, and you'd also be able to post a comment yourself, which in this case is impossible to do so.
So you may be asking yourself, why would they do all of this?

Why make up this fake news article, when in reality they are giving it away for free anyway.
Well here's where things start to turn south.
Since there are so many products being promoted like this, let's say that todays Shark Tank Testosterone booster is none other than Test X Core, which is a product I've actually tested in the past.
Within the Fox News article, you'll see something that looks like this.
It says "claim your free bottle", so that would imply that it's actually a FREE bottle, right?
Well, it turns out that's not necessarily the case.
When you click on that button that says "Claim your free bottle now", it takes you to the official Test X Core website, where' your prompted to enter in your name, phone number, email, and address.
On the second page, you're asked to give a credit card to pay for the $4.95 shipping charge, and way at the bottom in REALLY fine print it says the following:
"By placing an order, you will pay S & H to receive a 30 day supply.You will also be automatically enrolled in our membership program.

The program will charge you $89.41 on the 15th day of your order date for a monthly supply and every 30 days thereafter until you cancel.You can cancel at any time by calling +1-855-322-8780. If you cancel before the 14th day of your order date, you pay the S&H of your 30 day supply.

If you cancel after the 15th day of your order date, you shall pay for the 30 day supply plus any future supplies without refund."
That's right….the free bottle is actually a free trial, which is a fancy way of saying you have a certain amount of time to try the product out before they end up billing your credit card the full price for the product, which in this case is close to $90.
What's worse, is they will continually send you a new bottle every 30 days, as well as bill your credit card $90 every 30 days unless you call to cancel.
Most guys, myself included, hardly ever read the fine print, and that is EXACTLY what they are banking on.
They know that you are not going to slog through the fine print because you are used to dealing with reputable businesses, but the fact is that they are not one of those good companies that you can trust to be upfront with you.
I've actually had a few guys come to me and say they've been bilked out of nearly $500 by scams like this, and sometimes even more.
I'm going to be posting a list of all of the supplements that claim they were seen on shark tank both in the description box below, and on my website Supplement Critique dot com.
If you happen to come across one of these advertisements, or are unsure whether or not it's legit, either leave a comment below or send me an email to contact at supplement critique dot com and I'll double check it for you.
That's all I have for todays review, be sure to click the subscribe button to keep up to date on our latest supplement reviews, and I'll be back soon with another video, take care.
Related Scams:
Top 3 Testosterone BoostersAffiliate Disclosure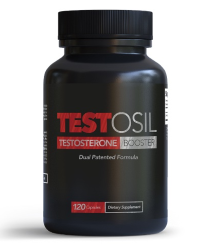 Testosil is the most effective testosterone boosting supplement on the market that I've tested.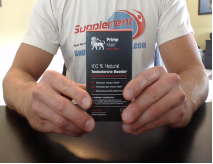 Prime Male is another very effective testosterone booster that uses clinically proven ingredients.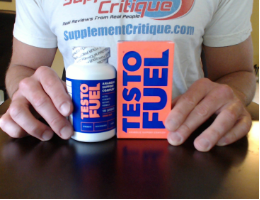 Testofuel is a VERY popular testosterone booster that contains ingredients to help older men.
Ask A Question
User Questions and Answers
No Questions Have Been Answered For This Article.