Six Star Thermogenic Shred Review – Does It Work?
By:
Rob Miller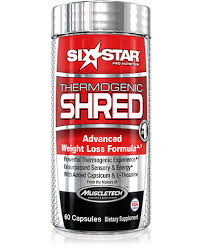 Most of the supplements we talk about here are only available online, but there are a few you can pick up in stores.

This is the case with Six Star Thermogenic Shred, and as a weight loss supplement from Six Star Pro Nutrition, we thought it was work taking a look at.
Beneftis of Six Star Thermogenic Shred
I know there are plenty of people looking for a fat burner/weight loss supplement without caffeine or other stimulants, but this is not that.

Six Star Thermogenic Shred actually uses the tag line, "Powerful Caffeine Formula" in its marketing, leaving no room for doubt about what this stuff really is.
By taking Six Star Thermogenic Shred, you'll see three key benefits:
Boosted energy and focus.
Real fat burning.
Incredible sensory experience.
Six Star Thermogenic Shred Ingredients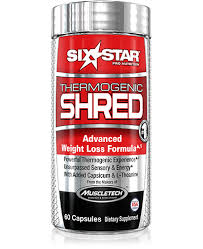 One good think about Six Star Thermogenic Shred formula is that it's easy to find complete information about what they use in the formula.

It turns out most of it centers around stimulants of one kind or another.

It's certainly not surprising to find stimulants in a fat burner.

This one includes:
Caffeine.

At 270 mg, there's a lot of caffeine in Six Star Thermogenic Shred.

It's about 2 ½ cups of coffee's worth.
L-Theanine which produces a calm, relaxed energy, and smooths out the edges that can be caused bu caffeine.
Theobromine, which is found in cacao, is a vasodilator to increase blood flow throughout the body and a diuretic to prevent water retention.
Yohimbine which is a central nervous system stimulant as well as a vasodilator.

It can cause jitters and other unpleasant or even dangerous side effects in some users, especially if taking other medications.
Grains of Paradise which may increase fat burning, especially when it comes to brown adipose tissue.
Green Coffee Bean Extract which may reduce the rate of absorption of carbohydrates.

This may decrease the chances of insulin and blood sugar spikes.

It may also reduce the amount of stored fat throughout the body.
Cayenne Pepper which increases metabolism and helps improve the absorption of the rest of the ingredients in Six Star Thermogenic Shred.
So it's a stimulant-heavy fat burner with the addition of Green Coffee Bean Extract with it's fat burning chlorogenic acid.

We're not sure where the "incredible sensory experience" comes from.

But moving on, how do you use it, and does it really work?
How To Use Six Star Thermogenic Shred
Because of all the stimulants, Six Star Thermogenic Shred recommends that you assess your tolerance before you begin taking the regular dose of 2 capsules before each of your two largest meals of the day (a total of 4 capsules a day).

On the first and second day, take only one capsule a day with your first meal.

On the third and forth days, take 2 capsules daily, one with each of your first two meals.

On the fifth and sixth days, take 2 capsules with your first meal and 1 with your second meal.

Starting on the seventh day and going on from there, take 2 capsules with each of your first two meals.
Six Star Thermogenic Shred Side Effects
The product label mentions that Six Star Thermogenic Shred contains as much caffeine as almost 3 cups of coffee, so if you experience any kind of sensitivity to caffeine, you might feel some restlessness, anxiety, shakes, headache, increased heart rate, or difficulty sleeping.

They also strongly recommend that you don't combine Six Star Thermogenic Shred with any other caffeine sources during the day.
Who is Six Star Pro Nutrition?
Six Star is an offshoot of MuscleTech.

Six Star products tend to be cheaper than the MuscleTech lines.

It also seems to enjoy a more stable reputation.

With MuscleTech, guys either love it or hate it.

Six Star doesn't get that kind of dramatic attention, which may be why they opened up the branch in the first place.
Love it or hate it though, MuscleTech has an A+ ratingwith the Better Business Bureau, which means that like their supplements or not, they're not in the business of screwing over customers.
Clinical Testing
Six Star Thermogenic Shred hasn't gone through any clinical testing itself, but its main fat burning ingredient has.

In a 60 stay study, participants using Green Coffee Bean Extract lost almost 11 pounds as compared with the placebo group (along with a reduced calorie diet), and in an 8 week study, the Green Coffee Bean Group lost almost 4 pounds using a reduced calorie diet and moderate exercise.
Six Star Thermogenic Shred Reviews
Most of the customer feedback I've seen about Six Star Thermogenic Shred has been pretty positive.

They energy is good and clean without a crash, and the fat burning effects are noticeable.

With all the stimulants, I expected to hear more about jitters and other uncomfortable side effects, but from what I've read, it's not happening:
Favian says: "Once I started taking the product I noticed my focus and overall functionality increased, It did not make my heart race like other products, which was the biggest plus."
Another user says: "I will say the stuff works, It gives me an insane amount of energy and none of the crash, There is no jitters, I highly recommend this product for anyone trying to shed those last few pounds or get a jump start on reaching their goal."
Joseph says: "One pill in and I could already feel it working, not too strong or a crazy tingline like some other thermogenics I've tried, Kept me focused and even on non workout days I feel like I'm sweating more than usual when I take this."
Where to Buy
You can buy Six Star Thermogenic Shred both online and in stores.

It's carried by Walmart at $15 for a 60-count bottle.Bodybuilding.com sells that same bottle for $16. When used as directed, the 60-count bottle will last 15 days, so that brings a monthly supply in at about $30.
Six Star Thermogenic Shred Pros and Cons
Advantages of Six Star Thermogenic Shred
The ingredients are all listed, including dosage information.
For the most part, ingredients are clinically dosed which means you're getting enough of each component to make them effective.
It's fairly cheap.
It gets great customer feedback.
Disadvantages of Six Star Thermogenic Shred
It's got a lot of caffeine, so there may be an issue with overstimulation, though none of the customer reviews I've seen indicate that this is a problem.
They promise this incredible sensory experience, but none of the ingredients support this, and neither do the customer reviews.
Conclusion
By most accounts, Six Star Thermogenic Shred is a good stimulant based thermogenic supplement that can help you lose weight along with your reduced calorie diet and workout routine.And at $15 a bottle, the price definitely makes it worth giving a try.
I will say that if you are not a fan of or do not do well with stimulant heavy supplements, then you might not be in for the best time with Six Star Thermogenic Shred, but if you are familiar with the effects or are a habitual caffeine user you should know exactly what to expect.
Have You Used Six Star Thermogenic Shred?Leave Your Review Below!
Top 3 Fat BurnersAffiliate Disclosure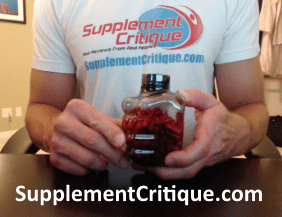 Instant Knockout is actually a new fat burning supplement I just came across, and got great results.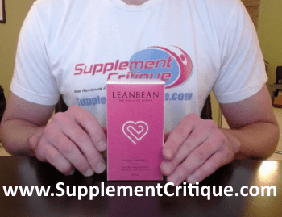 LeanBean Female Fat Burner is the BEST fat burner for women we\'ve ever tested.

Read our review here.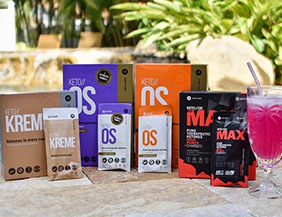 Biohacks your body into instant ketosis to burn fat instead of carbs.

Weight loss, energy, focus, anti-inflammatory, anti-aging.
User Reviews

5.0 out of 5 Stars (1 Reviews)
Have you used this supplement?
Thermogenic shred
I tried it and absolutely loved it, but I'm having a hard time finding it now.

Was this review helpful to you?
3 out of 3 people found this review helpful.
---
Ask A Question
User Questions and Answers
---

Is the Six Star Thermogenic shred for men only, or is it safe for women to take as well? -Jen

It's perfectly safe and effective for women as well as men.- Rob
Was this question helpful to you?
4 out of 4 people found this question helpful.
ASK A NEW QUESTION
---

Has the formula changed for Six star Thermagenic Shred? -Selina

I don't believe so. I just checked the formula listed at the retailer sites, and it looks the same as ever. You would have to contact Six Star directly to find out for sure.- Rob
Was this question helpful to you?
1 out of 1 people found this question helpful.
ASK A NEW QUESTION
---

Do these pills show up on a drug screen? -Rena

Nope.  There isn't anything in it that would cause a false positive on a drug test.  With that said, it does contain yohimbe, which is banned by the NCAA and World Anti Doping Agency.  So if you're a collegiate or professional athlete, take a pass on this.- Rob
Was this question helpful to you?
1 out of 1 people found this question helpful.
ASK A NEW QUESTION
---

Could I take also another supplements at the same time. like testosterone. -nick

You can take a natural testosterone booster along with a fat burner. It makes a great weight loss stack. Check out TestoFuel.- Rob
Was this question helpful to you?

ASK A NEW QUESTION