Peak Life Testosterone Review – Does It Work?
By:
Rob Miller
Fact Checked On: 3-17-2016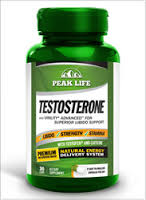 By now, you probably are familiar with the fact that as you age, your body naturally produces less and less testosterone.

In your late teens and early 20s, you're practically swimming in the stuff.

It's why muscle is easy to put on, it's why you don't get that spare tire around your belly, and why you're horny all the time.

But as you get older, you make less and less of the stuff.

Some of the symptoms you'll experience are:
Less energy, generally feeling more fatigued.
More tendency to hold fat, especially around your middle.
Harder time building muscle.

The same workouts don't produce the same results.
Decreased interest in sex and the introduction of difficulty getting and maintaining erections.
It's all a natural part of aging, but that doesn't mean you have to like it.

Most guys' issues don't rise to the level of needing hormone replacement therapy, but taking a natural testosterone booster can really provide some help. Peak Life Testosterone is one of hundreds of choices when it comes to natural testosterone boosters.
Peak Life Testosterone Benefits
Peak Life Testosteronemakes three distinct promises to its users, some of which are direct results of boosted testosterone, some of which are not:
Increased Blood Flow, which will improve your performance both in the gym and in the bedroom.

Increased blood flow to your muscles provides more of the oxygen and nutrients they need to push harder and recover stronger.

Increased blood flow to your penis means better erections and more intense stimulation.
Boosted Libido and Confidence through the elevation of free testosterone.

The more testosterone you have flowing through your system, the more manly you'll feel, in every way, including confidence.
Greater Energy Levels from both caffeine and B vitamins, so you'll have increased focus as well as all day energy with no crash.
Peak Life Testosterone Ingredients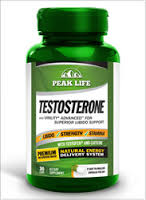 Of course, knowing the ingredients is the first step toward knowing whether or not a product can work.

So here's a list of what's in Peak Life Testosterone, along with a brief explanation of how they can be expected to work:
The formula starts off with Vitamins A, D, and B-6. These are all necessary for the chemical reactions that keep your body running efficiently.

In addition, B6 increases all day energy without causing jitters or crash.

They also include Zinc which has a directly correlation with testosterone levels because it's a necessary component in the testosterone production process.
The Male Performance Matrix is a proprietary blend included in the formula.

It's a total of 1150 mg made up of:
L-Citrulline which is a precursor to L-Arginine which is a pre cursor to nitric oxide.

The processes of the Citrulline producing Arginine and Arginine producing nitric oxide makes it work like a time release action, ensuring that you have increased nitric oxide for a longer period of time and on a regular basis.
Testofen which comes from Fenugreek.

This is believed to increase natural testosterone levels and have a positive effect on athletic performance.
Caffeine which provides almost immediate energy and focus to help you put in the necessary work at the gym.
The Virility Advanced Matrix works to improve your libido with a total of 150 mg of:
Longjack Root, Horny Goat Week, Mucuna Pruriens, and Lycium, all different forms of herbal aphrodisiac.
For a testosterone boosting supplement, the formula is pretty low on substances that actually increase testosterone.

Really the only one present is Testofen. The rest of the formula really focuses on energy and libido.
How To Use Peak Life Testosterone
The recommended dose is 4 Peak Life Testosterone capsules a day, 2 taken with breakfast and 2 taken with lunch.
Peak Life Testosterone Side Effects
No supplement can give you a guarantee that you won't experience any side effects at all, but the likelihood with Peak Life Testosterone is pretty low.

All of the ingredients are fairly well tolerated, and while we don't know exact amounts, they seem to be within reasonable limits not to expect reactions from most users.

Of course, that doesn't take into account any allergies you may have.
Who Is Peak Life?
Peak Life Testosterone is made by Peak Life, a health and nutrition company based in Massachusetts.

In addition to their testosterone booster, they make products for helping you sleep, supporting the health of your prostate, and joint support.

If you look around the internet, you'll find lots of complaints against the company.

These mainly have to do with their customer service and billing practices, which we'll get into a little more below.
Where to Buy
You can only purchase Peak Life Testosterone online. A 30-day supply of 120 capsules costs $69.99 if you buy it directly through the Peak Life website.They also offer deals where you can buy 2 and get one free, or buy Testosterone and Joint Support together at a discount.

If you go through Amazon.com, you'll pay a little less at $49a bottle.
Some Peak Life products are also available through a free trial offer.This works just like the other free trial offers we talk about. It's not really free at all.

They sign you up for automatic monthly shipments and payments which start 18 days after you order your free trial.

There are tons of online complaints about this practice because people are taken off guard; things are not clearly spelled out when you place your free trial order.

It doesn't look like Peak Life Testosterone is available through the trial offer, and that's a good thing.

Better to buy it outright than to sign up for something you don't understand and end up with monthly charges.
Peak Life Testosterone Pros and Cons
Advantages of Peak Life Testosterone
The ingredients are all natural.
You can buy it through Amazon.com at a discount.
Disadvantage of Peak Life Testosterone
While it may increase energy and improve libido and workouts, it's not much of a testosterone booster.

With only one ingredient supporting testosterone levels, you could definitely find something more effective in that area.
The Peak Life company has a reputationfor screwing over their customers with free trials that aren't really free.
Conclusion
As far as natural testosterone boosters go, Peak Life Testosterone is not among my favorites.

It may provide some energy from the vitamins and the caffeine, and a libido boost from the herbal aphrodisiacs, but there's very little in the way of testosterone boosting ingredients.

I would also recommend using caution when buying from Peak Life.

Make sure you read all the fine print so you know what you're getting into.

But in the end, I would say it's not really worth any hassle you might run into.
Have You Used Peak Life Testosterone?

Leave Your Review Below!
Top 3 Testosterone BoostersAffiliate Disclosure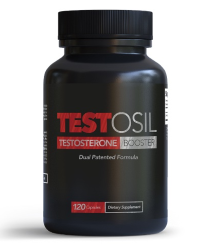 Testosil is the most effective testosterone boosting supplement on the market that I've tested.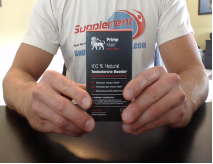 Prime Male is another very effective testosterone booster that uses clinically proven ingredients.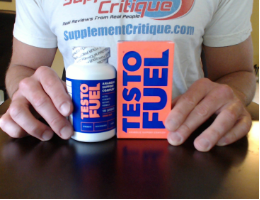 Testofuel is a VERY popular testosterone booster that contains ingredients to help older men.
Check Out My Top Choice For T Boosters - Testofuel

Click Here To Read My Review
Ask A Question
User Questions and Answers
No Questions Have Been Answered For This Article.