SupaSize Review – The Big Reasons For and Against
By:
Rob Miller
Fact Checked On: 5-1-2021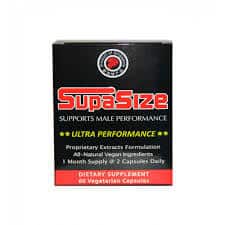 Contents
What is it
Ingredients
How To Use
Reviews
Side Effects
Who Makes it
Where to Buy
Pros and Cons
The Bottom Line
User Reviews
Some guys have actual issues with erectile dysfunction, while others guys simply want to take their already adequate sex lives to the next level.

The nice thing about the natural supplement market is that it can address the needs of men in both categories.

Often, when a guy begins to notice he's having problems with getting hard, he would prefer to try to handle the situation himself before heading the doctor to prescription.

Just like when a guy who has no trouble getting horny or getting erections wants to turn up the heat. He doesn't need a doctor.He just wants to see how much better things can get.

In both cases, a natural male enhancement supplement is the obvious answer.

But once he starts researching his options, it's not long before he finds out that the saturated market is overwhelming, and he doesn't know where to turn.
That was the case with one of my readers when he asked me to look into SupaSize for him.

He's searching for his best option, he came across this one, it looked good to him, so he asked that we check it out.

We did, and what follows is what we found.

What is SupaSize?
SupaSize is a daily supplement rather than a fast acting one.

The formula is designed so the ingredients build up in your system over time rather then working just for the short time after ingesting the pill.

By name, you'd think it promises penis enlargement, but that's not the case.

To its credit, SupaSize promises much more realistic benefits:
Harder and longer lasting erections.
Stamina like you haven't had in years.
Significantly boosted libido.
An end to premature ejaculation.
They even lay out the 3 months long process by which your benefits start to make themselves known:

SupaSize Ingredients
SupaSize provides a list of ingredients in the formula, but it doesn't give amounts, so while the information we do get is good, it could be better.

Below is a list of the ingredients that made the cut:
Vitamin E is the featured components.

It's always been know as the "sex vitamin".

In high doses, it increases both blood circulation and testosterone.

Better blood flow leads directly to better erections, while increased testosterone boosts sexual inclination and response from all angles.
Ginkgo Biloba increases nitric oxide which improves erections by relaxing blood vessels walls, allowing more blood to flow in when you're aroused.

According to the SupaSize website, Ginkgo is 91% effective against erectile dysfunction.
Saw Palmetto which is mainly used to naturally improve prostate health. Since the prostate is where seminal fluid is produced, it has an integral effect on sexual health. It works by inhibiting the conversion of Testosterone to DHT which contributes to the enlargement of the prostate, keeping it healthy and able to perform its intended function.
Asian Ginseng which also promotes nitric oxide production for better erectile health. It may also increase testosterone, sperm count, and semen volume.
Cayenne Fruit which contains capsaicin, which can help thin your blood and widen blood vessels for more blood flow and better erections.
Hawthorn which may also relax and open up blood vessels.
Tribulus Terrestris which is thought to increase natural testosterone production.

By increasing Luteinizing Hormone, Tribulus signals the testes that it's time to produce and release more testosterone.

Increased testosterone boosts both libido and performance.
Oat (Avena Sativa) which is thought to increase free testosterone.

It also soothes and calms the nervous system, allowing you a relaxed control over your orgasms.
We often get questions about what's NOT in a supplement, mainly from people with allergies or sensitivities.

Here's a list that covers it for SupaSize:
NO Yeast
NO Wheat Gluten
NO Corn
NO Dairy
NO Sodium
NO Sugar
NO Artificial Coloring
NO Preservatives or flavoring.
How To Use SupaSize
There are a couple different ways you can go as far as dosing.

If you want to start off slowly, take 1 capsule a day after a meal.For best results, go with 2 capsules a day, 1 after breakfast and 1 after dinner.

Either way, you're instructed to drink plenty of water or fruit juice to help with absorption.
It's recommended that you continue to take SupaSize for at last 3 or 4 months.

This is when the full effect is expected to kick in.

They don't specify, but in my experience, this would be a good point at which to lower your dose back down to 1 capsule a day to maintain the already achieved benefits.

SupaSize Reviews
Until recently, SupaSize was only sold through their website, so that's the only place you'll find customer feedback.

Not long ago, it started being sold on Amazon.com, so before long there should be plenty of feedback there, but for now, the SupaSize website is the only option we have.

You have to be a little careful trusting the feedback provided by a company about its products because, let's face it, they're a little biased about what how they want to portray themselves.

But since that's all we have for now, we'll share it with you and let you know what's being said.
Here's a fun one:
And another: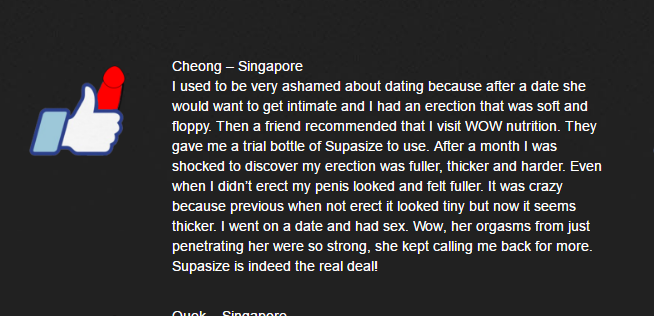 See, it's tough to take that seriously.

I mean, who talks like that? Nobody I know.

So when that's all we have for feedback, I tend to write it off as though there really isn't any out there.
SupaSize Side Effects
SupaSize claims to not cause any side effects at all.

While I push back a little on a statement like that, I understand and appreciate what the point is.

There are lots of male enhancement supplements that do cause side effects, especially the fast acting pills.

The ingredients that make them effective also can cause side effects.

So you have to decide what you're willing to accept in order to get the results you want.
This is not the case with SupaSize.

I don't buy into the idea that any pill can be guaranteed to be side-effect free, but the natural ingredient list provided would indicate that side effects would tend to be both rare and mild.

Who Makes SupaSize?
SupaSize is made by a company in Singapore.

In fact, most of their customers live in either Singapore or Malaysia.

Where to Buy
SupaSize is mainly sold through its official website, but has recently been added to the product lines at Amazon.com.

At the website, there is a complex pricing structure based in Singapore Dollars, but the basic price works out to about $37 for a one month supply.You can get discounts of you buy multiple boxes.

Purchases through the website come with a money back guarantee as well.

It's good for 60 days, and you can use up to 2 months worth and still get a refund on your entire purchase, as long as you send back all opened and unopened boxes.
At Amazon.com, you can get a one month supply for $35.If you're in the states, this is probably the easier way to go, unless you've got your heart set on that great guarantee.

SupaSize Pros and Cons
Advantages of SupaSize
The formula is all natural and safe.

While they state there are no side effects and we don't trust that statement fully, we are fairly confident that side effects are rare and mild if they do exist.
It's not very expensive.
There's a money back guarantee when you buy through the website.
Disadvantages of SupaSize
The company is in Singapore which means they may not need to adhere to strict US standards of manufacturing practices.
The only customer feedback we could find so far comes from testimonials on the product website.

These are notoriously unreliable as they can be faked, or at least cherry picked to make the product look good.
No clinical studies are cited to prove their claims.
The Bottom Line
SupaSize isn't the best or the worst product I've seen, and I've seen a lot.

The formula is decent, though without knowing how much of each ingredient is present, it's difficult to know how effective it will be.

Because we don't have access to any real customer feedback, we don't know what people are actually saying about this stuff either.
With that said, I believe SupaSize is quite safe and won't cause much if anything in the way of side effects.
So what we're left with is a safe, but potentially ineffective supplement that's relatively affordable.

If for some reason, SupaSize strikes a chord with you and you feel drawn to try it, by all means do.

Otherwise, I would look elsewhere for something clinically proven to be effective.
It's not that there is a wealth of bad side effects or that there are so many red flags that staying away from it is a must, it is just that there is not a ton going for it that taking it is essential.

Have You Used SupaSize?

Leave Your Review Below!
Top 3 Male EnhancementAffiliate Disclosure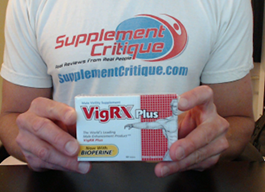 Out of the 100+ male enhancement products Ive tried, Vigrx Plus was the best.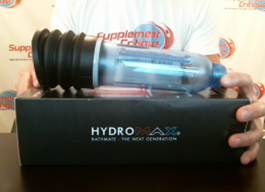 The Bathmate is a proven water-based vacuum pump that can help dramatically increase your size.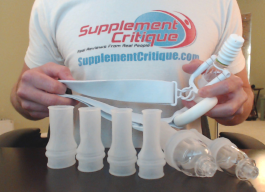 Phallosan Forte is a GREAT option for those looking to grow both length AND girth, permanently.
Honorable Mention/Inexpensive Alternative:Magnum Rings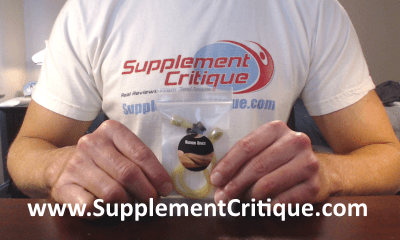 Magnum Rings are a VERY affordable option to getting both girth and length gains, at a fraction of the price of the Bathmate or Phallosan Forte.
Click Here to see our full Magnum Rings review.
Want To REALLY Get Bigger?

Click Here To See Products That WORK!
Ask A Question
User Questions and Answers
---

Hi! I been used supersize for 5days, its been growing, but my penis a little bit soft, that how the penis start growing, made it soft? So do I still continue use it? And when gonna be hard back? -Ellie

Supasize is really a supplement to improve performance, not size, so I'm not sure why you're getting the effects  you're getting.- Rob
Was this question helpful to you?
2 out of 4 people found this question helpful.
ASK A NEW QUESTION
---

is it safe to use supasize ? im 65 years old having a maintenance medicines for my high blood, sugar, and cholesterol for 3 years already. thank you -ryan

Because you take prescription medications, you should check with your doctor about whether or not any supplement would interact negatively with your medicines.- Rob
Was this question helpful to you?
1 out of 2 people found this question helpful.
ASK A NEW QUESTION
---

Sir supa size pill side effects told me And I live in pakistan city lahore How can I buy it -Bilal

Judging by the formula, I wouldn't expect any side effects. As far as where it can be shipped, you'll have to check at the Supasize website or Amazon.com.- Rob
Was this question helpful to you?
0 out of 1 people found this question helpful.
ASK A NEW QUESTION