Super Dragon 6000 Review – Is It Effective?
By:
Rob Miller
Fact Checked On: 12-4-2014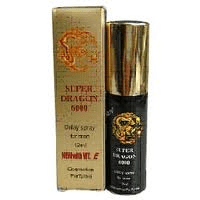 Super Dragon 6000 Overview
Super Dragon 6000 calls itself "The Ultimate Delay Spray". It can be used to desensitize the penis so you can last longer, preventing the occurrence of premature ejaculation. While commonly thought of as a problem exclusive to teenage boys, premature ejaculation can in fact be a problem for men of all ages. Poor health, stress, and lack of confidence can all result in the inability to effectively control your orgasm. Super Dragon 6000 claims it can help, while also improving the overall sexual experience for both of you.
Super Dragon 6000 Ingredients and How They Work
The main active ingredient in Super Dragon 6000 Delay Spray is Lidocaine. This is a topical anesthetic, such as what a dentist may use to numb your gum in preparation for a shot of Novocaine. The Lidocaine acts as a desensitizer, so your penis is no longer quite so sensitive to stimulation. This makes it possible to last longer, as you are not reacting as strongly to every stimuli.
Additionally, Super Dragon 6000 uses Vitamin E to nourish and stimulate cells, and L-Arginine to help stimulate blood flow to the penis so you can achieve a faster and better erection.
Super Dragon 6000 is not greasy or sticky, and one can contains about 30 spray. It's water based so you can use it with a condom without having to worry about compromised effectiveness. It is also hypoallergenic and safe for ingestion.
Super Dragon 6000 Pros and Cons
As with all things, there is good and bad inherent in Super Dragon 6000 Delay Spray. Taking a quick look at both sides of the coin can help you feel confident that you ultimately make the right decision.
Advantages of Super Dragon 6000
It works fast.
It does not interfere with condom use.
There is a 30-day money back guarantee.
Disadvantages of Super Dragon 6000
The taste may not be compatible with oral sex.
No clinical studies have been conducted.
It doesn't address performance issues other than premature ejaculation.
We could not find any independent

Super Dragon 6000

reviews or testimonials.
Where to Buy
Super Dragon 6000 is available through a number of online sellers. One bottle sells for under $20 and many retailers offer discounts when you purchase multiple bottles at the same time. The official Super Dragon 6000website offers a 30 day money back guarantee so you may want to buy your first bottle there if you're interested but still want to be financially covered.
Conclusion
Given that the main active ingredient is Lidocaine, we're quite sure Super Dragon 6000 will act as a numbing spray, and that you'll probably be able to last longer as a result. You may, however, be able to find something that works just as well for cheaper, because it wasn't made specifically for sex. Another thing to consider is that you might want to go with something that does more for you than just numb your penis. If that's the case, there are other, more comprehensive male enhancement products that you might choose instead of Super Dragon 6000.
Have You Used Super Dragon 6000? Leave Your Review Below!
Top 3 Premature EjaculationAffiliate Disclosure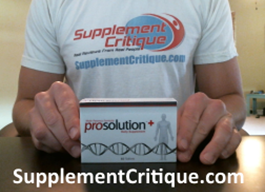 Prosolution + is the ONLY supplement I've reviewed thats been clinically tested to help with premature ejaculation.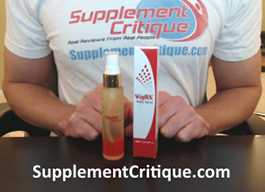 Vigrx Delay spray is a VERY effective premature ejac product for many reasons.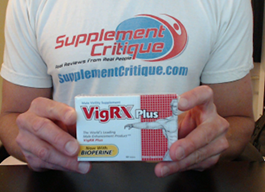 Vigrx Plus was designed to not only help with ED, but also premature ejac. problems.
Ask A Question
User Questions and Answers
---

I need to pay for dragon 6000  I live in Sweden. -Mohamad

It looks like it got recalled by the FDA, which will make it tough to find. You may want to try eBay.- Rob
Was this question helpful to you?
2 out of 2 people found this question helpful.
ASK A NEW QUESTION
---

How can I buy this? -Buddhika kumara

It's available through Amazon.com.- Rob
Was this question helpful to you?
1 out of 1 people found this question helpful.
ASK A NEW QUESTION
---

what would be the after effect of using the super dragon 6000 -EDWARD TURAY

There are none that I'm aware of.- Rob
Was this question helpful to you?
2 out of 4 people found this question helpful.
ASK A NEW QUESTION