Super Vir Oil Review – Is It Really That Super?
By:
Rob Miller
Fact Checked On: 3-23-2020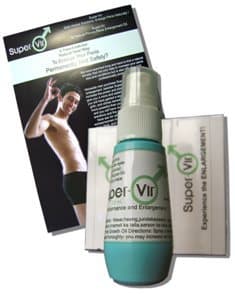 Super Vir Oil Review
Erectile dysfunction is a common problem among men. There are several reasons that this may occur including stress, depression, and other medical issues.

There are several male enhancement products available to help men solve this problem.

One such product is Super Vir Oil.

The product is made by Super Vir Inc. and first came on the market around two years ago.

Super Vir Oil claims to help expand the girth and length of the penis and help with issues of premature ejaculation.
How Super Vir Oil Works
Unlike products like Man1 Man Oil (which is used to help with a chaffed penis of all things, Super Vir Oil works by increasing the blood flow to the penis, which results in the penis becoming larger and thicker.

According to the website, most men will see results in about a month after using the product.

Unlike some other male enhancement products that are taken orally, Super Vir Oil is applied topically.

The oil is to be sprayed directly on the penis a few times a day.

Once sprayed on, the oil is massaged into the skin and will be absorbed in approximately 40 minutes.
Super Vir Oil contains all natural ingredients including Horny Goat Weed, Sarson Ka Taila, Chameli Ka Taila, Lata, Kasturi, Kalimirch, Akarkara, Weer Bahuti, Jundebedastar, Heeng, and Kesar.

The issue with the ingredient list is the amounts are not given. Additionally, there is not a lot of information provided about how the ingredients work together.

However, Horny Goat Weed is a common ingredient that is used in many male enhancement supplements.
Pros and Cons of Super Vir Oil
Super Vir Oil Pros:
Super Vir Oil contains all natural ingredients.
Secure purchasing is available through the website.
Discounts are provided for those interested in bulk orders.
Customer testimonials are provided on the Super Vir Oil website.
The frequently asked questions page on the website is extremely thorough.
Super Vir Oil Cons:
If the bottle is opened, it cannot be returned.
This is a relatively new product, so there's not a lot of information available.
The cost of Super Vir Oil is somewhat high.
No clinical studies are provided.
No doctor recommendations have been mentioned.
There are limited customer testimonials available.
Where to Buy Super Vir Oil
Super Vir Oilcan be purchased directly from the product website.

The cost for the oil is $79. This bottle is said to last for approximately two months.For those that wish to save money, buying in bulk is recommended.

The product is shipped within a business day and the entire purchasing process is extremely discreet.
Is Super Vir Oil Recommended?
I do not believe that Super Vir Oil is a scam.

However, I would be more likely to recommend the product if there were clinical studies or at least photographic evidence provided.
In general, I like to be able to look at the numbers and results of a product within a wider ranger of people so I can know what the general consensus on its overall effects are before making a choice for myself.
Nevertheless, you will find that it is often the case with male enhancement supplements that you are going to need to find some of that information out for yourself or have to even do a little bit of guesswork.
The bottom line?

It is unlikely that the product will actually enlarge your penis.
That is not just because this product cannot enlarge your penis, it is because there are no supplements that will enlarge your penis on its own, period, and any claim from a manufacturer to point to otherwise is misleading.
Additionally, the fact that the only reviews of Super Vir Oil are those that are on the product's website bothers me.
Verified user reviews are easier to trust and a safer bet to go by, but with Super Vir Oil you are really not going to find those which is somewhat troubling.
If the product worked as well as they claim, it is likely that there would be reviews scattered throughout other sites as well.

For this reason, I recommend trying one of the other male enhancement products that have more evidence available that they actually work.
Have you tried this product?

Leave your Super Vir Oil review below!
Top 3 Male EnhancementAffiliate Disclosure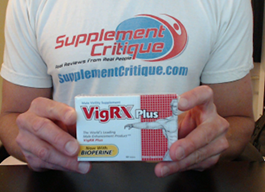 Out of the 100+ male enhancement products Ive tried, Vigrx Plus was the best.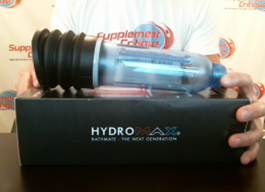 The Bathmate is a proven water-based vacuum pump that can help dramatically increase your size.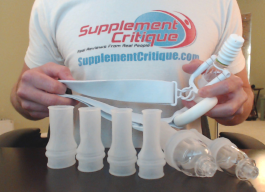 Phallosan Forte is a GREAT option for those looking to grow both length AND girth, permanently.
Honorable Mention/Inexpensive Alternative:Magnum Rings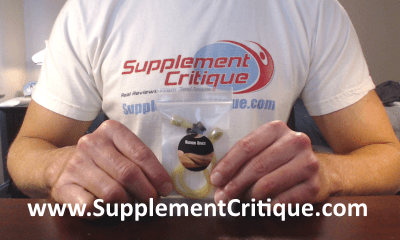 Magnum Rings are a VERY affordable option to getting both girth and length gains, at a fraction of the price of the Bathmate or Phallosan Forte.
Click Here to see our full Magnum Rings review.
Want To REALLY Get Bigger?

Click Here To See Products That WORK!
Ask A Question
User Questions and Answers
---

My dick is 5 inches long, so can i get 2 inches longer by using Super Vir Oil? -harishankar

You won't get a bigger penis with this. For penis growth, you'd be better off with an extender device such as the Phallosan Forte.- Rob
Was this question helpful to you?
1 out of 1 people found this question helpful.
ASK A NEW QUESTION
---

Yes I order y'all product and I'm just wondering will will it arrive it's been like 4 weeks my name is Gerry Osborne phone number is 832 722 1635 please call or email -Gerry osborne

SupplementCritique.com is a review website. We don't sell products. You'll have to contact the company you made your purchase from directly.- Rob
Was this question helpful to you?
2 out of 4 people found this question helpful.
ASK A NEW QUESTION
---

it is possible to receive this product in nepal? -madan

If you order through the company website, they do list Nepal as a shipping option.- Rob
Was this question helpful to you?
1 out of 2 people found this question helpful.
ASK A NEW QUESTION
---

Where can I be able to order this product in RSA (Pretoria)? -tebogo

You can order through their official website, and they'll ship it to our address in South Africa.- Rob
Was this question helpful to you?

ASK A NEW QUESTION
---

Any side effects ? -Roger

I have not heard of any side effects with this product.- Rob
Was this question helpful to you?

ASK A NEW QUESTION