T-Max Testosterone and Stamina Booster Review – Does It Work?
By:
Rob Miller
Fact Checked On: 4-6-2020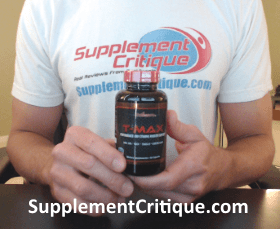 Once you hit your mid-twenties or so, the natural testosterone that's been flooding your system since you hit puberty starts to drop off.

You don't notice it right away though, because levels are still pretty high.

But usually somewhere between 30 and 35, some of the tell tale signs start to appear.
You feel generally more sluggish.

You start to put on weight even though you used to not be able to gain an ounce no matter what you did.

Workouts become harder, and results become harder to achieve.

One of the more surprising effects is that you start to lose some of the interest you've always had in sex.
For some people, these changes can be quite depressing and can even leave some folks feeling like "less of a man" or that they are beyond saving as far as getting that magic back, but that is not true, of course.
These are all signs that your testosterone levels are beginning the noticeable portion of their decline.

It's not necessarily something that needs medical attention.

But there are supplements that can help put you back into what you've always considered that "normal" range.
What Is T-Max Testosterone and Stamina Booster?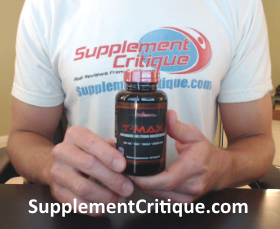 T-Max Testosterone and Stamina Booster is a natural testosterone booster that promises to help reverse the trend you've been starting to notice.

By taking this product, your body can move back toward peak performance potential where you used to be.

It may not make you 25 again, but it promises to point you in that direction.
With increased testosterone levels, you'll have more strength and endurance, you'll feel more energized and in a better mood, and your sexual performance will make you think you're back living in the good old days.
Who Makes T-Max Testosterone and Stamina Booster
This product is manufactured by a New Jersey company called BioticZone.

They don't have a listing with the Better Business Bureau, but that can be a good thing.

It means no one's ever tried to lodge a complaint.
The company makes several supplements geared to improving lifestyle and quality of life.
T-Max Testosterone and Stamina Booster Ingredients
The T-Max Testosterone and Stamina Boosterformula starts with 4 main ingredients:
Tongkat Ali which may increase the presence of free testosterone by inhibiting the action of SHBG (Sex Hormone Binding Globulin) which would bind up all your free testosterone if allowed.
Maca which is a powerful herbal aphrodisiac used for centuries to boost male sex drive.
L-Arginine which serves a number of purposes including increased nitric oxide for better blood flow.

This better blood flow improves both athletic and sexual performance.

The more blood that flows to your muscles, the better your muscle pumps are during your workout.

And the more blood that flows to your penis during arousal, the better your erections will be.

L-Arginine may also increase your body's natural testosterone and HGH production.
Ginseng which acts as an aphrodisiac and also improves blood flow throughout the body for increased energy and vitality.
There's also a proprietary blend of several herbs including Catuaba Bark, Ashwagandha, Muira Puama, Nettle, Avena Sativa, Licorice, and Tribulus Terrestris.

Together, these serve many functions involving testosterone, sexuality, anxiety, and overall health.
Here's a quick look at the T-Max label:
T-Max Testosterone and Stamina Booster Pros and Cons
Advantages of T-Max Testosterone and Stamina Booster
The ingredients are all natural.
It's fairly inexpensive.
There are only a couple independent customer reviews, but the ones there are tend toward the positive.
Disadvantages of T-Max Testosterone and Stamina Booster
The money back guarantee only applies to unopened bottles.
T-Max Testosterone and Stamina Booster contains shellfish, so if you're allergic, you should stay away.
Where to Buy
You can purchase T-Max Testosterone and Stamina Booster through the BioticZone website directly or at Amazon.

At the BioticZone website, you can pick up a bottle currently for $19.95. At Amazon, the price is a little higher, at $25.
Conclusion
T-Max Testosterone and Stamina Booster is inexpensive, so if it works, it could be a great addition to your daily supplement routine.It's certainly safe for use by just about anyone as long as you're not allergic to shellfish.

So give it a try and let us know how you make out.
I recommend it mostly because of the price and availability, plus it does not hurt that the ingredients really have a good track record of boosting testosterone in several other similar products.
Have You Used T-Max Testosterone and Stamina Booster?

Leave Your Review Below!
Top 3 Testosterone BoostersAffiliate Disclosure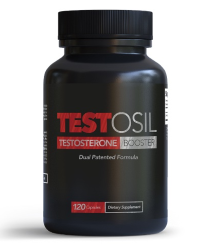 Testosil is the most effective testosterone boosting supplement on the market that I've tested.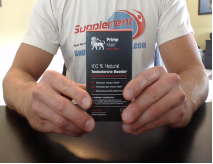 Prime Male is another very effective testosterone booster that uses clinically proven ingredients.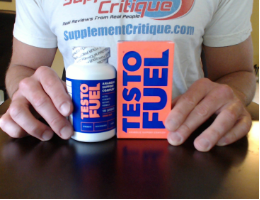 Testofuel is a VERY popular testosterone booster that contains ingredients to help older men.
Check Out My Top Choice For T Boosters - Testofuel

Click Here To Read My Review
Ask A Question
User Questions and Answers
---

Doctor does not recommend me use this product. Do not charge my credit card. Cancel this order. I paid 4.95 trial but don't want to continue -earnest

SupplementCritique.com is a review website. We have no affiliation with the product you ordered. You'll need to contact them directly to cancel future shipments. There should be a phone number listed with the transaction on your credit card statement.- Rob
Was this question helpful to you?
3 out of 3 people found this question helpful.
ASK A NEW QUESTION
---

How long does it start to work -Tareze

You take it daily and you should start to see results in about 2-3 weeks.- Rob
Was this question helpful to you?
2 out of 2 people found this question helpful.
ASK A NEW QUESTION