Testostro Grow Hp2 Review – Should You Use It?
By:
Rob Miller
Fact Checked On: 3-30-2020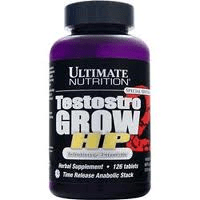 Testostro Grow Hp2 Overview
Ultimate Nutrition makes Testostro Grow Hp2. It's their hardcore testosterone boosting formula targeted to bodybuilders wanting to up their game in the gym (with side benefits in the bedroom). Information on the product starts in the usual place by explaining the problems that come along with low testosterone (low energy, low sex drive, decreased lean muscle mass, increased fat) and the benefits you can get from boosting your T (more energy, increased libido, more lean muscle mass, and decreased fat). One refreshing thing we noticed is that the marketing is fairly low key. It's very informative, but pretty much relies on relaying to you the facts, and letting you decide what you're going to do with them.
Testostro Grow Hp2 Ingredients and How They Work
The Testostro Grow Hp2 formula does contains many of the standard herbal testosterone increasing herbals like:
Tribulus Terrestis which increases the secretion of luteinizing hormone from the pituitary gland. The luteinizing hormone then goes on to signal the testes to produce and release more testosterone.
Avena Sativa and Nettle Root which increase the amount of free testosterone by acting on SHBG (Sex Hormone Binding Globulin) which left to its own devices would bind to the testosterone in your body, causing it to be rendered useless.
Testostro Grow Hp2 goes on to include aromatase inhibitors:
Chrysin
Saw Palmetto
Cucurbita Pepo
These prevent the natural conversion of testosterone into estrogen. Without these aromatase inhibitors, as testosterone increased, so would estrogen, and that is clearly not the goal here.
Last on the Testostro Grow Hp2 listare antioxidants like:
Daidzein
Alpha Lipoic Acid
Indole-3-Carbinol
These antioxidants fight against the oxidative damage that can occur in the tissue dedicated to making testosterone.
Dosing instructions are to take 1 capsule three times per day. You should continue to take Testostro Grow Hp2 daily for 21 days, then take 3 to 4 weeks off before starting again if you wish.
Testostro Grow Hp2 Pros and Cons
Advantages of Testostro Grow Hp2
It's got a wide compliment of ingredients to tackle the testosterone issue on several fronts.
The Testostro Grow Hp2 reviews we've seen have been quite favorable, with guys talking about how they feel better generally and do better in the gym.
Disadvantages of Testostro Grow Hp2
Taking Testostro Grow Hp2 three times a day can be pretty inconvenient.
We saw one complaint of headaches when taking Testostro Grow Hp2.
Where to Buy
You can purchase the 126 count bottle of Testostro Grow Hp2 online where bodybuilding supplements are sold for anywhere from $28 to $35.
This is a pretty fair price for a product of this sort at first glance, but it is important to note that having to take it 3 times a day for full effect means that you are going to be going through it pretty fast which adds up over time.
Conclusion
Given the innovative ingredients, favorable reviews, and reasonable price, we think buying Testostro Grow Hp2 to boost your testosterone levels naturally is a no brainer. The only drawback we can see is that taking Testostro Grow Hp2 3 times a day can be kind of a hassle. But if you can get past that, you're all set.
The ingredients and formula all around is enough to warrant giving it a shot, but I would say my experience and the general consensus says that Testostro Grow Hp2 is a pretty great testosterone booster.
Have You Used Testostro Grow Hp2? Leave Your Review Below!
Top 3 Testosterone BoostersAffiliate Disclosure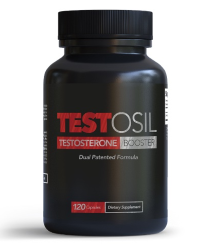 Testosil is the most effective testosterone boosting supplement on the market that I've tested.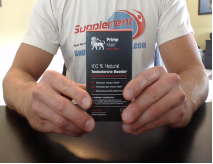 Prime Male is another very effective testosterone booster that uses clinically proven ingredients.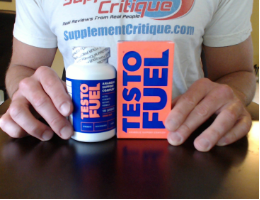 Testofuel is a VERY popular testosterone booster that contains ingredients to help older men.
Check Out My Top Choice For T Boosters - Testofuel

Click Here To Read My Review
Ask A Question
User Questions and Answers
---

Dose testogrow cause headaches in some cases?? -Mark

I haven't heard of it, but it's possible. Side effects like headaches can usually happen to some people with just about any supplement.- Rob
Was this question helpful to you?
2 out of 2 people found this question helpful.
ASK A NEW QUESTION
---

Sir my age is 22 year old. Can I use this supplement. I am doing gym for last 2 year's -Manpreet singh

You can, though it may not have as dramatic an effect as if you were older. If you let me know what your goals are, I can recommend something right for you.- Rob
Was this question helpful to you?
1 out of 2 people found this question helpful.
ASK A NEW QUESTION