Intro
Note:  Click Here
to skip to the workout.
"I want to look ripped… I just need to hit the gym and eat right for a few months."
This is what most of us tell ourselves when we think of getting a lean and muscular body; however, more often than not, we end up putting off that thought.

Those who have tried to pursue this goal can tell you that it is not always as easily done as said.
Click Here for a printer friendly version of this page.
What's more, it seems impossible for those trying to achieve their goals with a busy schedule.

Many working men and women already have too much on their plates to go out and visit a gym.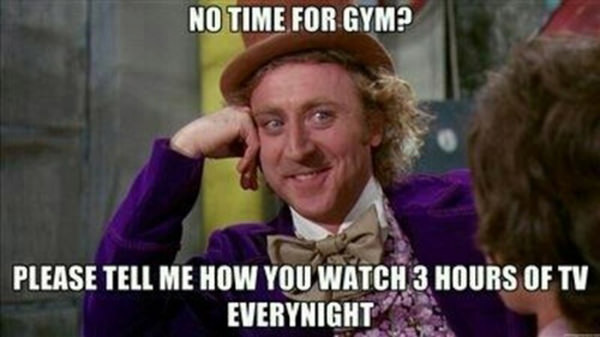 What about the gym itself?

Many people find that the gym is not always an ideal place.

It costs a considerable amount of money to get a decent membership.

For those who cannot afford it, they may quit their dream of getting in shape.
For those that settle for a cheap and low quality gym, they know how frustrating the lack of quality equipment can be.

The unavailability of proper equipment is a major negative factor. Not to mention the crowds.

With crowded gyms, you rarely get a peaceful, organized workout with all the equipment available.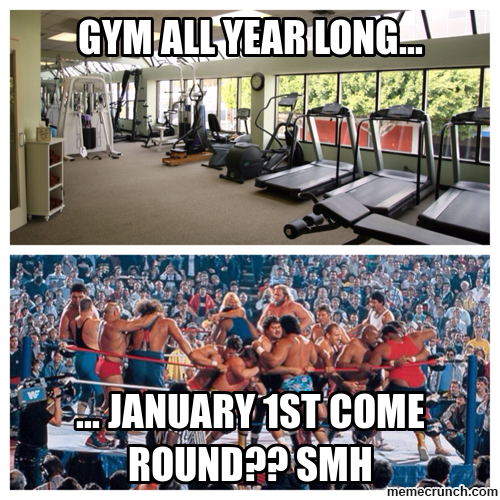 The atmosphere of your local gym can lack that friendly feel.

Many people never start going to the gym because the fear getting laughed at by other gym members.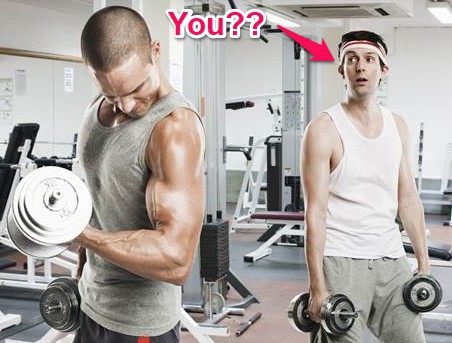 The reality is that the typical "bro" behavior can kill motivation, especially if you are a newbie. Does all this sound familiar?

You're certainly not alone.
Here is the good news: You can still achieve your dream of getting ripped without having to go to a gym.

It is possible to work out and get into great shape at home!

One might ask how and the answer would be this guide!
In this guide, I will provide you with everything you need to get started with working out and getting lean and muscular from the comfort of home.
In the coming sections, you will find in-depth and easy-to-understand exercise descriptions and programs that will help you build your dream physique.

I provide you with detailed descriptions of the most effective exercises.
Even someone who has no previous knowledge of workouts will be able to pick up this guide and get started.

As mentioned above, these exercises are all proven by both scientific studies and veterans' choice to burn the most calories and build the most muscle.
These workouts will help you lose fat and gain muscle in an amazingly short time.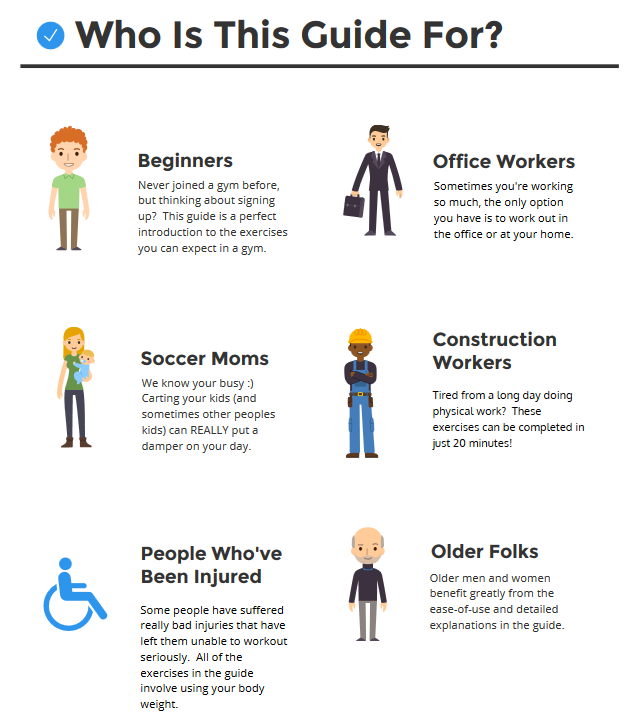 I have written this guide with considerable care so that anyone can easily comprehend it and get started right away.

Anyone who is looking to get a lean and muscular body can benefit from this guide.
That includes everyone from the busy office working person to the older people who want to get back in shape but are too hesitant to join a gym.
These exercises can even be done in the office, although I'm not sure how "practical" that may be for some of you 😉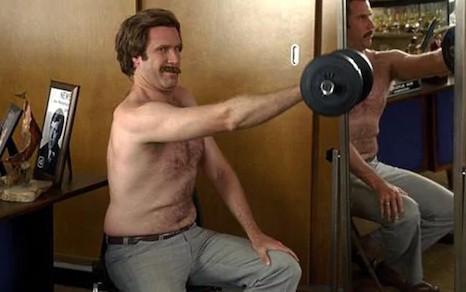 I will help you get the results you want without bothering your busy schedule.
Perhaps most importantly, this guide is for all of the beginners out there who are looking to work out and build a solid foundation of muscle and strength.

If that's you, this guide is the perfect guiding light.
No more seeking advice about workouts and diets from misinformed friends.

No more getting frustrated in trying to find the right fitness programs for you.

No more searching for hours on the internet without luck.
This guide will end your agitation once and for all.

You will get the right information to get started right away.

Best of all, you are free of the restrictions of a gym.

You can do everything at home and get yourself the ideal body you have been wanting.
This guide is extremely user-friendly to say the least.

No matter who you are or how busy your lifestyle is, as long as you have the will to get ripped, this guide will help you.

You have finally gotten your hands on the first step towards getting your dream physique.
Ready to go?

Good!
Now the first thing you need to do is completely familiarize yourself with the exercises you want to do (which I provide in full detail).
Give a complete read to the exercises as well as the acute variables in the next chapter. I take care of the planning for you.

Focus on learning the material and getting yourself mentally ready.
After this comes the most important step: practicing and perfecting your workout!

It always takes some time to master form and execution of an exercise.

I have provided all the instructions you'll need including the recommended sets, repetitions, volume, tempo, and rest breaks.
Once you have the exercises down, you will need to keep at it as the key to having a great body is perseverance and determination.

Your goal will be easy to achieve once you make a routine of following these workouts.
While it is not compulsory, I highly recommend that you follow the suggested time frame of each workout to achieve the best possible results.

As mentioned, this guide is user- friendly, so the time-frames are also very suitable and easy to follow.
Nothing will be achieved without a positive approach towards your hard work.

Sticking to your workouts in the beginning is the hardest part.

Once you pass the initial stages of working out, you'll set the ball rolling and will start seeing the results.
This is how you will stay in the game and ultimately get the body that you always wanted.
After reading everything above, you are all set to take your first step towards getting in shape.

Are you ready to start chasing after your dream?

Go ahead, give the guide a read and start moving!
How Much Weight You Should Use:
According to a study published in the Journal of Strength & Conditioning Research, it is recommended that those new to working out should use 60% to 85% of the one-repetition maximum.
Your one-repetition maximum is that absolute highest amount of weight that you can safely lift one time.

Since it can be dangerous for newcomers to determine that amount of weight, it's always good to start with a lower weight and see how many repetitions you can get.
Bodybuilding.com has a great One-Rep Max calculator you can use to figure all of this out.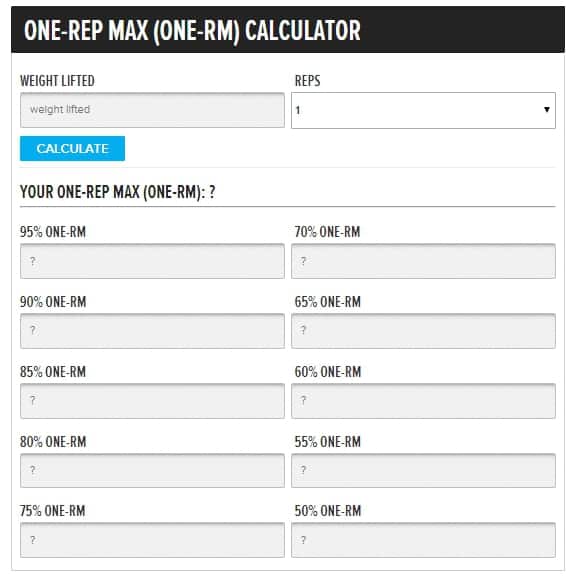 If you're only able to execute between 8 and 12 repetitions, then you know you've reached a perfect weight to begin with for all the rest of the sets. (3) For example:
Chest: Bench Press: 3 sets x 8 to 12 repetitions for each set
You can safely press a loaded barbell of 135lbs up safely a maximum of 9 times.

This is the weight you will use for the remaining
Once you can perform more than 12 repetitions, you know it's time to increase the weight you're
Exercise selection:
A study published in the American Journal of Physiology showed how compound exercises were ideal for burning the most fat and increasing muscle mass via a greater release of anabolic hormones in the body.
Exercises such as the squat, deadlift, bench press, and overhead press are known to be the best compound exercises in the fitness industry. (4)
How Long You Should Rest For:
Lastly, if you want to avoid burn out, you need to give yourself a break between sets.

However, you don't want to rest too long as allowing your muscles to become completely inactive will work against you.
The ideal amount of time to rest in between sets, according to a study in the International Journal of Sports Medicine, is 60 to 90 seconds. (5)
This of course changes depending on what your goal is (i.e. trying to build strength, build power, build endurance, etc.)

I'd recommend picking up a stop watch, or just use the stopwatch on your phone, to ensure you stick to your recommended resting periods.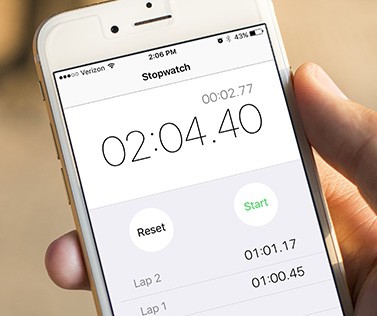 Exercise List
You found your motivation. You have your numbers in place.

Now it's time to get familiar with the exercise arsenal that you'll be utilizing going forward.

These exercises were handpicked because of their success rate as shown in studies and how often veterans will recommend them.
I'd highly recommend reading through each exercise description very carefully and practicing your selected exercises at a slow and steady pace.

Be sure to check out the accompanying media to help you cement everything together.
Jump To A Body Part
Chest
Back
Quadriceps
Hamstrings
Shoulders
Triceps
Biceps
Forearms
Calves
Abs
Sample Workout Programs
Here are three workout programs that range from beginner to advanced.

These programs are to be followed in order from Workout Program #1 to Workout Program #3. They have been developed in a way that leads to steady progress, allowing you to move to the next stage without trouble.

My recommendation is to use each workout at least twice per week. Follow each program for 4 weeks each.

You will be amazed at the results you achieve in just 3 short months.
Workout Program #1: All Bodyweight Exercises
Pull-ups: 4 sets of 8 to 12 repetitions
Push-ups: 3 x 8-12
Bodyweight Squats: 4 x 8-12
Lunges: 3 x 8-12
Dive Bombers: 2 x 8-12
Chin-ups: 1 x 8-12
Calf Raises: 1 x 8-12
Tricep Push-ups: 1 x 8-12
Sit-ups: 1 x 8-12
Workout Program #2: Hybrid Routine (Bodyweight and Resistance)
Single Leg Squats: 3 sets of 8 to 12 repetitions
Bridge: 3 x 8-12
Flat Bench Dumbbell Fly: 3 x 8-12
Dumbbell Bent Over Row: 3 x 8-12
Seated Bent Over Raise: 2 x 8-12
Chair/Bench Dip: 1 x 8-12
Wrist Curls: 1 x 8-12
Calf Jumps: 1 x 8-12
Side Plank Dip: 1 x 8-12
Workout Program #3: All Resistance Exercises
Flat Bench Dumbbell Fly: 4 sets of 8 to 12 repetitions
Leg Press: 4 x 8-12
Bent Over Row: 4 x 8-12
Romanian Deadlifts: 4 x 8-12
Overhead Press: 1 x 8-12
Overhead Extension: 1 x 8-12
Barbell Reverse Curls: 1 x 8-12
Calf Press: 1 x 8-12
Weighted Crunches: 1 x 8-12
Conclusion
Don't let all of the media hype fool you.

If you want to get into amazing shape, there are really only a few things that you truly need:
Expert information (this guide!)
A small space to move around
The will to do your best
(A few soup cans, water bottles, or dumbbells are always a valuable addition!)
If you want to get ripped, you don't have to face the crowds of people in the gym and you certainly don't have to sacrifice your work or home life.

All the exercises that are listed above can be safely performed in the comfort of your home.
The full workouts that I've provided you take minimal time.

You can expect to complete these workouts in as little as 25 minutes. That's it!

That's less than an episode of your favorite show.
Do yourself a favor: Stick to the programs I have detailed above for 4 weeks each.

I'm only asking for 12 weeks of your life in order to help you achieve a new you.
Commit yourself to these workouts and you'll be amazed at what you see in the mirror at the end of 3 months.

Again, you owe it to yourself to be your best.

Don't wait for a special occasion; start today.

You won't regret it.
References
Clark, M.A., Lucett, S.C., Sutton, B.G. "Muscular System." NASM Essentials of Personal Fitness Training.

Baltimore, MD: Lippincott Williams & Wilkins. 2012. 290-
Print.  American College of Sports Medicine.

American College of Sports Medicine position stand.

Progression models in resistance training for healthy adults.

Med Sci Sports Exerc. 2009 Mar; 41(3):687-708.
Wilborn CD, Taylor LW, Greenwood M, Kreider RB, Willoughby DS.

Effects of different intensities of resistance exercise on regulators of myogenesis.

J Strength Cond Res. 2009 Nov; 23(8):2179-87.
Yarasheski KE, Campbell JA, Smith K, Rennie MJ, Holloszy JO, Bier DM.

Effect of growth hormone and resistance exercise on muscle growth in young men. Am J 1992 Mar; 262
Kraemer WJ, Gordon SE, Fleck SJ, Marchitelli LJ, Mello R, Dziados JE, Friedl K, Harman E, Maresh C, Fry AC.

Endogenous anabolic hormonal and growth factor responses to heavy resistance exercise in males and females.

Int J Sports Med. 1991 Apr;12(2):228-35.
Want To Really Get Ripped?

Click Here To Download My FREE
Ask A Question
User Questions and Answers
No Questions Have Been Answered For This Article.