Note:This is just a review. Click Here to visit the official Top Extracts website.
Kratom is an herbal supplement with a history of traditional use in Southeast Asia and has spread across the world.
This herbal remedy has shown a multitude of positive effects on different users and is becoming more and more popular for recreational use.
One of the most impressive characteristics of kratom is its expansive number of beneficial uses.
Some report kratom helps increase energy levels, helping them carry themselves throughout the day with less overall fatigue.

This is particularly appealing for people who suffer from chronically low energy levels.
Others report that using kratom will help boost their moods, which may be beneficial for people seeking herbal remedies for issues such as anxiety or depression.
Others still, report kratom to be extremely helpful for their everyday aches and pains, acting as a mild pain-reliever.

This is where kratom found its most traditional uses in Asia.
If you are interested in trying kratom for any of these issues, it is essential that you find a reliable distributor.
Top Extracts is a supplement company that specializes in selling fresh and lab-tested kratom and pride themselves in providing some of the absolute best kratom products in the industry.
What is Top Extracts Kratom?
Top Extracts is a US supplement company based in Illinois that specializes in kratom.

Top Extracts has a long list of extremely satisfied customers who swear by their products.
While specializing in kratom, they also have a long line of other supplements and botanical products for a variety of ailments.

They provide products both to individual customers and for wholesale.
Top Extracts Kratom Product Line
Top Extracts is proud to provide a wide variety of different kratom products for individual needs.
Here is an overview of their kratom product line:
Kratom Capsules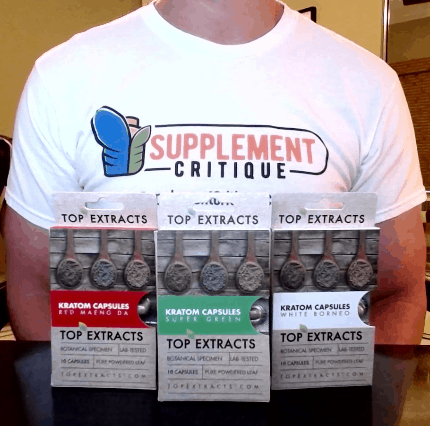 These are kratom capsules with specific intended uses based on the particular strain of kratom used.

All of these capsules are filled with nothing but 100% pure kratom.
Special Note:Click Here to see the full Top Extracts capsules product line.
Red Bali
A popular strain of kratom that comes from the outskirts of Bali, Indonesia.

Due to the unique climate changes of the region, there is a diversity among the color of the leaves and the flavor and effects.
Consumers cite Classic Red Bali as a relaxing and warming kratom.

With a small amount, Red Bali can provide mild energetic properties, while still being relaxing with a more regular serving.
Red Maeng Da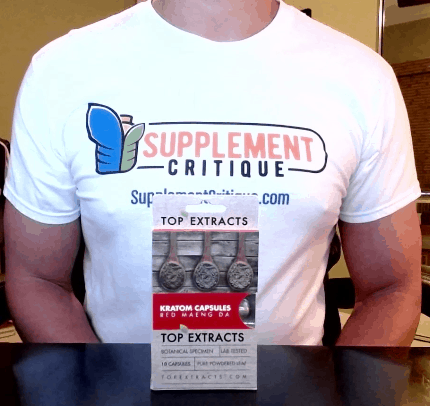 Sourced in Indonesia, this kratom is very similar to Red Bali in its effects.

Known in the industry as a plantation kratom by the shape of its leaves, users report these capsules to help promote relaxation.
Super Green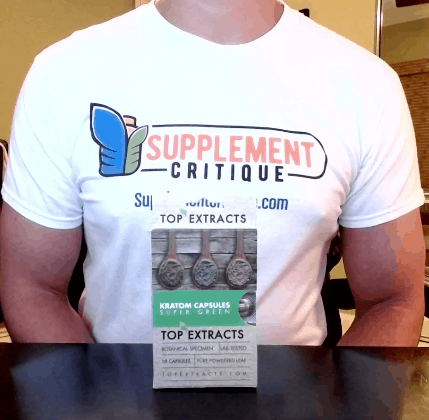 Kali Super Green Kratom was once exclusively grown for personal use by a group of small local farmers in Indonesia.

Top Extracts works with these farmers who are excited to expand their business to provide this unique strain.
Super Green is a cross between a red and white strain of kratom.

Users report that this strain brings about a sense of focus and positive mood, along with an overall feeling of well-being.
White Borneo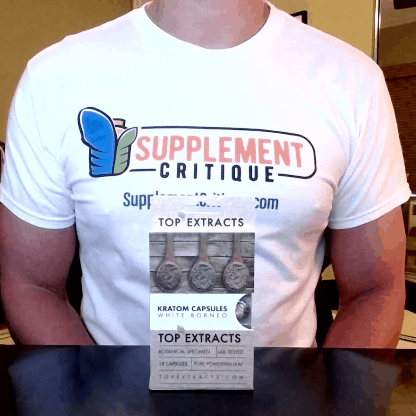 This is a top-selling strain derived from the Island of Borneo, Indonesia.

White Borneo is a wild-harvested variety of kratom.
This strain has been wildly popular for several different reasons.

White Borneo is capable of both calming and energetic properties and has been reported to be extremely versatile.

Some enthusiasts use it to get out of the morning or afternoon slump in a more natural way.
Yellow Indo
Harvested from aged trees on the outskirts of Bali, Indonesia, Yellow Indo is another wild-harvested strain.

Unlike any other, it boasts a vibrant golden hue on the underside of the leaves.
Potentially the most energizing of kratom strains according to enthusiasts.

This is the go-to for uplifting feelings, or a more natural pick me up midday.
Kratom Extract
These products can be much more potent than its powdered or capsule counterparts and are available in many different forms.
Liquid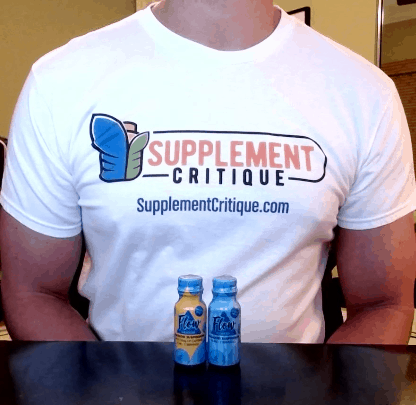 A calming solution, this 45% kratom extract contains 2 servings of 99mg per bottle.

Unlike many other herbal extracts, this product contains no alcohol and offers all the potency and convenience of a traditional botanical extract.
With liquid extract, you can expect to notice the effects almost immediately while other forms may take half an hour or more.
This liquid extract is great for use as a relaxing mood enhancer and can be taken at night to help sleep.
Click Here to see the full Top Extracts liquid product line.
Caffeinated Liquid
Just like the base liquid, this contains no alcohol and has all the convenience of an herbal extract.
By taking kratom in this form, you will notice the effects that make kratom so popular almost immediately.

The added caffeine synergizes well with this kratom, which makes this an excellent morning solution or potential coffee substitute.
Each serving of Caffeinated Liquid Kratom Extract 45% contains 99mg of kratom alkaloids and 55 grams of caffeine, with two servings per bottle.
Click Here to see their caffeinated liquid.
Tablets
Each Kratom Extract Tablet is breakable and contains the alkaloid mitragynine, extracted from 45% powdered kratom leaf.
Impressively, the tablets also contain the other alkaloids from kratom leaf, making this a full-spectrum product.

This means it contains nearly 40 different alkaloids that naturally synergize.
If you are looking to experiment with a full-spectrum kratom, this may be your most appropriate choice.
Bundle
there is also a bundle of all three products to test available at Top Extract's website.
Powder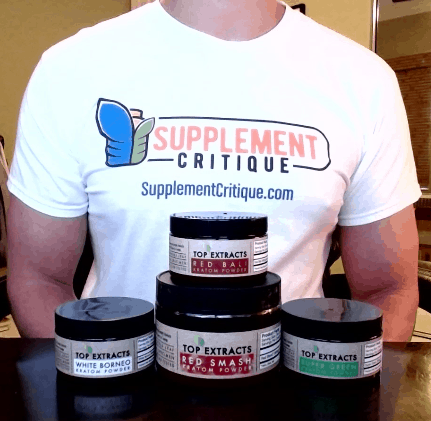 If kratom powder is your preferred delivery method, Top Extracts offers a wide variety of different blends from different regions.

Finely ground kratom powder is likely the most widely used version of kratom historically, and Top Extracts only sells their powder fresh.
Available in powder form there is Classic Red Bali, Kali Super Green, Red Maeng Da, White Borneo, Yellow Indo, and several other options.
Click Here to see the complete Top Extracts powder line.
Kali Red Horn
Another unique strain of kratom that was once exclusively grown, Top Extracts has forged a relationship to share this special kratom with the world.
Many red strains of kratom are usually described as calming, but most will tell you that Kali Red Horn is different.

This strain embodies a smooth and energetic feel according to its faithful enthusiasts.
Red Smash
Red Smash is a blend of several different kratom strains including Red Bali and Red Horn, along with a variety of different red kratom herbs, fermented.
All the kratom in this blend is sourced from small-scale local farmers who are excited to share their unique strains of the herb.
Red Smash kratom mix is used for both a warm and calm feeling on a full serving, while a smaller dose can provide a mildly energetic experience.
White Maeng Da
This kratom is very popular and can be found growing in the wild areas of Indonesia.

White Maeng Da is harvested from mature trees that have horn-shaped leaves and white vein undertones.
White Maeng Da has been stated to provide a general sense of well-being and improve focus in its enthusiasts.
Bulk Kratom
For individuals interested in buying a large amount of their product, Top Extracts offers several options.
Capsules
You can purchase kratom is a kit that includes 5 kilos of kratom in capsule form.

They also add a small kit that will help you store the kratom for maximum longevity.
Powder
If you prefer powder form or want to use your own capsules, you have the option to buy 5 kilos of kratom powder, which also comes with a kit to help you store the powder and keep it fresh.
Crushed Leaf
Additionally, Top Extracts offers the option to buy a box of 3 kilos of premium crushed leaf kratom with a storage kit.

Crushed kratom leaves were traditionally used to prepare teas in Southeast Asia.
Top Extracts Powder vs. Capsules vs. Extracts
Whichever way you choose to use kratom is entirely your decision.

That being said, there are several themes and preferences among the community.
It is widely agreed that an extract is the most fast-acting, potent way to take kratom.

It is also a highly convenient delivery mechanism.
Powders offer the freedom to use your own capsules or mix with your own beverages and may have a slightly higher potency than capsules.
Capsules are extremely convenient, and will still work just as well as powders in general.
Frequently Asked Questions (FAQ)
How should I take it?
Each product has its own recommendations, as well as a guideline you may refer to here.

In general, you want to stay within the recommended dosages and find what works best for you.
The biggest piece of advice I can give is, take it on an empty stomach.
It will work WAY better than taking it with food, trust me!
Are their products lab-tested for quality?
Yes they are.

As a leading company that specializes in the kratom industry, they test for any foreign compounds and overall purity.
Can I return their products if they don't work?
If you have any issues with your product you may contact Top Extracts within 7 days of purchase for a refund or exchange.
What methods of payment do they accept?
Debit, Credit, and BTC
Where can I buy it?
You can buy from the Top Extracts website here, or you can find one of their wholesalers.
If you're completely brand new to Kratom, consider picking up one of their sample packs.
They offer them both via capsules, as well as powders, check out links to each below:
Click Here for the Kratom Capsules sample pack.
Click Here for the Kratom powders sample pack.
The Bottom Line
There are many ways to take kratom, and it all boils down to intended effects and preferred method of consumption.
If you are looking to try kratom, or looking for a more reliable, quality-controlled source, Top Extracts is a company that specializes in just that.
With a long list of enthusiastic customers, there is no shortage of user reviews and reliable information on Top Extracts product line, for anybody looking to try this amazing herbal supplement.
References
https://www.healthline.com/health/food-nutrition/is-kratom-safe
https://www.ncbi.nlm.nih.gov/pmc/articles/PMC6612999/
https://jaoa.org/article.aspx?articleid=2094342
Top 3 KratomAffiliate Disclosure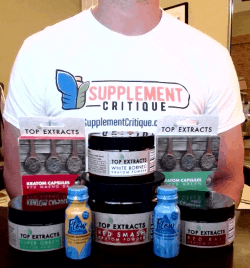 Top Extracts has the highest quality kratom at affordable prices.

Read my review here.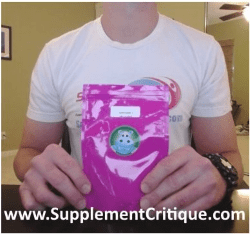 Coming in at a close 2nd, Happy Hippo delivers the goods, albeit at a slightly higher price tag.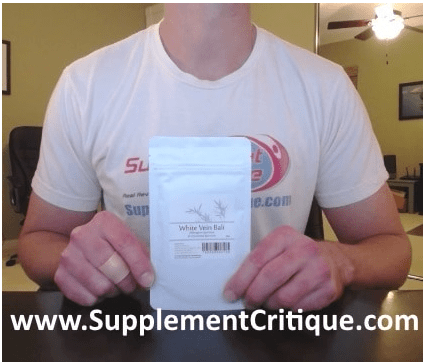 We have more reviews of Kraken Kratom than any other brand on our site.

Read more here.
User Reviews

5.0 out of 5 Stars (1 Reviews)
Have you used this supplement?
Good deals
By
Juli

,
Apr 7, 2021


In Short:

I would recommend this to a friend.
Love the greens they carry. Love the weekly giveaways.

Was this review helpful to you?
2 out of 2 people found this review helpful.
---
Ask A Question
User Questions and Answers
No Questions Have Been Answered For This Article.