Forta For Men
Reviewed By:
Tom Peterson
3.0 OUT OF 5.0
Forta For Men Overview
In the world of herbal male sexual enhancement, there are two types of pills – those you take daily and fast-acting ones you take only when you're planning an intimate event.  Forta For Men falls into the second category.  It is described by its manufacturer as a remarkably fast acting product that fortifies your sex life naturally.  Using ancient Chinese herbs, Forta For Men has been made for men needing help in the areas of libido, erection achievement, and sexual stamina.  It's also for any man looking to improve his performance for whatever reason.
Forta For Men Ingredients and How They Work
The ingredients list for Forta For Men is relatively short and contains some recognizable male enhancement components.
Epimedium Brevicornum has been used in Asia for centuries to enhance lives by increasing blood flow to the male genitalia.  This increased blood flow is what is responsible for thick, hard erections.
Cordyceps Sinesis is known in China for its aphrodisiac qualities.  It increases libido and improves stamina.
Panax Ginseng gives you strength and endurance.  It eases fatigue and helps improve erections by relaxing the walls of the corpus cavernosum.
Lyceum Barbarum increases testosterone production, boosts longevity, and increases sex drive.
Cinnamomum Cassia improves general bodily blood flow while increasing energy and vitality.
You should take 1 to 2 capsules about an hour before sexual activity.  Forta For Men  is a fast acting pill, and the effects should stay in your system up to 36 hours after you take it.
Forta For Men Pros and Cons
With so many options available to you, listing out the good and bad aspects of the herbal male enhancement product you're considering is a good way to make the best choice.
Benefits of Forta For Men
There is a 30-day money back guarantee.
It is all natural.
It contains some ingredients known to enhance sexual performance.
Drawbacks of Forta For Men
Ingredient amounts are not specified.
It does not contain L-Arginine.
Depending on where you purchase it, it can be pretty expensive.
Where to Buy
There is an official Forta website where you can buy this product and Forta For Women as well.  Forta For Men sells here at $49.99 for a 10-pack.  Buying more than one will get you a small discount.  You can also find 2-packs for $15 through various online outlets.  If you buy from the manufacturer, you can take advantage of the 30-day return policy which applies to one opened bottle and as many unopened ones as you return.
Conclusion
Judging by the ingredients, which is really all we have to go on, Forta For Men seems like a pretty run-of-the-mill product.  It has some of the ingredients we look for, and it's missing some of the others.  There really isn't anything that seems to justify the extra cost associated with it.  That being said, different products work for different people, so if you do choose to try Forta For Men, make sure to use the guarantee within 30 days if it doesn't work.
Have You Used Forta For Men?  Leave Your Review Below!
Our #1 Choice For Male Enhancement – Vigrx Plus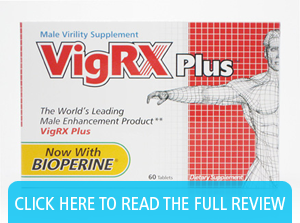 We have personally tested over 100 different male enhancement supplements , and Vigrx Plus stands out as the most effective in terms of results and customer reviews.  Not only is Vigrx Plus designed to help boost overall stamina and libido, but it's also the only product in its category to be clinically studied and PROVEN to work.
Click Here to read more about my specific results with Vigrx Plus

How People Found This Review:
and forta reviews, and forta review, and forta for men, and forta for men review, and forta for men reviews, and forta review men