Instaflex Joint Support
Reviewed By:
Rob Miller
3.0 OUT OF 5.0
Lately I have been noticing tons of ads on the weatherchannel.com and other media sources about a product called Instaflex, which is a joint support therapy designed to help heal damaged joints.  Being an avid beach volleyball player with tons of joint problems, I decided to review this product personally for my visitors.  After some extensive research of the ingredients, side effects, consumer reviews and testimonials, as well as some of my own personal testing, I decided to report my findings of the results that men and women across the US have experienced with Instaflex.
How does It Work?
According to the website, instaflex works by using a combination of all natural ingredients such as glucosamine, Methylsulfonylmethane, Hyaluronan, Termeric Root Extract, and Boswellia Serrata Extract.  I have taken my fair share of joint supplements, and I have noticed that glucosamine is listed in practically every one.  But what exactly does glucosamine do?  For that, I decided to do a little bit of research to find out what this extract actually is.
The official site (instaflex.com) states that this extract "aids in resisting cartilage degeneration, diminishing joint pain, and preventing functional impairment".  For all intents and purposes, this is a fact that has been proven in numerous clinical studies, and the fact that this product contains glucosamine proves that it may indeed work.
Risk Free Trial
Right now, everywhere I look I see free trial offers of Instaflex available on their main site.  The trial lasts 14 days (actually 18 days from the date or order),and if you are unsatisfied with the product you have to send it back to redeem a refund.  I have ordered several of these types of products in the past, including Megamagnum and prostate forte, and you need to make sure that you cancel your trial before the date is up.  If you don't they will continue to charge you on a monthly basis, AS MUCH AS $70 A MONTH!
User Reviews of Instaflex
There are mixed reviews of Instaflex on a wide variety of sites, including Amazon, ebay, and others.  While some say it is great, others say they get better use out of a dose of advil or tylenol as opposed to this product.  By and large, the majority of the reviews are positive, with many people that have played competitive sports for years saying that it has been a miracle pill for them.
We received a few bottles of Instaflex, and had some friends test it out for it's effectiveness.  Here is a review we received:
"Hello everyone my name is Heather,  I play allot of beach volleyball and as I have gotten older I noticed while sitting in between volleyball games I would start to get stiff.  In my younger days I could sit in between games and feel just fine but not anymore.  I looked for a supplements that would help with this and that is when I tried Instaflex.
I wanted something to help with the stiffness and my mobility on the volleyball court.  I have been taking Instaflex for 3 weeks now and I have noticed a real difference in how I feel.  The stiffness has all but gone away and my mobility on the court has increased.  I would recommend this product to anyone that has joint discomfort or stiffness."
Heather Gervais, Stuart, Florida
Dosage and Instructions
According to the bottle, you are supposed to take 3 capsules once daily on an empty stomach.
Where Can You Buy Instaflex?
Instaflex Joint support is available at a numer of online retailers, as well as physical locations nationwide. If you choose not to participate in their free trial, you can find it in GNC for a price of $50, which is a $20 discount as opposed to be enrolled in their autoship program.
We also searched around in local stores such as Walmart, Target, Rite Aide, Walgreens, and CVS, but could not find it for sale in any of these stores.  You can buy from a number of online merchants, including Amazon.com and GNC.com.
My Personal Results With Instaflex
I finally got a chance to try Instaflex out myself, and wanted to report on my results to you guys.  As you know, I decided to get the trial package of Instaflex, which was about $4.95 for shipping.  Knowing that this was only a trial, I told myself that If I did not start seeing immediate benefits from the product that I would call and cancel immediately.
After just a few days, my order arrived in the mail and I started taking it right away.  I have some pretty bad joint pain as a result of playing way too much beach volleyball and basketball, and it has by far been affecting my ability to play.  The one thing I noticed about Instaflex was that it started working within the first few days.  I noticed that I was taking less and less advil to try and get rid of my pain, and walking down the stairs first thing in the morning was no longer a "chore"
How this can work for someone that has more intense joint pain, I don't know, but I do know that for the limited time I was taking Instaflex, I was feeling great.
So Does Instaflex Really work?
While glucosamine supplements have been used for a long time for all natural joint relief, there is little evidence to suggest they are "natures cure" to joint pain.  After taking Instaflex for the full trial period, it seemed to start to lose it's effectiveness, but without using it for a full month, I can't really determine it's true effectiveness.  I will continue to update this blog post once I get a fresh supply and take it again, but this time, for a full month.
Be Sure To Leave your Review and Rating of Instaflex Below!

My #1 Choice For Joint Relief – Joint Advance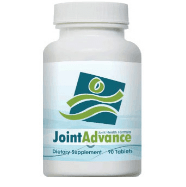 Joint Advance is a top rated joint relief formula that is designed to start working quickly and with lasting results. I personally tested this supplement to see how it could help me reduce my joint pain.
Click Here To Read My Official Review of Joint Advance

How People Found This Review:
and instaflex reviews, and instaflex, and Instaflex review, and instaflex side effects, and instaflex joint support, and instaflex joint support reviews
Click here to submit your review.
---
---
Instaflex Joint Support Review – Does It Really Work? SKU UPC Model
Instaflex Review
Instaflex Joint Support Review – Does It Really Work?
1 out of 5 Stars
Oct 21, 2013 by Edward Howard
Just received my trial bottle of Instaflex today and when I looked at the ingredients list, right at the bottom of it, was "Crustacean Shellfish", which I cannot take. I don't remember seeing that in the ad, so now I not only can't take it, I am out the $4.99 I spent for shipping cost. If there wasn't a warning in the ad, maybe there should have been.
product 0.3
---
Instaflex Joint Support Review – Does It Really Work?
5 out of 5 Stars
Jun 10, 2013 by larry finn
I am 84 years old. I can now walk as well as I could years ago. I'm feeling great. I give the credit to Instaflex. It has made a difference in how I feel overall. I have had various problems with my knees since my early 20′s . I was once told that I would have to do something about the knees at age 24. I continued to play ball into my 60′s. The knees gave me problems off and on but I muddled through them until a couple of years ago when they really started to bother me walking, climbing, etc. That has now changed ! I almost gave up until trying Instaflex. It is great ! Any 80-90 year old baseball leagues out there ? I'm ready.
product 0.3
---
Instaflex Joint Support Review – Does It Really Work?
5 out of 5 Stars
May 18, 2013 by Rich M.
OK folks, this is my 3rd week update. I have been very impressed with the results thus far, starting at the end of the very 1st week. I have been taking 3 Instaflex upon arising on an empty stomach with 8-16 oz of water.

I have a reminder set on my iPhone to post another comment in late June or July 2013. Good luck everyone! I hope it works for you and if not, I pray that you will find some type of relief for your pain. ~rlm
product 0.3
---
Instaflex Joint Support Review – Does It Really Work?
4 out of 5 Stars
May 14, 2013 by Laurel
I took Glucosamine C/MSM for years with no results. I have severe feet, knee, hip and lower back pain. I live on the 3rd floor at my condo and have had to take my steps one at a time for a few years now. I started taking this … Not the entire dose – just 2 per day and in just a few days I noticed relief. My sister was visiting (she's had knee replacement and has worse arthritis than me)… We came home and I went up my stairs and it wasn't until I reached the top before I realized I climbed the stairs normally. Frankly, I was shocked at how well it worked and have no side affects whatsoever. This stuff works great (on me). I gave my sister some and she was shocked how quickly they worked on her too.
product 0.3
---
Instaflex Joint Support Review – Does It Really Work?
2 out of 5 Stars
Apr 18, 2013 by Jennifer
I've taken 2 doses (3 Capsules each dose) so far and the side effect I've noticed is EXTREME drowsiness! It is not safe for me to drive a car after taking this supplement. I have not noticed any relief yet to my joint pain in the hips. I will continue my trial, but will cancel the auto-ship. If I love it, I'll pick it up at GNC.
product 0.3
---
Instaflex Joint Support Review – Does It Really Work?
1 out of 5 Stars
Apr 12, 2013 by Paul
Tried Instaflex and it does nothing at all,
except perhaps to make your heels burn,
(only difference I noticed after taking the
capsules). Because the capsules are
filled with herbs they are not enough for
a full grown human. If you use medicinal
herbs, (NOT GANJA), you know it takes
a half cup or so to make one batch of
tea. Instaflex little caps did nothing for me.
product 0.3
---
Instaflex Joint Support Review – Does It Really Work?
4 out of 5 Stars
Mar 29, 2013 by Shannon
I have been taking Instaflex for about 10 days, and I have noticed a significant difference in my joints. After reading some of the reviews, I recalled having lower back cramps after the second day. I can't say that the pills are related to this but it did send me a red flag. However, that lasted a for 2 days, and I've been fine ever since. The stiffness I was getting after sitting is completely gone, and I am more active because I can move without discomfort. I hope these effects last because I feel great!
product 0.3
---
Instaflex Joint Support Review – Does It Really Work?
3 out of 5 Stars
Mar 15, 2013 by JAM
My husband has significant knee and hip pain. He took just one dose and within hours he began to feel relief, and was moving around actively and had incentive to do work around the house. Unfortunately hours later he began to experience itching and pins and needles on the ball of one of his feet which lasted into the next day. The Interflex works, but the side effects preclude him from continuing usage of the product.
product 0.3
---
Instaflex Joint Support Review – Does It Really Work?
1 out of 5 Stars
Feb 15, 2013 by Raj
My Mom took instaflex and it affected her heart beat-by that I mean the number of missed beats went up into the multiple 1000′s/day. She got dizzy and we had to rush her to a cardiologist. At first, we did not fully connect the dots but as soon as she incurred the problem we discontinued Instaflex and soon she became okay. After a few weeks, she restarted Instaflex and the above heart problem returned within a day. It was confirmed. Please be careful whom you recommend Instaflex to.
product 0.3
---
Instaflex Joint Support Review – Does It Really Work?
5 out of 5 Stars
Feb 14, 2013 by Deb
I have been suffering with knee and hip pain, and after seeing an Orthopedic Surgeon, I tried 2 steroid shots and an injection of Synvisc – neither of those helped me, so I had athroscopic surgery just a couple of weeks ago. Turns out, I had arthritis, a torn meniscus and lots of torn and worn out cartiledge. Jogging has always been my favorite form of exercise, but it has taken a toll on my joints as I am about to turn 60 this year. I don't run anymore – I now use a recumbent bicycle for cardio, I swim and do pilates and hand weights. Since my surgery, I have been very discouraged as I still have pain in my knee which seemed to be getting worse instead of better. A friend told me about Instaflex, so I picked up a bottle at a GNC store 4 days ago. The first day I took it, I noticed some improvement. Today, I am nearly pain free with no side effects. My husband, a physician (in Urology) is so impressed with my results that he is also going to try it. We have researched the ingredients, and found that most of the natural stuff are also known to be anti-cancer and anti-inflammatory – so you get added benefits for a healthier body. References: Anti-Cancer, A New Way of Living by Dr. David Servan Schriber, and info from the Environmental Working Group website.
product 0.3
---
3.2 5.0 13 13 Just received my trial bottle of Instaflex today and when I looked at the ingredients list, right at the bottom of it, was "Crustacean Shellfish", which I cannot take. I don't reme Instaflex Joint Support Review – Does It Really Work?