7-DFBX Review – The Fat Burning Detox Plan?
By:
Rob Miller
Fact Checked On: 4-6-2018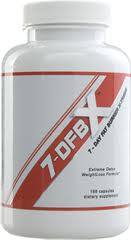 7-DFBX Overview
Lose weight in 7 days! 7-DFBX is a 7 day diet program.

It stands for "7 Day Gat Burner Extreme," and it claims to jump start your weight loss program and detoxify your body so you get off to a great start, motivated and ready to achieve continued success.

The formula is packed with all kinds of fat burning ingredients with the idea of burning as much fat and boosting your metabolism as possible within those 7 days.

The 7-DFBX reviews I've found have been pretty mixed, so we'll have to look a little deeper and see what we find.
7-DFBX Ingredients and How They Work
There are 15 ingredients in total, but here are the highlights:
Dandelion Root to detoxify and purify the liver and kidneys, encouraging the loss of excess water weight.

It's also got antioxidants to improve overall health.
Senna Leaf which is an herbal laxative to clear the digestive system which is important to the whole detoxification process.
Uva Ursi is an herbal antibacterial and anti-inflammatory to reduce swelling and improve urinary tract health.
Lactobacillus Acidophilus which is healthy bacteria to promote proper digestion.

It keeps your digestive system balanced and functioning cleanly and properly.
Cissus Quadrangularis which increases metabolism and fat burning while also decreasing appetite for all around weight loss support.
Caffeine Anhydrous which is the dehydrated form of caffeine which helps with energy and mental clarity while also increasing motivation.
The recommended dose is 4 7-DFBX capsules taken twice a day, before breakfast and lunch.
7-DFBX Pros and Cons
Advantages of 7-DFBX
The ingredients are all natural.
It's focused on detoxification for weight loss.
There's a money back guarantee.
It comes with a free additional product.
Disadvantages of 7-DFBX
Lots of 7-DFBX reviews talk about how it did nothing but increase the number of times they had to use the bathroom each day.
Where to Buy
You can purchase 7-DFBX through its official website.

A bottle sells for $19.99. If you buy 2 bottles at a time, you get a free bottle of Green Tea Extract.If you buy 3 bottles, you get 3 free bottles of Green Tea Extract.

There's a money back guarantee that includes one used bottle and as many unopened bottles as you return.
Conclusion
It seems like 7-DFBXis a little confused about what it wants to be.

On the one hand, it's a weight loss product. On the other hand, it's a cleanse.

While the two are certainly related, I think the product would do better to pick on to focus on.

As it is, there are too many customers finding that 7-DFBX doesn't really do anything.
Have You Used 7-DFBX?

Leave Your Review Below!
Top 3 Weight LossAffiliate Disclosure
Instant Knockout is actually a new fat burning supplement I just came across, and got great results.
LeanBean Female Fat Burner is the BEST fat burner for women we\'ve ever tested.

Read our review here.
Biohacks your body into instant ketosis to burn fat instead of carbs.

Weight loss, energy, focus, anti-inflammatory, anti-aging.
Ask A Question
User Questions and Answers
No Questions Have Been Answered For This Article.