ABB Speed Stack Review – Should You Use It?
By:
Rob Miller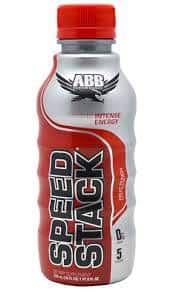 ABB Speed Stack Overview
There's a lot of talk about whether or not your pre workout should use stimulants.

The bottom line though is personal preference.

Some people like that amped up feeling as often as they can get it. Some people don't like it ever.

And some people find it useful occasionally, like on days it feels like a massive hurdle just to get their ass to the gym.

Whichever category you specifically find yourself in, there's always going to be a place for stimulant based pre workouts.
ABB Speed Stack is a ready to drink option from American Body Building.

Each bottle is a single serving, and you can buy it in packs of 12. Keep in in the fridge, and grab on on the way out the door when you're heading to the gym. The convenience can't be beat.

But let's take a look at the whole story to see if this is something that would work for you.
ABB Speed Stack Ingredients and How They Work
The ingredient profile in ABB Speed Stackis mainly focuses on energy.

With just 5 calories and 1 carb, you've got 760 mg of a proprietary energy blend including: Yerba Mate Extract, Metabromine Cocoa Extract, Caffeine, Bitter Orange Extract, Guarana Extract, and DMAE.
ABB Speed Stack definitely packs a punch.

Caffeine and Bitter Orange are a powerful thermogenic and energy boosting combination.

You do, however, want to be careful with it because the pair has been known to cause overstimulation in some.
Instructions are to start drinking the bottle about 20 minutes before your workout, and continue drinking it throughout.
ABB Speed Stack Pros and Cons
Advantages of ABB Speed Stack
It's very convenient because it's pre-mixed and ready to drink.
It provides great energy, especially for those early morning workouts.
There are plenty of great ABB Speed Stack reviews where guys talk about how the energy is clean.
Disadvantages of ABB Speed Stack
It's expensive.
The caffeine/bitter orange mix might be too much for some people.
Where to Buy
You can purchase ABB Speed Stack at GNC and online. Prices for the 12 pack range from about $26 to $45 so make sure you shop around.
Conclusion
ABB Speed Stack is great if you're in a rush, you don't have time to mix your powder PWO, or you ran out of your usual and haven't gotten out to get more.It's also great if you're particularly dragging one day or have an extra early workout session.

If you like stimulants, I would keep one on hand for those occasions.
Have You Used ABB Speed Stack?

Leave Your Review Below!
Top 3 Pre WorkoutAffiliate Disclosure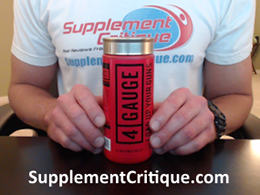 4 Gauge is a brand new pre workout that kicks in FAST and will rev up your workouts.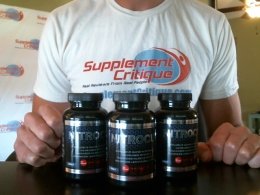 Nitrocut is a VERY effective pre workout supplement for a variety of reasons, see why here.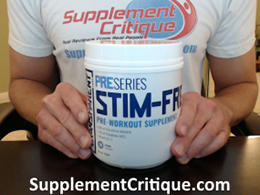 If you're looking for a stim-free pre workout, add Transparent stim-free to your list!
User Reviews

5.0 out of 5 Stars (1 Reviews)
Have you used this supplement?
Great energy and feeling
By
Billy

,
Aug 5, 2020


In Short:

I would recommend this to a friend.
I recently started working out again for the first time in about 10 years. I'm a 38 year old father of 3 small kids (6,2 and 1). Was looking for that extra energy boost for whenever I find the time for a quick lifting session or workout. I tried ABB Speedstack for the first time today. It was an incredible boost of energy and even a mood enhancer for me. I felt great for the whole 30 minute workout and kept a smile on my face for an hour afterwards. It also felt like it enhanced the pump. I will use this often!

Was this review helpful to you?

---
Want To Really Get Ripped?

Click Here To Download My FREE "Get Ripped" Ebook!
Ask A Question
User Questions and Answers
No Questions Have Been Answered For This Article.