ANS Performance Ritual Review – Does It Work?
By:
Rob Miller
Fact Checked On: 5-11-2015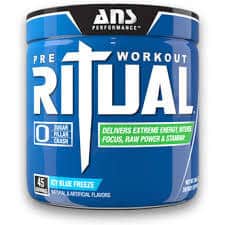 ANS Performance Ritual Overview
One thing you'll notice about pre workout supplements when you start looking for a new one is that they can have many different focuses. Some are all about the stimulants. Some are all about the pumps. Some are all about endurance.

ANS Performance Ritual's claim to fame is that it's a complete, all around formula that focuses equally on all aspects of your pre workout game.
ANS Performance Ritualtakes on all the angles anyone could want from their pre workout supplement, and puts them together in this one product.

You've got energy and focus, you've got nitric oxide for your pumps, you've got muscle power, and you've got muscle endurance. No more need for stacking pre workouts.

This one's got it all.
ANS Performance Ritual Ingredients and How They Work
The ingredient profile is ANS Performance Ritual's claim to fame.

It's very well-rounded and includes:
Beta Alanine which forms carnosine to buffer against the build up of the lactic acid that can cause muscle fatigue during exercise.

You can push your muscles harder for a longer workout, leading to better, faster results.
Citrulline which is known as the "pump" amino acid for its ability to increase nitric oxide levels.

And it's got the added bonus of reducing lactic acid as well.
Creatine Monohydrate which increases ATP levels which allows your muscles to work harder and push more weight.
Trimethylglycine (aka Betaine Anhydrous) which can help prevent dehydration of cells and amplify your training output.
Agmapure which increases nitric oxide production.
Xanthaurine which is an antioxidant that can also increase nitric oxide levels.
N-Acetyl L-Tyrosine which is a precursor to the feel-good neurotransmitters epinephrine, dopamine, and norepinephrine.

Better mood translates to increased motivation.
DN1000 which is a trademarked form of Dendrobium Nobile Extract which supports the immune system.
PEA (Phenylethylamine) which supports mood, energy, and focus.
Higenamine which increases thermogenics.
Astragin which is a patented combination of Astralagus and Panax Ginseng for increasing the absorption of vitamins and amino acids.
Recommended use is one scoop with 6-8 ounces of water about 15-30 minutes prior to your workout.

You can boost that up to 2 scoops once you assess tolerance.

It's not recommended that you take ANS Performance Ritual within 4 hours of going to bed.
ANS Performance Ritual Pros and Cons
Advantages of ANS Performance Ritual
It's an all around pre workout so you don't have to stack several pre workout products.
There are lots of positive ANS Performance Ritual reviews from customers who say it gave them decent energy and great pumps.
It comes in several flavors (Fruit Fusion, Peach Mango Twist, Wicked Watermelon, Candy Green Apple, and Icy Blue Freeze).
Disadvantages of ANS Performance Ritual
It can get expensive if you end up using 2 scoops, which is what most guys seem to do.
Some reviewers complain that the energy isn't enough and that the taste isn't very good.
The creatine dosing is a little low, so you may need an additional source.
Where to Buy
You can purchase ANS Performance Ritual online or at GNC.

They sell a 5 serving package for $6.99, a 30 serving tub for $24.99, and a 45 serving tub for $34.99. Prices vary depending on the retailer, so you'll want to shop around.
Conclusion
If you want just one workout supplement, ANS Performance Ritual is a good choice.It's well rounded, not loaded up with stimulants, and the ingredient levels are decent.

You'd probably want to supplement your protein in addition to taking this, but that's about it.

One caveat: if you're one to like heavy stimulants in your PWO, ANS Performance Ritual isn't for you.
Have You Used ANS Performance Ritual?

Leave Your Review Below!
Top 3 Pre WorkoutAffiliate Disclosure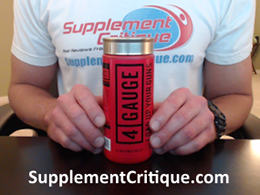 4 Gauge is a brand new pre workout that kicks in FAST and will rev up your workouts.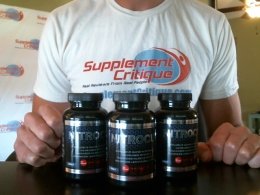 Nitrocut is a VERY effective pre workout supplement for a variety of reasons, see why here.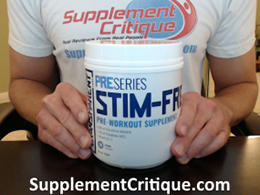 If you're looking for a stim-free pre workout, add Transparent stim-free to your list!
Want To Really Get Ripped?

Click Here To Download My FREE "Get Ripped" Ebook!
Ask A Question
User Questions and Answers
No Questions Have Been Answered For This Article.