BPI Lean, Hard & Shredded Stack Review
By:
Rob Miller
Fact Checked On: 2-23-2015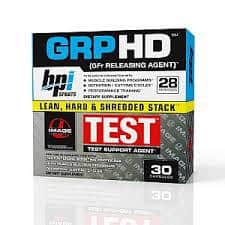 BPI Lean, Hard & Shredded Stack Overview
Supplement stacks can be really effective when you're trying to reach your cutting goals.

They can help you with more energy for your workouts, more efficient fat burning, even appetite suppression so you can stick to your calorie restrictions.

Of course, they each have their own specialties and focuses.

The one we're looking at today is the BPI Lean, Hard & Shredded Stack, and it places most of its focus on improving hormone levels and ratios.
BPI Sports is pretty well known in the business, and you can buy their supplements pretty easily.

They're available online as well as in stores.

They make all sorts of products for all sorts of bodybuilding goals.

The BPI Lean, Hard & Shredded Stack is a little unique in that you buy it as a single product but it really includes 2 distinct products, each of which can be used on its own in addition to together.

The two products are: GRP HD and Test.
What Is GRP HD?
This is what they call an HGH (or Human Growth Hormone) Releaser.

What that means is that it stimulates your glands to secrete an increased amount of HGH.

With more HGH, you're fitter, stronger, better rested, and you even feel younger.

When our bodies are young, we have an abundance of the stuff.

But as we get older, we make less and less, and that has a huge effect on our ability to build and maintain lean muscle mass and burn fat.
GRP HD (Growth Factor Releasing Peptide) uses a proprietary blend of ingredients that may actually increase our body's ability to produce and release Human Growth Hormone.

Included in the blend are: Chinese Wedelia, Yellow Gentian, Kudzu, Eucommia, Indian Banyan, and Southern Elder.

Unfortunately, they don't offer explanations of how any of these increases HGH.

I did some searching myself, and there's really nothing out there explaining how these ingredients will effect HGH production.
What Is Test?
The Test in the BPI Lean, Hard & Shredded Stack is a testosterone support agent.

Our bodies also produce less and less testosterone as we age, so taking something that can increase that amount naturally will have a strong positive effect on our athletic performance.

Test uses dual action to both increase testosterone and decrease the effect of estrogen, to make it that much more powerful.

The ingredients in Test include: Zinc, Calcium, Copper, Japanese Knotweed, Indian Kino Tree Bark, and Clove.

Again, there's no explanation of how any of these increases testosterone and/or reduces estrogen, and I haven't been able to find that information independently.
Instructions are to take 1 GRP HD capsule and 1 Test capsule each day, preferably in the morning on an empty stomach.
BPI Lean, Hard & Shredded Stack Pros and Cons
Advantages of BPI Lean, Hard & Shredded Stack
The idea of taking an HGH releaser with a testosterone booster is a good one for anyone looking to increase lean muscle mass and tone while getting rid of fat.
You can pick it up at GNC.
Disadvantages of BPI Lean, Hard & Shredded Stack
It's very expensive.
The two formulas don't use any of the ingredients we expect to see with HGH and Test boosters.
We couldn't find

BPI Lean, Hard & Shredded Stack

reviews from customers who've used it.
Where to Buy
You can purchase BPI Lean, Hard & Shredded Stack at GNC or online, but I gotta warn you. It's pretty expensive.

A one month supply costs anywhere from $72 to $90.
Conclusion
I totally like the idea of this stack, but I don't see how BPI Lean, Hard & Shredded Stack will work in the real world.It's expensive, and there's no real indication that the ingredients will do what they say they do.

Do a little homework and you should be able to find a great HGH Releaser and Test Booster that you can put together as a stack.
Have You Used BPI Lean, Hard & Shredded Stack?

Leave Your Review Below!
Top 3 Testosterone BoostersAffiliate Disclosure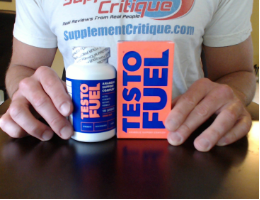 Testofuel is the most effective testosterone boosting supplement on the market that i've tested.

It uses a unique blend of effective testosterone boosting ingredients that will help transform your life.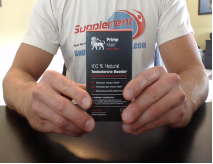 Prime Male is a VERY close 2nd to Testofuel, but contains ingredients to help older men. See why we recommend Prime Male for guys aged 40+, as well as my personal results.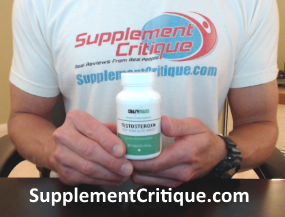 Testoroxyn uses DHEA and other ingredients to help boost free testosterone. See how Testoroxyn is different from Testofuel and Prime Male, as well as my personal results.
Check Out My Top Choice For T Boosters - Testofuel

Click Here To Read My Review
Ask A Question
User Questions and Answers
---

I'm a long distines runner can i take 1more rep with the fat burner before. I run or after -Mark

Taking it before would give you more energy for your run.- Rob
Was this question helpful to you?

ASK A NEW QUESTION