Brute Gains Review: 1 BIG Reason To Avoid It
By:
Rob Miller
Fact Checked On: 5-3-2018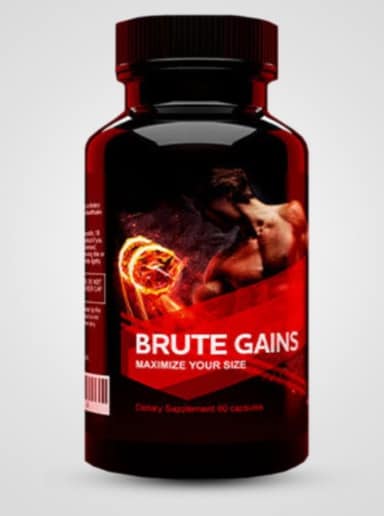 When I hear about a new supplement, generally speaking I give it a 1 in 10 chance of working.
This comes from MANY years of reading the claims, analyzing the reviews, and personal resting.
The success rate of a supplement is LITERALLY that low.
When I first heard of Brute Gains, and took a look into it, I knew that this would likely be on the lower end of the spectrum.
What is Brute Gains?
According to the vast amounts of supplement review sites that are apparently promoting it, Brute Gains is a little bit of everything:
One site says it "increases the appearance of muscle mass", whatever that means.

Another site says it "improves your stability":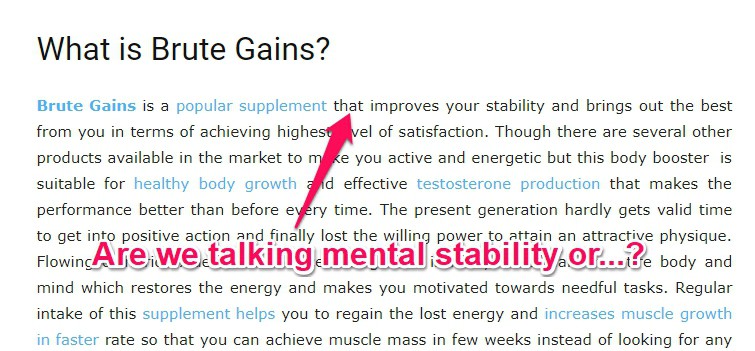 What Are The Ingredients?
Just like with the claims about what it does, the claims about what's actually IN Brute Gains are just as vague and misleading.
Like before, one supplement site says it contains oyster extract, fenugreek extract, horny goat weed, and tribulus terrestris.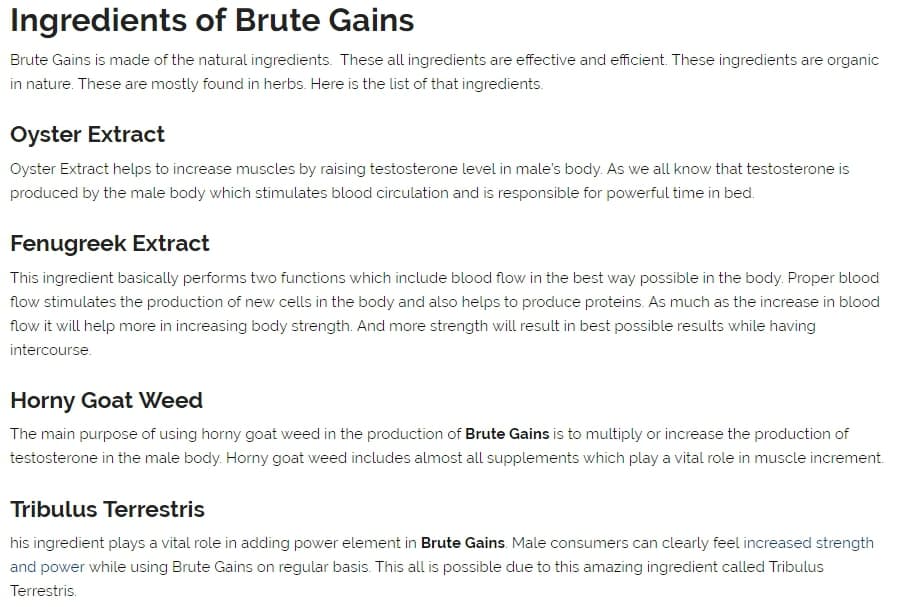 Another completely different site says it contains tribulus terrestris, Rhodiola Crenulata, L-Arginine HCL, and Vitamin B12.
Yet one more site says it only contains L-Arginine and L-Citrulline:


This same site shows an apparent screenshot of the "Brute Gains" website, but upon closer examination it's not EVEN the actual site: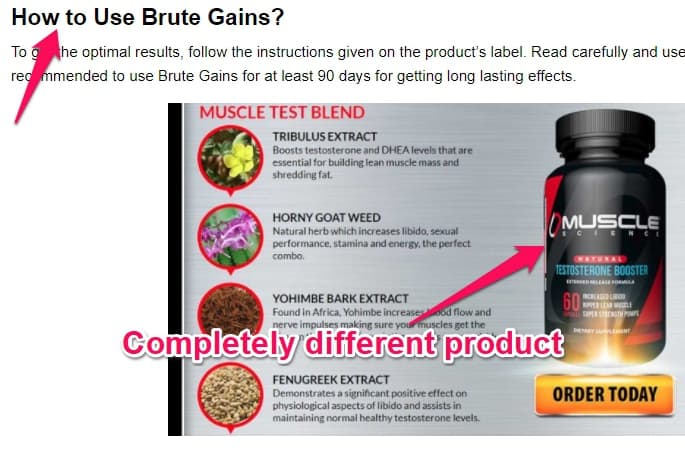 So What The F#$K Is In It?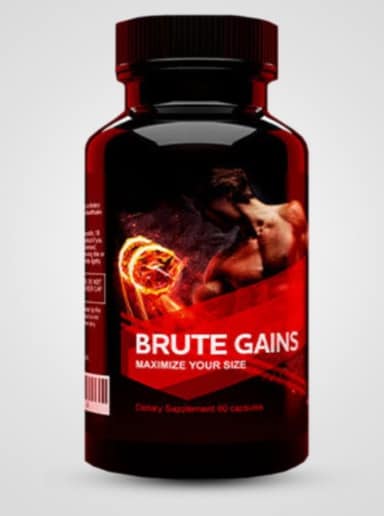 Well, that's a good question that unfortunately we don't have an answer for.
We know it's a supplement, that's for sure.
But what kind of supplement is it?
Is it a:
All we know according to the front of the label is that it will help "maximize your size".
The official site (www.BruteGains.com), makes no mention as to what the exact formulation is, resorting to blanket statements like:
"a healthy way to promote free testosterone", and:
"powerful ingredients will disperse throughout your body, optimizing testosterone levels."
That's great to hear and all, but I don't know about you…
…I'd like to know what I'm putting in my body.
Potential Side Effects of Brute Gains
Unknown at this time. My guess is it contains some variation of L-Arginine, and probably either Tribulus Terrestris, saw palmetto, and maybe a little DHEA sprinkled in.
Just know this…
ANY supplement has the potential for side effects, despite them claiming otherwise.
Brute Gains Reviews
Apart from the COUNTLESS amount of affiliate sites that are talking about it, no one seems to have personally tested it.
This has become a major problem in the industry over the last couple of years.
The google search results are literally inundated with hundreds, in some cases 1,000's, of low quality information sites revolving around brands of supplements.
Unlike SupplementCritique.com, where we take a practical, in-depth look at what supplement companies are claiming, these sites simply write a bunch of dribble, and flood their websites with a s$%t ton of backlinks, allowing them to rang higher in Google.
For example, take our review of a product called Biogenic XR, which is a supplement I've actually personally tested and wrote a comprehensive, detailed, and FACTUAL review of.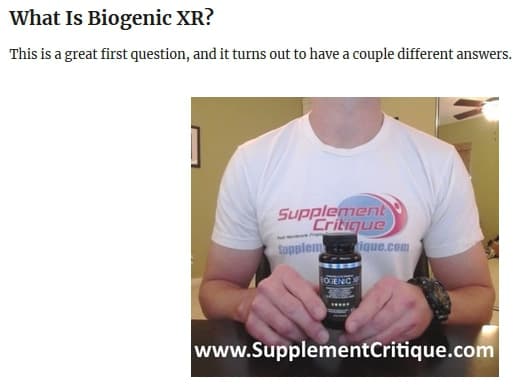 When you run a google search for something like "biogenic xr reviews", you're inundated with credible-sounding websites like:
"healthprouds dot com"
"xtrfact dot com"
"wellnessfeeds dot com"
"dro oz healthblog dot com"
All of these sites have headlines that are SCREAMING for your attention, noting that they seem to have the answer to life little mystery "does biogenic xr really work?"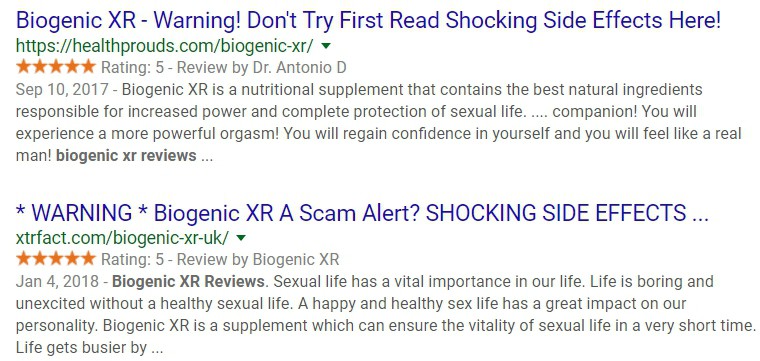 However, when you look at the content on these pages, it's almost laughable.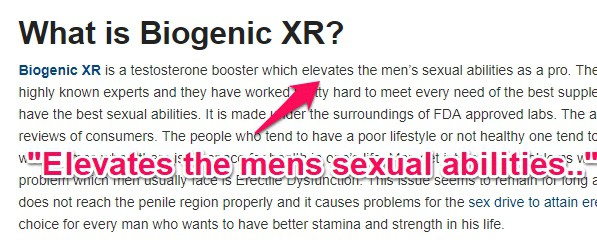 None of the content makes sense, and it's certainly not a "review".
Especially when compared with my detailed review, which unfortunately for anyone looking for a REAL review, will have to click on page 2 of the google search results.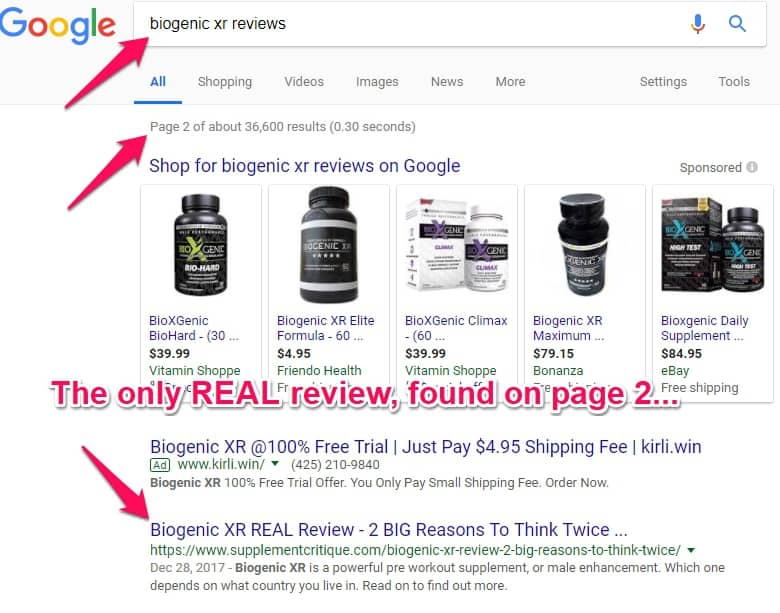 Unfortunately for most people searching for a REAL review of Brute Gains, this is indeed the case here.
Where To Buy Brute Gains
The only place I'm seeing Brute Gains pills for sale is on their official website, www.BruteGains.com.
The only way you can buy it is to enroll in their "free trial", which is a fancy way of saying you have 14 days to use the product before they slap your credit card with a $75 charge.
As I've mentioned in COUNTLESS reviews at this point, this is indeed not a free SAMPLE.
Instead, you basically have 14 days to use the supplement, and if you don't call to cancel, they end up billing the credit card you used to signup a WHOPPING $75 plus the cost of shipping.
It's all right here in the terms and conditions, check it out:
You won't find Brute Gains for sale in stores like GNC, Walmart, Walgreens, or CVS, nor' is it for purchase on sites like Amazon or eBay.
Recommendation
I see supplements like Brute Gains come and go all the time, with varying frequency.
Could it indeed have some benefit?
Maybe.
But without knowing what they're actually pumping in the stuff, it's hard to draw any conclusions.
Even if we DID know what was in it, the sheer fact that the only way you can buy Brute Gains is via a free trial, it should be enough reason to give pause.
I would recommend you forgoe Brute Gains and stick with REAL supplements with REAL websites, REAL reviews, and a solid formula to back up their claims.
Have You Used Brute Gains? Leave Your Review Below!
Top 3 Testosterone BoostersAffiliate Disclosure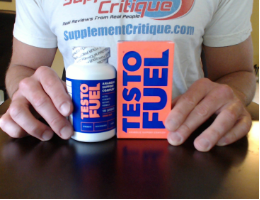 Testofuel is the most effective testosterone boosting supplement on the market that i've tested.It uses a unique blend of effective testosterone boosting ingredients that will help transform your life.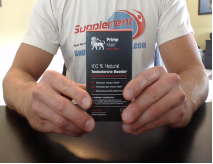 Prime Male is a VERY close 2nd to Testofuel, but contains ingredients to help older men. See why we recommend Prime Male for guys aged 40+, as well as my personal results.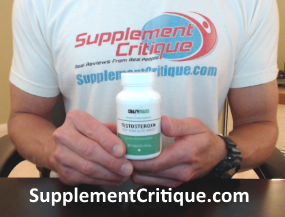 Testoroxyn uses DHEA and other ingredients to help boost free testosterone. See how Testoroxyn is different from Testofuel and Prime Male, as well as my personal results.
Ask A Question
User Questions and Answers
No Questions Have Been Answered For This Article.