Update!We had someone test out Burn TS to see if it really works as well as they say it does.
Click Here to read
her full review, complete with before and after pics and a daily log of her results!
There are countless fat burners on the market, but it can still be an uphill battle trying to find fat burners that work.

That's why I've written this in-depth fat burner review on a new product called Burn TS that promises to help you lose weight and decrease BMI.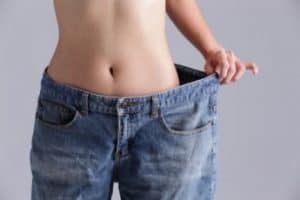 So you're in the right place if you want to know EXACTLY what Burn TS can really do for you on your weight loss journey.
And SO many of us are on this journey.

Especially when the summer months come around and we want to lose weight for the beach, or an upcoming wedding, or whatever the occasion.
Maybe you've tried all the fad diets and natural fat burners and exercise programs, but nothing seems to stick.
You just want a weight loss supplement that works.

One that you can take to the bank and finally stand behind.
You've probably found that many of the fads and trends simply do not work for you in the way that the hype surrounding them would suggest, and that is okay.
So whether you're a bodybuilder looking to trim around the edges and get cut, or you're trying to shed some serious pounds and lose those pesky love handles. . . let's find out if Burn TS fat burner is right for you.
Related Article:Instant Knockout Fat Burner Review
About the Company
Dietspotlight.com is the company that makes Burn TS.

The company was formed back in 2008, and since then they've become a trusted source for all things health & wellness and sustainable weight-loss.
They're located in Coral Gables, FL.

And they've built up quite the team over the years.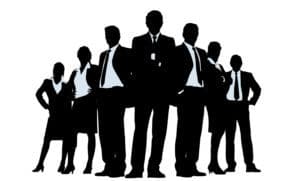 I'm always wary of companies that don't list contact details or anything about their operations, so I was happy to learn that Diet Spotlight is pretty much an open book.
For instance, they list their entire team on their 'About' page, from the top executives down to contributing writers. That's good business.

Here are the head honchos. . .
All in all, Diet Spotlight is a reputable company that mostly does weight-loss supplement reviews.

But they've also rolled out a few supplements of their own.
One nice thing is that they don't bombard you with their products as soon as you land on their website.

Instead, they position themselves as a trusted authority in the health, wellness, and dieting space.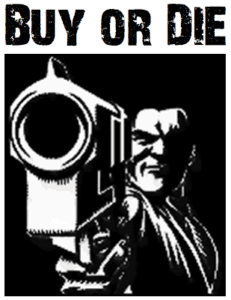 Now that you know about the company behind the product, what is Burn TS and does it really work?

Well, let's dig in!
What is Burn TS?
Burn TS is a dietary supplement marketed as an "Advanced Weight Control Formula" that will help you to:
Burn Fat
Lose Weight
Boost Energy
Simple enough, right?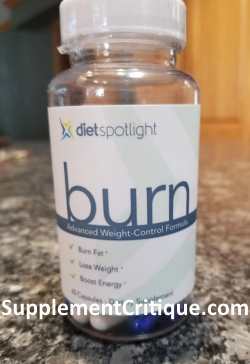 The product is different than most other weight loss supplements on the market because of the ingredients it contains.

So let's find out what's in it.
What are the Ingredients in Burn TS?
The ingredients in Burn TS, while similar to other fat burners, are different because of the dosing.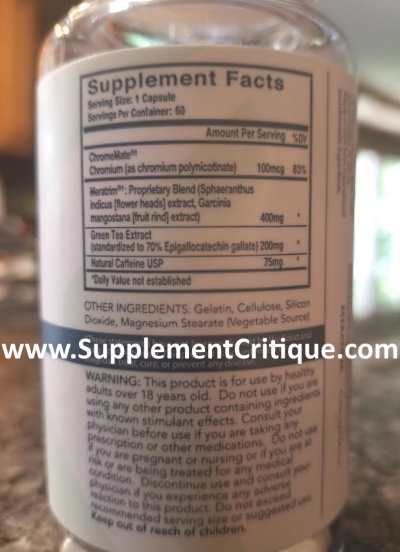 Burn TS ingredients include:
Meratrim 400mg
Green tea extract 200mg
Chromium ChromeMate 100mcg
Caffeine 75mg
Catch that? 75 mg of caffeine.

That's on the low end for most fat burners.

You'll find tons of fat burners on the market with 200-300+ mg of caffeine.

Talk about a kick in the pants!
75 mg of caffeine is less than you'd find in your typical cup of coffee.

This is a manageable amount of an otherwise intense stimulant when taken in higher concentrations.

And according to the makers of the product, this amount of caffeine is "enough to stimulate the metabolism of fatty acids, but without an unpleasant jittery feeling."
And as for the rest of the Burn TS formula, here's what each of the ingredients do to support weight loss. . .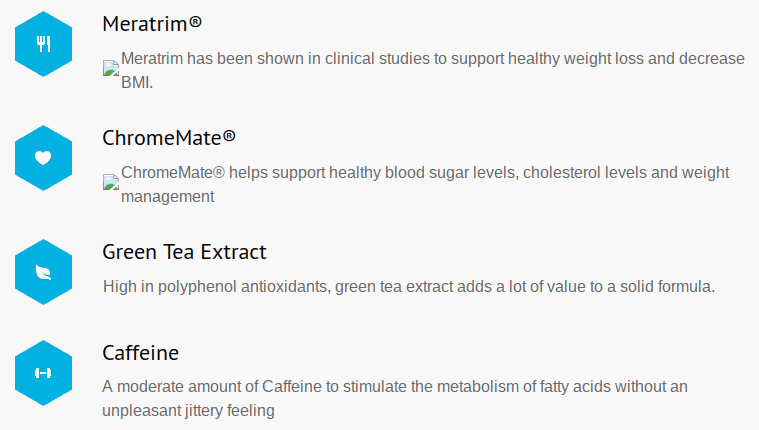 ChromeMate is said tosupport healthy glucose and blood-sugar levels. [1] And Green tea extract is found in many fat-burners, and when combined with healthy eating and exercise, is shown to help with moderate weight loss. [2, 3]
Now, the main ingredient Meratrim is worth taking a closer look at.
What is Meratrim and how does it help with weight loss?
Meratrim is a non-stimulant weight loss formula in itself.

It was created by researchers from InterHealth, a California-based outfit founded in the 1980's.

The proprietary Meratrim formula is essentially an herbal blend extracted from a flower and a fruit.

The flower extract is Sphaeranthus indicus, and Garcinia mangostana is the fruit extract.
OK, so what's that have to do with weight loss?
Well, there have been several studies about the efficacy of Meratrim when it comes to burning fat.

For instance, Healthline.com wrote an entire piece called "Meratrim, a Weight Loss Supplement that Seems too Good to be True." Source
But hold on Eeyore. . .
In the article, they highlight a study where 100 obese people were split into two groups, with one group taking Meratrim and the other group taking a placebo.
And here's what they found. . .
"[The Meratrim group] lost a total of 11 pounds (5.2 kg), while the placebo group lost only 3.3 pounds (1.5 kg).

The Meratrim group also lost 4.7 inches (11.9 cm) off of their waistlines, compared to only 2.4 inches (6 cm) in the placebo group."Source
Not bad, Meratrim, not bad.
Additionally, an analysis of the safety and toxicity of meratrim found that it was safe when taken in normal quantities. [4]
If that's not enough, another study involving 60 obese participants found meratrim caused statistically significant reductions in body weight. [5]
In the end, Healthline found that Meratrim is actually pretty darn effective as a fat-burner, and perhaps not too good to be true (cheer up Eeyore!).
Also, here's an informative video all about Meratrim, the main ingredient in Burn TS, and what it can do for those looking to lose weight: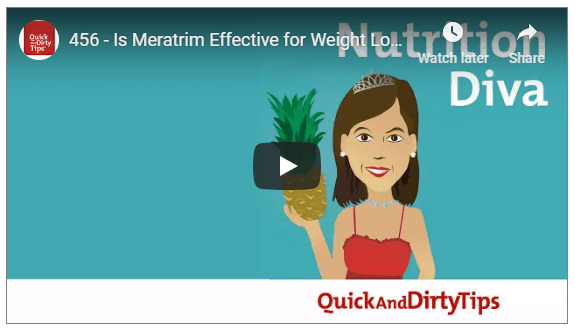 Burn TS FAQ's
Burn TS could potentially interact with certain medications or medical conditions.
Use caution and speak to a doctor before using it.
We've hired a pharmacist who has answered many of the most common questions we get.Reviewed byDr. Brian Straub, Pharm.D.
*Click Here for a full list of potential drug interactions.
Is Burn TS safe to take if I am pregnant or breastfeeding?
It is best to avoid use of Burn TS when pregnant or breastfeeding.

Chromium, found in this supplement, is only recommended at the level of adequate intake (AI).

The AI for pregnant women 14 to 18 years-old is 29 mcg daily.

For pregnant women 19 to 50 years-old, it is 30 mcg daily.

The dose in this supplement is 100 mcg and exceeds the AI levels by more than 3 times.

The AI for breast-feeding women 14 to 18 years-old is 44 mcg daily.

For breast-feeding women 19 to 50 years-old it is 45 mcg daily.The dose in this supplement exceeds the AI level for breast feeding women by 2 times.
Burn TS also contains caffeine, which is best to moderate when pregnant or breastfeeding.

Caffeine easily passes the placenta in women who are pregnant, but is generally less a concern in breastfeeding mothers.
Additionally, a few of the ingredients in Burn TS do not have reliable evidence in those that are pregnant or breastfeeding.
How do I take it?
According to Diet Spotlight, you'll "take one capsule in the morning and another in the afternoon, 30 minutes before meals."

You will get a one-month supply of 60 capsules in the bottle.
How long does it take to start working?
Again, while the product seems promising, it isn't a magic-fat-burning-bullet, so you'll want to give it some time.

Patience is a virtue when it comes to weight loss.
Within the first couple of weeks you might notice moderate results, but if you continue taking the supplement over time, cycling it appropriately while exercising and maintaining a healthy diet, you'll likely experience results in months, not days or weeks.

It's just the nature of the beast.
Remember, the journey IS the destination.

You've got this. 😉
Do I need to Eat Healthy and Exercise while Taking Burn TS?
Yes indeed.

This isn't some miracle pill that'll burn the fat while you sit around eating donuts all day.
As with any fat-burner, you're gonna get the most optimal results if you combine it with an all-around healthy lifestyle of good eating habits and daily exercise.

Don't skimp here.

If you want real weight-loss results, you have to make real sacrifices and put in the work.
Are there any side effects?
Good question.

We've heard horror stories of certain fat-burners and people who abuse them.
But according to the makers of the supplement, "The product is all-natural and over 7 years and 400,000 customers we haven't found any mentions of serious side effects." Source
While this does inspire some confidence, we weren't born yesterday.

Just because they "haven't found any," doesn't mean they don't exist.
Burn TS has potential Drug and medical condition interactions.Click Here to readsome frequently asked questions we get regarding this, as well as a full list of prescription drug interactions.

Reviewed by Dr. Brian Straub, Pharm.D.
So again, let's have a quick look at the ingredients to see what you could potentially experience for side effects:
Meratrim: Remember that HealthLine article and the study they cited?

Well, they say that, "There were no side effects or adverse reactions noted in the study.

Meratrim appears to be safe and well tolerated." Source
Chromium ChromeMate:WebMD says "Some people experience side effects such as skin irritation, headaches, dizziness, nausea, mood changes and impaired thinking, judgment, and coordination." Source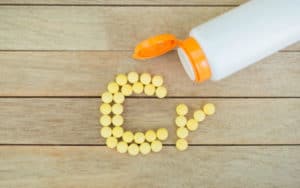 Green Tea extract: It's 200 mg so it shouldn't be overwhelming, especially if you're taking it before a meal as directed.

However, according to Diet Spotlight, "those who do take this natural stimulant can experience anything from insomnia, high blood pressure, tachycardia, and anxiety."Source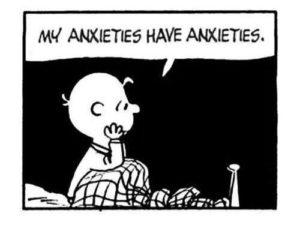 Caffeine:With only 75 mg of the stuff, you shouldn't react too negatively, if at all.

However, the company does have a disclaimer on their Amazon page:"NOTE: Please do not take if you have a sensitivity to caffeine.

Do not take with caffeinated drinks like coffee or tea." Source
From what I know of these ingredients and this formula, you shouldn't be too concerned about negative side effects.
But everyone's body and tolerance level is different, so your mileage may vary.

If you're truly concerned you may react negatively, you can consult with a medical expert before taking Burn TS.
Can I take Burn TS if I Have High Blood Pressure?
It's generally a good rule of thumb to steer clear of fat burners if you suffer from high blood pressure.

But. . . that's typically the case because so many of them are super heavy on stimulants.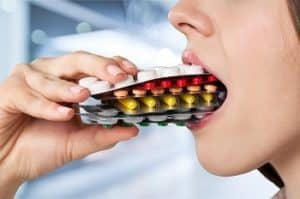 Not so with Burn TS.

Remember, the main ingredient Meratrim isn't a stimulant at all, and the caffeine and Green tea extract in the formula probably isn't enough to increase your blood pressure any significant amount.
But again, it's always best to consult a medical expert if you're concerned how you might react to a supplement.
Can I take Burn TS if I have LOW blood pressure?
There appear to be no direct interactions or concerns for taking this supplement if you have low blood pressure.
Can I take Burn TS if I have diabetes?
Some of the ingredients may lower blood sugar and alter the effects of insulin.

When adding a new supplement that may lower blood sugar, it is best to monitor your blood sugar daily for the first week.

If you experience hypoglycemia, stop the supplement and speak with your doctor about possibly altering your regimen.
Are allergic reactions possible with Burn TS?
Those with a Chromate or leather contact allergy should avoid this supplement.
Can I take Burn TS with Viagra / Cialis?
There appear to be no specific interactions between this supplement and Viagra or Cialis.
Can I take Burn TS if I am taking anti-depressants?
It is best to use caution when taking caffeine with any mental disorder.

Do not take this supplement if you are taking MAOI's for depression. (See below.)
Can I take Burn TS if I have a bleeding disorder?
It is best to avoid this supplement if you are taking blood thinners.

If you do choose to use this supplement, monitor for signs and symptoms in increased bleeding including bruising and bleeding gums.
Can I take with caffeine or other stimulants?
It is best to avoid stimulants while taking this supplement as there is already caffeine in this product.
Is Burn TS FDA approved?
Since supplements don't fall under scrutiny by the FDA, no. [6]
However, they do occasionally test out supplements to see if they're injecting any illegal substances in them.
It's HIGHLY unlikely that Burn TS is doing this, but stranger things have happened.
Can I take Burn TS with alcohol?
Looks like you're not the only one who's looking to get tossed AND lose weight at the same time. . .

I talk in-depth about mixing fat burners with alcohol in this review, but here's the thing. . . many fat burners have upwards of 500+ mg's of straight stimulants.

Mix stimulants with a night of heavy drinking and you're gonna pay the consequences.
Fortunately (and I hate to beat a dead horse) Burn TS is not a stimulant-heavy supplement, so you probably shouldn't worry too much if you want to have a couple of drinks while taking the product. But again. . .

I'm no doctor.
Are there any others medical reasons why I shouldn't take Burn TS?
Do not take this medication if you have:
Bleeding Conditions
Behavioral or psychiatric conditions such as depression, anxiety, or schizophrenia
Heart Conditions
Liver Disease
Kidney Disease
Epilepsy
Glaucoma
IBS
Osteoporosis
Parkinson's
You should stop taking this supplement within two weeks of any surgery.
Possible Drug Interactions
Major:
Stimulants

ephedrine
amphetamines
diethylpropion (Tenuate)
epinephrine
phentermine (Ionamin)
pseudoephedrine (Sudafed)
phenylpropalamine
and many others.
Moderate:
Mental Health

MAOI's

phenelzine (Nardil)
tranylcypromine (Parnate)
and others

Blood Thinners

Aspirin
clopidogrel (Plavix)
diclofenac (Voltaren, Cataflam, others)
ibuprofen (Advil, Motrin, others)
naproxen (Anaprox, Naprosyn, others)
dalteparin (Fragmin)
enoxaparin (Lovenox)
heparin
warfarin (Coumadin)
and others.

Antidiabetic medications

glimepiride (Amaryl)
glyburide (DiaBeta, Glynase PresTab, Micronase)
insulin
pioglitazone (Actos)
rosiglitazone (Avandia)
chlorpropamide (Diabinese)
glipizide (Glucotrol)
tolbutamide (Orinase)
and others

Antibiotics

Quinolones

ciprofloxacin (Cipro)
enoxacin (Penetrex)
norfloxacin (Chibroxin, Noroxin)
sparfloxacin (Zagam)
trovafloxacin (Trovan)
grepafloxacin (Raxar)

Estrogens

conjugated equine estrogens (Premarin)
ethinyl estradiol
estradiol
and others

Others

levothyroxine (Synthroid)
Adenosine
Cimetidine (Tagamet)
Clozapine (Clozaril)
Dipyridamole (Persantine)
Disulfiram (Antabuse)
Fluvoxamine (lantsLuvox)
Pentobarbital (Nembutal)
Riluzole (Rilutek)
Theophylline
Verapamil (Calan, Covera, Isoptin, Verelan)
Burn TS Reviews
There are a number of Burn TS user reviews out there.

I've picked the most helpful of them all and compiled them here.

Let's dive in with the positive reviews first.
Overall, you'll see the Amazon.com reviews are mostly glowing, with 85% of users loving the supplement to the tune of 5-stars.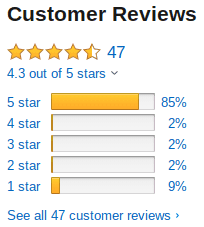 One user was pleasantly surprised with how Burn TS gave her a boost in energy and curbed her appetite.

She also mentions the whole caffeine aspect and not getting all jittery, even after drinking her morning coffee. . .

Another user of the supplement says that it really helps to reduce food cravings, but don't take before bed time!

It just works. . .
And what's a fat burner without results?

Check out the weight-loss results in this review. . .

But you can't please everyone.

In fact, it seems to be one of those love-it-or-hate-it supplements.

I came across a few 1-star reviews, with the biggest complaint being that it made people sick and/or didn't help at all with weight loss.
One suspicious reviewer says she felt "duped." Here's what she had to say:

Now whether these reviews are real or fake is up for debate. I can't make that call.

Perhaps it's still too early in the game for Burn TS.

Time will tell as more people try the product.

But the funny thing is, this woman admittedly hasn't even tried the product.

So I'd take her negative review with a grain of salt.
Unfortunately I couldn't find any Burn TS before and after pictures, but I plan on updating this review as they come up.
Our Personal Results
As part of our STEPuP program, we sent a free bottle of Burn TS to one of our visitors to test out.
We'll be posting her daily log and final results below, as well as before and after pictures documenting her progress.
Bookmark this page to follow along with her experiment!
STEPuP Tester: Mindy W.
Burn TS Results – Week 1
I began a healthy lifestyle about 15 years ago around 30. I lost weight quickly and easily just cleaning up my diet and working out.

I was able to easily maintain my weight 113-115 until the last 2 years which I would go up and down 120-126 no matter what I did: zero carbs, low calories, upping my workouts.
I went through menopause in my mid 30's (extremely early) so I had finally given up and figured my hormones were preventing me from getting back to my usual weight.

My energy was OK – not as great as it has been but not terrible.

I had been looking at another "green drink" to boost my energy and help with appetite and all reviews kept mentioning BURN TS as being a good alternative so I started checking out the BURN TS reviews.
I felt like I just needed something to break through this plateau because nothing I was doing was working.

Nothing that had worked in the past seemed to help.

Given that, I did not have high expectations.

I have tried lots of supplements for various things.

I have tried many supplements to help with sleep, supplements to try to reverse my early menopause and balance my hormones, after getting sick with MRSA (cut my leg at the gym), supplements to help reduce stress and just for general well being.

I never really noticed any difference with any of them except for in my bank account!

So I wasn't very confident in this produce either even though it kept popping up as very well rated.
My goal is to get close to my previous weight of 115 and get my energy back up.
Weight: 120.8
Height: 5'2"
Aug 30th PM – Before pics taken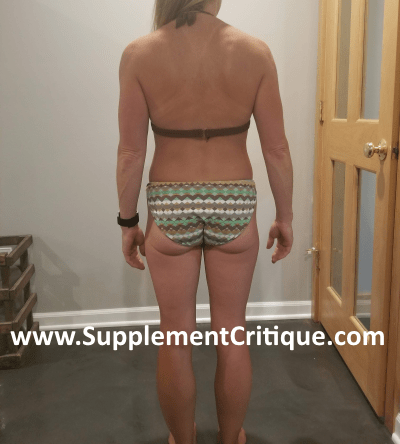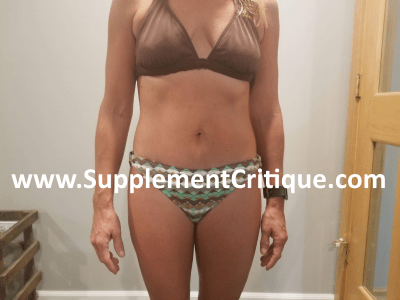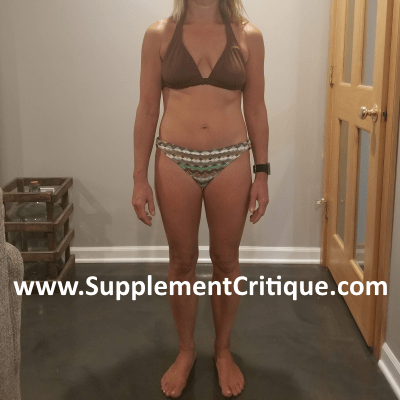 Aug. 31 –
Weight 120.6
I did notice a good deal more energy and decrease in my appetite.

I usually come home and raid the fridge minutes after I get home.

I did out of habit but after a little bit of food, I felt uncomfortably full which is something I very rarely ever fee.

Even though I eat very healthy, I am a volume eater and never feel full.

I usually have no problem eating when not hungry.
I still wasn't very hungry by dinner but ate a little, again I got full very quickly.

But I did start to get hungry by bedtime and I was pretty tired again.
Sept. 1 –
Weight 118.8
Pretty impressed but my weight can fluctuate 1 to 2 pounds per day so skeptical.
Again noticed pretty good decrease in my appetite which really helped curb my eating.
Sept. 2 –
Weight 118.2
So far so good.
Well today was a tough one.

Out for Labor Day parties and didn't have the best choices of food available.

Even though I still feel a good decrease in my appetite, my food options were not helpful and not nearly as clean as I usually eat.
Sept. 3 –
Weight 120.6
I bit bummed but not surprised with the weight gain given the day before.

Unfortunately I had more Labor Day events today but I was able to bring side dishes that were pretty healthy.

Seeing good energy in the day with a bit of late afternoon dip.
Sept. 4 –
Weight 120
Consistent with appetite control and energy.

Decided to start taking the second pill later in the day and that kept my appetite controlled all day and I wasn't too hungry in the evening.

Still seeing an energy in the evening but a quick 15 minutes easy treadmill workout got my energy back up.
Sept. 5 –
Weight 118.8
Consistent appetite control.

Continuing taking the second pill later in the afternoon.

Still a bit of energy slump after work but again a quick elliptical workout did the trick.


Sept. 6 –
Weight 118
Pretty much consistent with before, pretty optimistic that I will be below 118 in the morning.
Sept. 7 –
Weight 117.2
Pretty impressed.

No other changes to note.
After Photos – Week 1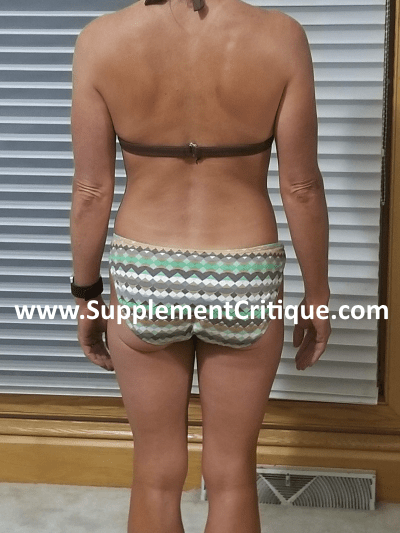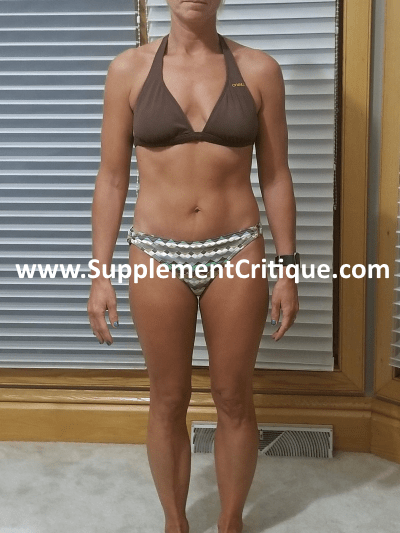 Week 2 Results
Sept 8 –
Weight 117.6
Good appetite control all day.

I did not have a noticeable boost in energy today and felt a bit tired.
Sept 9 –
Weight 116.8
Not as great in the energy department as I would have liked again.


Sept 10 –
Weight 120.2
Yikes – disappointed in the scale this morning.

No difference in diet or exercise.
Good appetite control.

Continuing to take second pill a bit later or ward off after work snacking and to try to increase afternoon energy.
Sept 11 –
Weight 119.6
Consistent appetite control.

Energy boost continues to be a bit lower in the late afternoon compared to the initial week but a quick 10 minutes on elliptical helps.

Possibly due to the later pill dose.
Sept 12 –
Weight 118
No difference in appetite or energy levels.

I may try taking the second dose earlier as recommended to see if that helps with my afternoon energy.
Sept 13 –
Weight 117.8
Consistent results as previous days.
Sept 14 –
Weight 117.2
Consistent results as previous days
Week 2 After Pics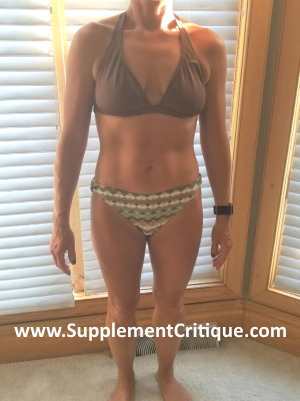 Week 3 Results
Sept 15 –
Weight 117.6
Sept 16 –
Weight 117.8
Sept 17 –
Weight 119.7
Sept 18 –
Weight 119.2
Sept 19 –
Weight 117.4
Sept 20 –
Weight 117.4
Sept 21 –
Weight 117
Weekly summary:
No changes to report this week.

Appetite suppressant has been consistently good.
Not a great increase in energy.
No other side effects from the supplement.
This week I did go back to taking the second supplement at the recommended time which does help curb my afterwork munchies and lasts long enough in the evening.
Overall, happy with the results this week even though there wasn't much loss.

It has been much easier to keep the numbers lower and I am very close to my goals.

I am very optimistic that I may reach my goal of 5 lbs in the 30 days!
Week 3 Photos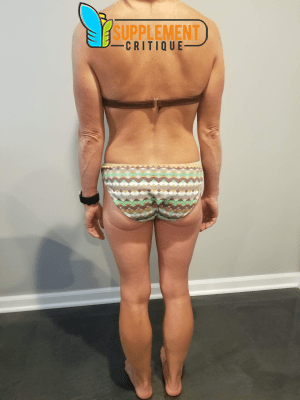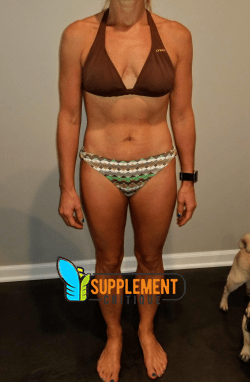 Week 4 Results
Sept 22 –
Weight 116.4
Sept 23 –
Weight 116
Sept 24 –
Weight 117.6
Sept 25 –
Weight 117
Sept 26 –
Weight 117.2
Sept 27 –
Weight 117.4
Sept 28 –
Weight 116
Sept 29 – Final Weight
AM Weight 116.6
Final summary:
Total weight loss in 30 days was 4.2 lbs
Overall I am extremely pleased with the results.

I made no changes to my diet or workout routine but I eat healthy and work out regularly.

I just did not find myself snacking or overeating at meals. Appetite control was great.

I never felt hungry and when I did eat I quickly felt very full.

I think that I probably snacked more than I realized and I know that I would eat even when not hungry because it took a lot to make me feel full.
As far as having a boost in my energy level, not very impressed in that area.

No consistent change to my energy level but I am a caffeine drinker and the amount of caffeine is not very significant.


I did not experience any side effects from the supplement.
I definitely plan to order Burn TS for the holiday season and my typical winter weight gain!

My husband was so impressed that he plans to order some as well.

Great product with the results to prove it.


Week 4 Photos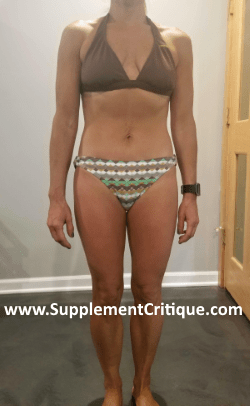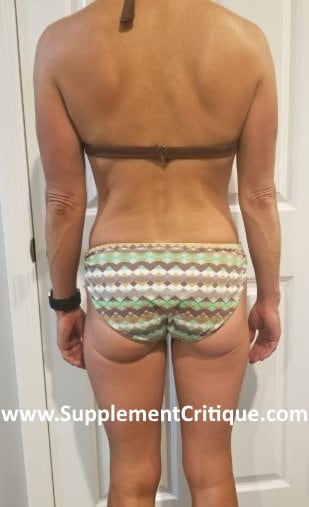 Where can I buy Burn TS?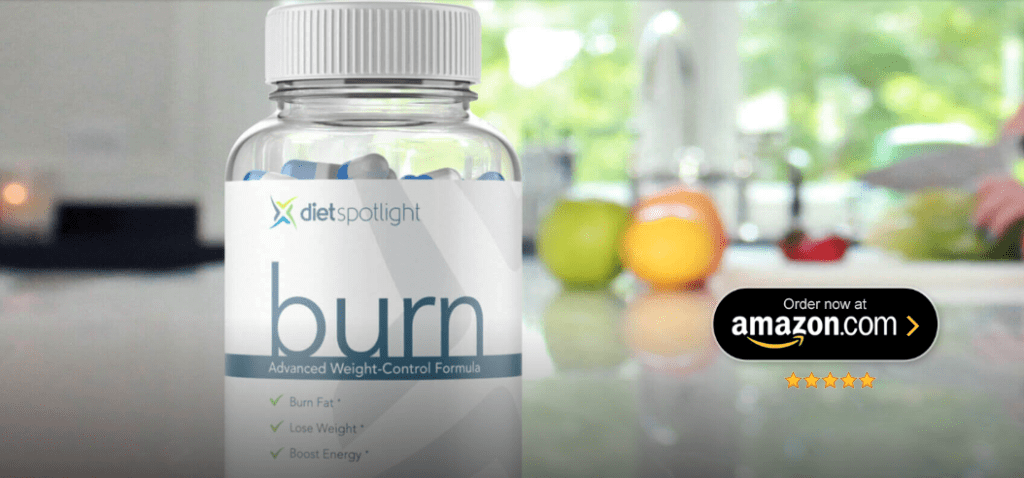 You can only buy Burn TS on Amazon.com and Dietspotlight.com right now (and Ebay, but don't be weird).
The folks at Diet Spotlightare currently giving away a free 15-day trial to those who qualify.

I'm not sure of the exact parameters they use to qualify people, but either way, you'll have to fill this out first. . .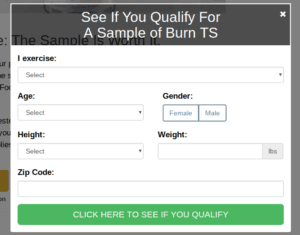 You'll also have to pay the small shipping & handling fee, and after the first 30 days the company puts you on an 'autoship' program.

This means you'll be billed automatically and then shipped a bottle of Burn TS month after month.
Technically you're getting a "sample", but you'll end up paying for it in the long run.
You can always cancel this at any time if you so wish, and they make it easy to do so.
Burn TS is not sold in stores like costco, Walmart, Walgreens, CVS, or GNC, so don't bother looking there.
How Much is Burn TS?
A one-month supply of Burn TS will run you approximately $60 on Amazon.Through the company's autoship program you might pay an even steeper cost of up to $89.95 per month.
This is a bit expensive from what I'm used to seeing for fat burners.You can usually find a weight-loss supplement / fat burner that works for under $40. With that said, if Burn TS really works for you, it's definitely worth the extra $20 or so.And if you buy it and don't see the results you were expecting, well, just send it back!

Which brings me to my next point.
Is there a Guarantee?
Yup.

The company offers a 100% money-back guarantee on the product, but they don't share the details of this guarantee so readily.

Recommendations
Burn TS seems like a fat-burner that gets the job done, but without going heavy on the stimulants and additives.

I think it would be a great choice for anyone who is sensitive to caffeine.
If you happen to have a higher caffeine tolerance, say if you are a coffee hound, then it may have slightly less pronounced effects but should be effective nonetheless.
The company is legit, and really stands behind their products.

And shoot, the reviews seem mostly positive, which can be hard to find in a fat burner supplement.
What I like most about this supplement is the main ingredient Meratrim, and it's ability to support weight loss without taking you down with a ton of side effects.
That's the thing with fat burners, you have to be really careful and walk cautiously into using them, as some people can have crazy reactions to certain ingredients.
Finally, if you can get over the initial sticker shock, I do recommend giving Burn TS a try.
Have you tried Burn TS?

If so, write your review in the comments below!
Top 3 Fat BurnersAffiliate Disclosure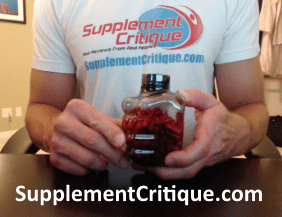 Instant Knockout is actually a new fat burning supplement I just came across, and got great results.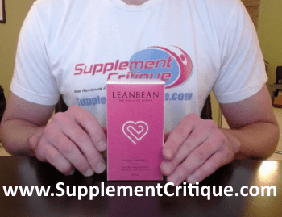 LeanBean Female Fat Burner is the BEST fat burner for women we\'ve ever tested.

Read our review here.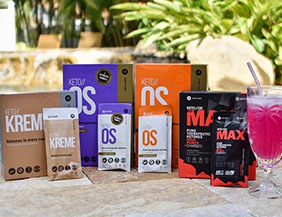 Biohacks your body into instant ketosis to burn fat instead of carbs.

Weight loss, energy, focus, anti-inflammatory, anti-aging.
Ask A Question
User Questions and Answers
---

So wouldn't it make sense to try the sample and if you are liking it order the product through Amazon since it's cheaper? -Jamie

You could go that route. You could also save money if you buy 3 bottles once, bringing the per bottle price down under $50.- Rob
Was this question helpful to you?
2 out of 2 people found this question helpful.
ASK A NEW QUESTION
---

Hi am in Uganda how best can I access the product? -Yakoba

On their website, www.BurnTS.com- Rob
Was this question helpful to you?
1 out of 1 people found this question helpful.
ASK A NEW QUESTION